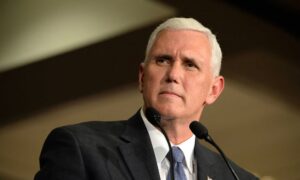 Former Vice President Mike Pence on Friday acknowledged his responsibility for classified documents found at his residence in Indiana and pledged to participate in any investigation into the matter.
Pence said that during his final days in office, materials were packaged and shipped, including to his personal residence, and mistakes were made during this process.
He previously denied taking any classified documents with him when he left office. Earlier this month, Pence told CBS his staff reviewed "all of the materials in our office and in our residence" to check for classified materials that left the White House.
He described the recent discovery of some classified materials at his residence as an "unfortunate development" but noted that he and his team were unaware of their presence until a recent review.
During an interview with Fox News, Pence said he would leave any decision about whether he should be investigated to the Department of Justice, Congress, or the National Archives and Records Administration (NARA).
"I think it's important that our office simply cooperate fully in any investigation by either the Department of Justice, the Archives, or the Congress of the United States, and we're determined to do that," he said.
Pence said he's "very confident" that during his time in Congress and as vice president, he and his office were "very careful and very cautious."
"But again, during the closing days of the administration, when materials were boxed and assembled, some of which were shipped to our personal residence, mistakes were made," Pence said.
"We were not aware of it at the time until we did the review just a few short weeks ago," he added. "But I take full responsibility for it, and we're going to continue to support every appropriate inquiry into it."
Classified Documents Discovered at Pence's Home
A lawyer for Pence informed NARA in a letter that a "small number of documents" with classification markings were discovered on Jan. 16 at his home in Indianapolis.
The discovery occurred when Pence hired outside counsel to review records stored at the residence, following reports of classified documents found at President Joe Biden's residence and former President Donald Trump's Florida home.
Once the outside counsel identified the classified materials, Pence immediately secured them in a locked safe and requested assistance from the National Archives in transferring them to the agency.
After the discovery at Pence's home was reported, FBI Director Christopher Wray on Thursday expressed concern about the recent discoveries of classified documents at the homes and offices of current and former leaders.
He emphasized the importance for those with access to classified material to be aware of and adhere to the rules surrounding it.
"People need to be conscious of the rules regarding classified information and appropriate handling of it," he said when asked about the matter during a press conference. "Those rules are there for a reason."
Biden, Trump Materials
The discovery of classified documents at President Joe Biden's former office at the Penn Biden Center in Washington was made public on Jan. 9, but they were discovered as early as November 2022. Additional documents were found at his Delaware home in December.
This follows a similar incident where the FBI conducted a search of Trump's Florida resort in August 2022, finding and seizing approximately 100 documents with classification markings, which had been stored there since the end of his first term.
Trump has stated that he had previously declassified these materials before the end of his term.
U.S. Attorney General Merrick Garland has appointed Jack Smith as special counsel to investigate Trump and Robert Hur as special counsel to investigate Biden over the discoveries. As of yet, no special counsel has been appointed to investigate Pence.
Most living former U.S. presidents and vice presidents have said they turned over all classified materials to NARA after leaving office.
Zachary Steiber contributed to this report.