Pennsylvania Woman Sues Attorney General Josh Shapiro for Defamation in Political Ads
Toni Shuppe, co-founder of Audit the Vote PA, says Shapiro made false statements about her
Pennsylvania mother of three Toni Shuppe is not running for office, but Pennsylvania Attorney General Josh Shapiro keeps brining up her name in his statewide campaign advertising for the governor's seat.
He has called her a dangerous conspiracy theorist who spread blatant lies about the 2020 election.
Now she is suing both Shapiro—the Democrat candidate for governor—and his campaign manager, Dana Fritz, for making defamatory, slanderous, and libelous statements about her, court documents say. Shuppe says these statements have damaged her reputation and brought threats to her safety.
Her name and photo have been the subject of press releases, social media posts, and statewide television commercials, with the Shapiro campaign quoting a Vice article claiming Shuppe is a "QAnon-linked, election-denying conspiracy theorist hell-bent on upending the current election system."
None of that is True, Shuppe told The Epoch Times.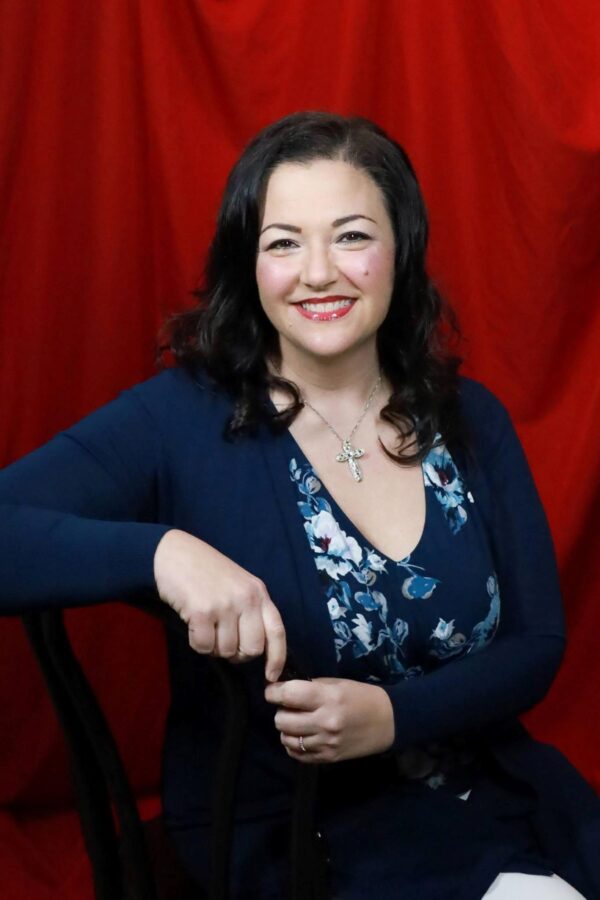 "I've been incredibly critical of the QAnon stuff," Shuppe said.
Shuppe is a co-founder of Audit the Vote PA, a nonprofit organization founded in early 2021 calling for a full forensic audit of the 2020 election. The group of three women who created Audit the Vote PA never intended to start an organization, but found there was demand for such a group when they quickly collected over 100,000 signatures on a petition requesting an audit and realized they were not the only ones who had concerns about the 2020 election.
Using election records and research, Audit the Vote PA documented anomalies in the 2020 election. Today they advocate for educated voters and election integrity.
Shuppe has been helping people get educated about civics.
"I teach Constitution classes. I've done that for the last two years, and I'm encouraging people to get involved in their local government and to exercise their First Amendment right to free speech, but to first and foremost educate themselves on how civics and government is supposed to work, so that we can get involved again, and so that the government can't do things like they were able to do in 2020 when they shut the world down.
"Then, nobody even recognized that they violated our First Amendment right to assemble when they shut everything down and said we couldn't gather groups of 10 or more. I don't believe in QAnon. [Shapiro's] just trying to destroy my character."
Damage to Reputation
Shuppe said she worries how she will be viewed by parents at her children's school—who may not share the same politics—if they see the comments Shapiro has made about her.
Shapiro's campaign claims Shuppe has already been chosen as Republican candidate Doug Mastriano's secretary of state. Neither Mastriano nor Shuppe have confirmed this.
"It's pure speculation on Josh's part," Shuppe said.
One of Shapiro's press releases asks questions such as, "Does Doug Mastriano agree with Toni Shuppe that the official story about 9/11 was a 'lie' and 'a false flag' operation?" and "Does Doug Mastriano agree with Toni Shuppe that QAnon is 'a very valuable resource' and that a cabal of elites are running a global child sex slave ring?"
Again, Shuppe says these are not her beliefs.
"I'm a private citizen and he is an elected official. He is using me as a pawn for political gain. He is being a cyberbully," Shuppe said.
Her name has even appeared in a fundraising email from Fritz as a reason to give money to the Shapiro campaign.
"You probably haven't heard of Toni Shuppe, but trust me—you'll want to know more about her," the email says. "Toni Shuppe believes 9/11 was a 'false flag' attack, Barack Obama wasn't born in the US, and QAnon is a 'very valuable resource.' It's no surprise she supports Trump's false claims of election fraud in Pennsylvania."
The email goes on to say Shuppe is "Mastriano's #1 ally in promoting conspiracy theories, silencing the will of the voters, and doing anything to put Donald Trump back in the White House in 2024."
The email then claims that if Mastriano wins, Shuppe will be put in charge of Pennsylvania's elections, and that Mastriano "can count on her to rig elections in the GOP's favor and put politics over truth."
Shuppe says she has never said Obama was not born in the United States and that the other claims made about her are wrong, too.
"I believe that 9/11 was an epic tragedy of monumental proportions," Shuppe said. "I have no doubt that it happened. We should never forget the assault on the American people."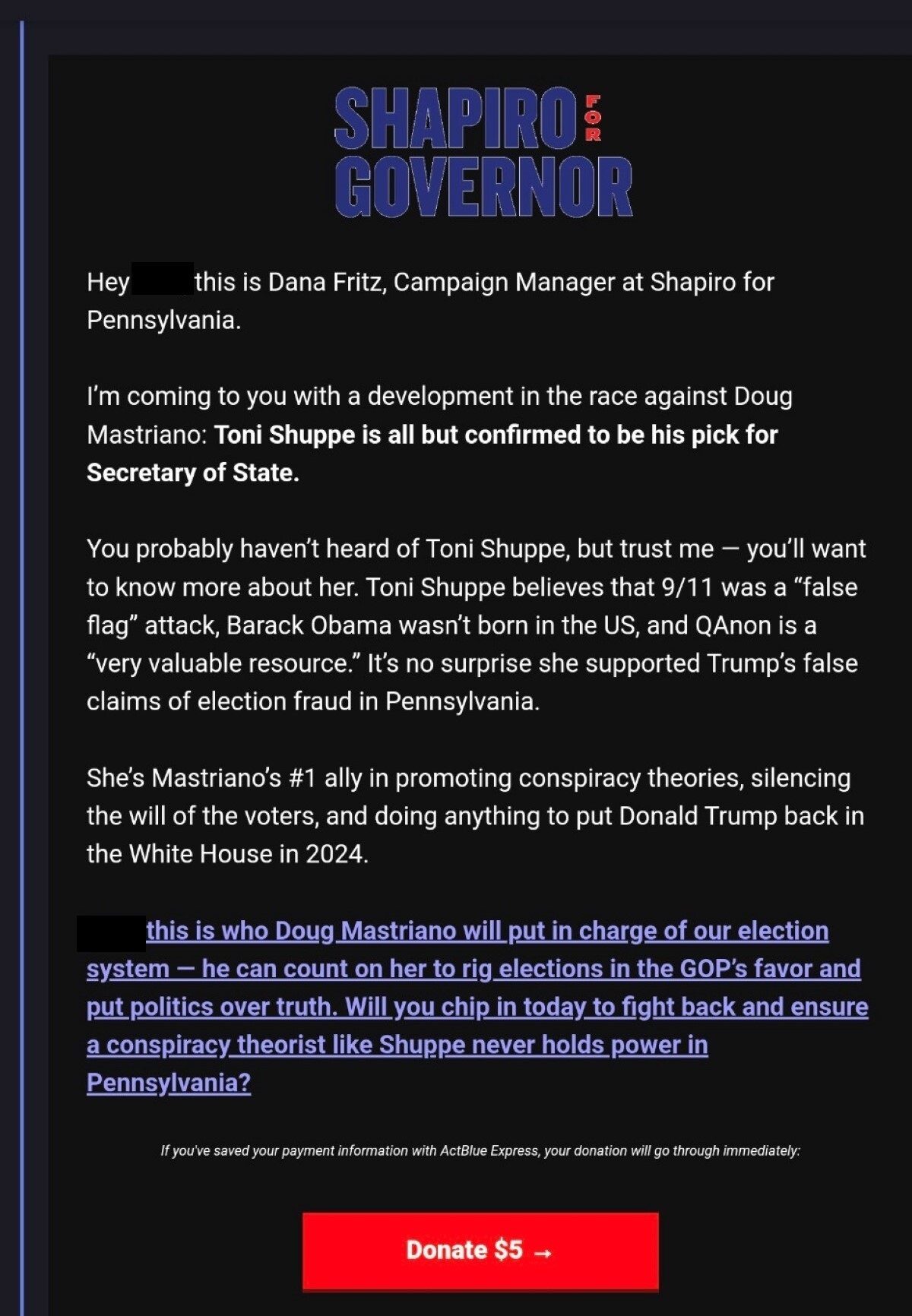 Defamation Claims
Under Pennsylvania Law, a private individual can bring a defamation claim against a candidate for public office, the lawsuit says.
The determination of whether a statement is defamatory depends on whether it harms a person's reputation or lowers their esteem in the community, the filing says. A statement is defamatory if it ascribes to another conduct, character, or a condition that would adversely affect their fitness for the proper conduct of their business.
The lawsuit claims Shapiro's statements were defamatory because they were meant to portray Shuppe as a dangerous conspiratorialist, a liar, and a dishonest person, which has exposed her to hatred, contempt, ridicule, threats of physical harm, and physical illnesses.
The things Shapiro said about Shuppe lowered her in the estimation of those who read them or heard about them, the filing says, adding that the statements about Shuppe are false and that Shapiro and Fritz should have known that.
"Despite knowing the falsity of the statements and/or insinuations, and/or the likelihood thereof, [Shapiro and Fritz] promoted them anyway, on a national level, to support their claims, which were bereft of any evidence whatsoever, particularly as concerns [Shuppe]."
Shapiro has also used social media to claim Shuppe is in line to be Pennsylvania's top election official.
"If Doug Mastriano wins, he could appoint Toni Shuppe as his Secretary of State," Shapiro wrote on Twitter in September. "We can't give her the power to control the outcome of our elections. She's dangerous."
Shuppe's case was filed Thursday in the Forest County Court of Common Pleas. She is seeking monetary damages.
"Josh Shapiro, Joe Biden and the radical Democrats are operating outside the rule of law to demonize and smear their political opponents," a Mastriano campaign spokesperson told The Epoch Times. "From FBI raids to unlawful imprisonments and online censorship, Biden and Shapiro have abandoned any sense of law and order. We are heartened to see someone fight back against Shapiro personally and hold him accountable."
The Epoch Times has contacted Shapiro's campaign for comment.