People's Convoy Organizers Pledge to Continue Efforts to End National COVID Emergency
HAGERSTOWN, Md.—Organizers of the "People's Convoy" have vowed to continue pressing for an end to the national COVID emergency, saying they were in it to play the "long game."
During speeches at a March 26 rally in Hagerstown, Maryland, co-organizers Brian Brase and Mike Landis said that spending a few days away from Hagerstown Speedway, an auto-racing venue and the temporary campground of truckers, helped bring new perspectives to their missions.
"Being home solidified my reasoning for being here," Brase said of his short break back home in Ohio over the previous weekend. "It reminded me that I'm doing this for my children."
"I know that as a human being walking this earth, no government, no company, no one may violate my God-given right!" Brase added.
The co-organizer said he would be happy if he could help ten Americans to notice "the big picture of what's going on." He encouraged the audience to "investigate, research, and hold accountable" their elected officials and vote for "God-fearing" men and women during midterms in November.
And Landis, who flew to Orange County, California, to meet with Democratic Congressman Lou Correa (D-Calif.) on March 21, called the meeting "a step in the right direction."
"We all are the underdogs because the government has way more time and money than we do. You've got to pick the right time as to when to pick it up and when to just wait it out," said Landis.
'Integrity, Dignity, and Community'
Dr. Robert Malone also spoke at the rally and emphasized the "long game." He described the Convoy's current pursuit as "one little, tiny battle" in a "total information warfare," in which those in power are trying to control information relating to COVID-19 for political purposes.
Malone is a virologist and immunologist who has contributed significantly to the technology of mRNA vaccines. He is also the chief medical officer of the Unity Project, a movement seeking to resist COVID-19 vaccine mandates for K–12 children.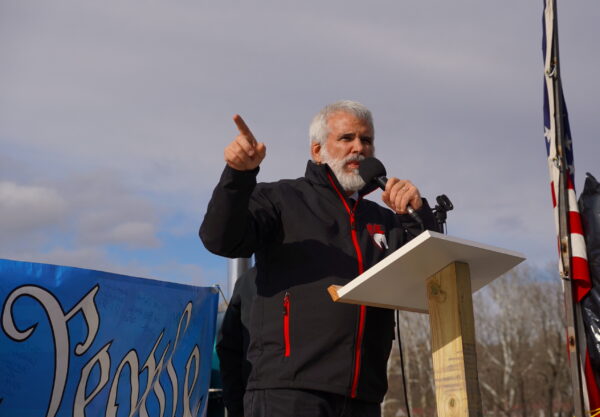 "There's no reason for the declaration of emergency because there is no medical emergency," he told the audience.
The national COVID emergency, which was declared in March 2020 under President Donald Trump, has since been extended twice by President Joe Biden, in February 2021 and this month.
"It's long been apparent that the U.S. and other Western governments have intentionally used the guise of an overstated public health crisis to justify the suspension of laws and rights that would be enforced without such a crisis, including the federal common rule, which defines the rights of all citizens to informed consent for medical procedures," he said, adding that "COVID was politicized."
Malone offered three words to form the basis of guiding the path back to a healthy country: "integrity, dignity, and community." He said truckers and their supporters formed a community that could serve as the core to rebuild communities in the nation.
Reconnecting with God
"This movement has made me a true believer in God. You have shown me God from the groups that pray over me, or [co-organizer] Marcus [Summers], or Mike [Landis], or the Convoy," Brase told the audience. "Thank you for showing me the way."
The 37-year-old said he had "struggled" with his relationship with God up until recently.
He had questioned "why" and wavered between believing and not believing during difficult moments in life. The significant events he mentioned included the death of his grandfather, the difficulty of making ends meet, and his son's suicide six months ago.
"What this movement has done, why this movement has been so successful, is because of God," said Brase, adding, "I have felt my grandfather and my son here with me through this."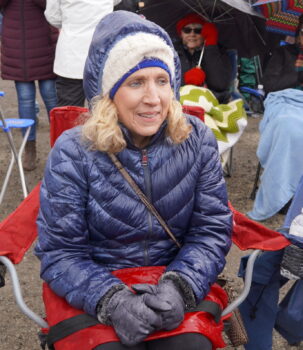 Laura Kasner drove from Ohio in the morning to attend the rally and would head back immediately afterward. It hailed three times over the afternoon of the rally, two before and one during. "That's God, letting us know that he's here," she told The Epoch Times.
To Kasner, the People's Convoy means "getting the truth out there."
"I think a lot of people are still asleep, and they need to wake up. And I pray every day that that happens. But I think the tide is turning. I think people are starting to understand what's at risk," she said.
The 62-year-old added said she wanted to live the remainder of her life free. In addition, she thought of the young people: "Do they have any idea what's at stake here? I don't think they do. And it's so unfortunate."
Next Steps
The U.S. Senate passed a resolution to end the national COVID emergency on March 3. However, the House version has been with the House Transportation and Infrastructure Committee since May 2021.
Congressman Paul Gosar (R-Ariz.) filed a petition on March 16 to bypass the committee. It will take an absolute majority of 218 votes for that to happen and to allow the resolution to be voted on the House floor. The petition currently has 43 signatures.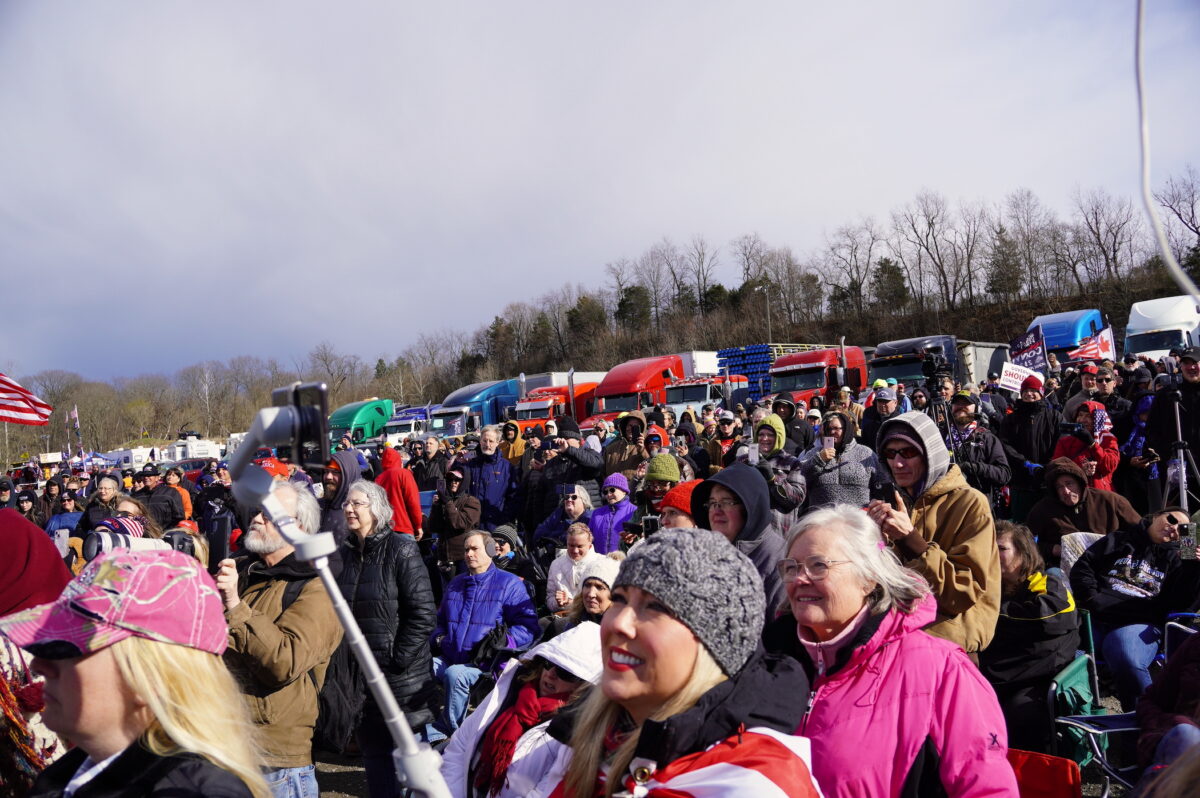 Landis urged the hundreds of people on-site and the audience over livestream to call their representatives in Congress and ask them to support the petition.
He previously told The Epoch Times that the People's Convoy's extended its contract with Hagerstown Speedway to the end of the week without providing a specific date. Members of the convoy mentioned either March 30 or 31. Regardless, the venue may not be available for much longer, as the race season has begun.
Dr. Paul Alexander, chief scientific officer of the Unity Project, spoke of one possibility of the future direction. He told the audience, "We're going to turn this convoy into the most political powerhouse. It already is."
"Go back to your states and hold firm. Tell them what you saw. Activate your states," he added.