Petition Filed to Recall LA City Councilman Kevin de Leon Over Audio Leak
A group of residents filed a notice of intent to recall Los Angeles Councilman Kevin de León Oct. 27 amidst growing calls for him to resign.
De León is one of two remaining councilmen who are under fire after a recording of racist comments made by three councilors in 2021 was released online earlier this month.
This is the fourth grassroots attempt to recall the embattled councilman. His spokesman told The Epoch Times despite the newest effort, de León would "keep moving forward important projects and issues that threaten the communities and the lives of his constituents."
"After three failed attempts, yet another recall that distorts his record will not distract the Councilmember or his office from continuing to serve the people of Council District 14," De León's spokesman Pete Brown said.
Council President Nury Martinez, Councilmen Gil Cedillo and de León, and Los Angeles County Federation of Labor President Ron Herrera participated in the recorded discussion about the city's redistricting.
Martinez was heard on the recording making several disparaging remarks about a fellow councilor and other ethnic groups. She resigned Oct. 12 from the council following a massive public uproar that reached the White House.
The recording was posted on Reddit Oct. 9 by an anonymous user but was removed shortly after. Herrera resigned from his position the following day.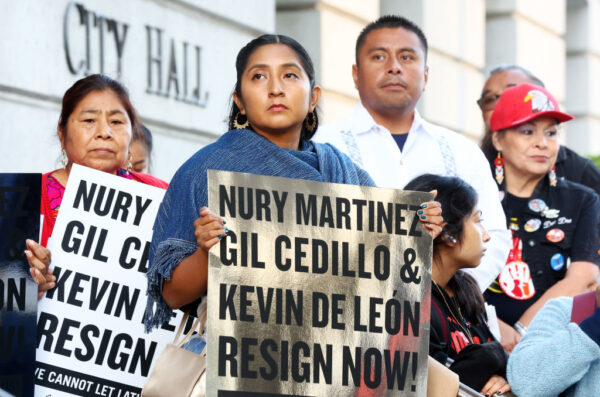 De León and Cedillo have defied a growing chorus of officials who have called for them to resign—including Gov. Gavin Newsom and President Joe Biden, and the city's Mayor Eric Garcetti.
The two councilors were censured by the City Council Oct. 26—the first time councilors were censured since at least 1911, the clerk's office told City News Service.
The recall notice was signed by five residents in de León's district, including Pauline Adkins, who participated in two prior recall attempts. Adkins filed but later dropped the third recall.
Adkins did not immediately return a request for comment.
Under the statement of reasons in the notice of intent, the organizers cited de León's refusal to resign over the scandal, according to City News Service.
"Even though the City Council has called for his resignation, and have stripped him of his committee assignments, Kevin de León has refused to resign," the statement reads. "He currently cannot represent the stakeholders of Council District 14."
The organizers need to collect signatures from 21,006 registered voters in the district—15 percent of the total—in 120 days if the petition is certified.
Cedillo cannot be recalled because there is not enough time before his term expires in December. De León's term runs until December 2024.