Philanthropists Help Pacific Symphony Amid COVID Struggles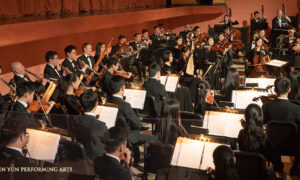 Pacific Symphony in Orange County, Calif., would usually make more than $8 million in ticket sales for the year, but it's expecting to make only about $120,000 this year, president John Forsyte told The Epoch Times. 
While musicians and other staff have taken pay cuts and been furloughed, the symphony has been determined to continue its free virtual programming to uplift spirits in difficult times, he said. And it's scheduled to kick off live performances again July 4.  
Of great help has been a recent donation of $6.16 million from Charlie Zhang and Ling Zhang, a local couple known for their philanthropy to the arts.  
"I can't express the importance and impact that philanthropic giving," Forsyte said. The symphony is about 90 percent funded by donations, he said. 
Philanthropists' Journey from Poverty to Prosperity
The Zhangs have seen their share of hardship and have given freely since achieving hard-earned prosperity.
Charlie Zhang—now chief executive of Zion Enterprises LLC real estate company—is a clarinetist who fled China's Cultural Revolution. He had spent seven years working the countryside's rice paddies before leaving for the United States in 1980 at the age of 23. He had only $20 in his pocket and an acceptance letter from the Pasadena Music Conservatory.  
Only one semester had passed at the conservatory when Zhang was forced to quit due to lack of money. He became a dishwasher, hoping to return to the conservatory after earning some money. But he lost his ability to play the clarinet due to a work-related injury. That put him on a completely different trajectory.    
He saved up and soon bought his own Chinese restaurant, then another. In 1989, he and Ling created the fast-casual restaurant chain, Pick Up Stix. They expanded to more than 100 locations and sold the company in 2001 for $50 million.    
The dynamic couple then created a state-of-the-art aseptic food and beverage company which they sold in 2012 for $60 million.
And then they founded their real estate company in Laguna Niguel.  
Their recent donation to the symphony is only the latest in their history of supporting local arts. They co-founded the non-profit Orange County Music and Dance to provide music instruction to children regardless of their skill level or ability to pay. 
That organization operates on a parcel of land adjacent to the Zhang Center, the name given to the headquarters of the Pacific Symphony paid for by the Zhangs with their recent $6.16 million donation.  
Charlie Zhang said in a statement released by the Pacific Symphony: "On behalf of Ling and myself, we are pleased to be able to present this building as a gift to Pacific Symphony. The orchestra has meant so much to both of us, and we are proud to be able to support all the amazing artists of this wonderful orchestra." 
Zhang also serves on the board of directors of the Pacific Symphony and Pacific Chorale.  
The Zhang Center has also welcomed Arts Orange County and the Southern California Children's Chorus as part of its mission to serve as a cultural center.  
Help in Hard Times
Music Director Carl St. Clair recalled the Symphony's early days when its offices were in a church basement in Santa Ana.
"We have definitely come a long, long way. The reason for that is because we've never stopped dreaming. And Ling and Charlie's presence here has shown us that there is no reason for Pacific Symphony to ever stop dreaming about our orchestra and its bright future. I want to personally express our deepest heartfelt gratitude for their exceptional generosity," he said in a statement. 
Forsyte also expressed deep gratitude for the donation and said "all gifts, large or small, are vitally critical as we move towards being able to have live performances." 
"Prior to COVID, we had projected our 2021 operating budget at $22 million," he told the Epoch Times. The budget has been cut in half.  
"When lots of supporters send us whatever they can afford, whether it's $10 or $10,000, it all adds up.  We are grateful to every single supporter. Philanthropy is something of value that goes beyond the money."   
The resumption of live performances is expected with the kickoff of the Summer Concert Series on July 4th—complete with fireworks, at Costa Mesa's Pacific Amphitheater.    
"Patrons can purchase season or individual tickets knowing that their money is safe," Forsyte said.  "While we can't control what may happen in the future, we are carefully monitoring the safety trajectory which is trending in the right direction." 
In the meantime, Symphony Thursdays continue virtually.  
Local health officials worked with the symphony to develop COVID protocols for the safety of musicians and approved resumption in February of recording sessions. Those sessions are 20 minutes long and are aired on Thursdays at 7 p.m. on the symphony's YouTube channel, its Facebook page, and its website. Each event remains available online for 30 days.