Plurality in New Poll Want Illegal Immigrants Held Until Court Hearings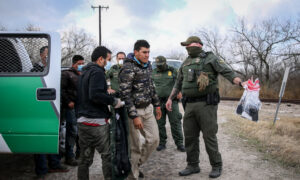 A plurality of respondents to a new poll say they want illegal immigrants detained in holding centers until their court hearings.
Crossing the border into the United States is illegal. Many border crossers claim asylum, which requires a court hearing.
President Donald Trump curbed the so-called "catch and release" program—which allowed illegal immigrants to remain in the country while awaiting immigration proceedings—requiring detained illegal immigrants be transferred to Immigration and Customs enforcement custody.
Illegal immigrants who didn't claim asylum were returned to their home countries under Trump era policies. Those who claimed asylum were made to wait in Mexico until their claims were heard in court.
President Joe Biden last month reinstated the catch and release policy last month, one of a number of significant immigration changes he's made since taking office.
Poll respondents were presented with three possible responses to a question about whether illegal immigrants should be released or held as they await hearings in immigration court.
The most popular answer at 46 percent (pdf) was holding the immigrants in detention centers until their hearings. Another 36 percent said they prefer the illegal immigrants be released into the country. The rest weren't sure.
Holding aliens was more popular with men, older Americans, and white respondents. Republicans overwhelmingly favored the option, with 46 percent of Independents, a plurality, supporting it. Most Democrat respondents wanted immigrants released as they await their trial.
The survey (pdf) was conducted by Scott Rasmussen for Just the News.
The 1,200 respondents were polled using multiple methods from March 18 through March 20. The margin of error was plus/minus 2.8 percentage points.
Any person who crosses the border into the United States without legal status must go to court to make their case as to why they can stay.