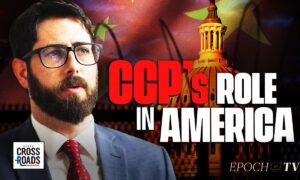 The Chinese Communist Party (CCP) has established police offices on American soil, and this is a continuation of other programs the regime has been pushing to extend its tyrannical policies beyond its borders. According to Alex Newman, author and award-winning international journalist, much of this exported abuse has been allowed to happen through Obama holdovers in the U.S. government.
We speak with Alex Newman about the CCP's overseas police forces, how they target and abuse anyone who opposes the regime, and how individuals still working in the U.S. government have allowed this to happen.
Subscribe to the new Crossroads newsletter and stay up-to-date!
–
The Real Story of Jan. 6 Documentary(102 Minutes, Color)
"The Real Story of Jan. 6," a documentary by The Epoch Times, reveals the truth that has been hidden from the American people. While a narrative has been set that what took place that day was an insurrection, key events and witnesses have been ignored, until now.
🔴 The Real Story DVD: https://www.epochtv.shop/product-page/dvd-the-real-story-of-january-6 , Promo Code "Joshua" for 20% off
–
* Click the "Save" button below the video to access it later on "My List".
Donate to Support Crossroads: https://donorbox.org/crossroads
Crossroads merchandise: https://www.epochtv.shop
Follow Crossroads on social media:
Facebook: https://www.facebook.com/Crossroads.Josh
Twitter: https://twitter.com/crossroads_josh
Rumble: https://rumble.com/user/Crossroads_JoshuaPhilipp
Truth Social: https://truthsocial.com/@crossroads_josh
Gettr: https://www.gettr.com/user/crossroads_josh
Gab: https://gab.com/Crossroads_Josh
Telegram: https://t.me/Crossroads_josh