Prince Harry says he was "unable to show any emotion" in the days after the death of his mother Diana, as it was reported William has kept quiet about his brother's book "for the good of his family and the country".
The Duke of Sussex, whose upcoming memoir Spare has created a storm, told ITV in an interview about the only time he says he cried following the death of his mother in 1997.
It comes after a series of explosive claims from the book were reported, including allegations Harry was physically attacked by William during a row over his marriage to Meghan.
A close friend of the brothers told The Sunday Times the Prince of Wales has kept quiet about Harry's allegations "for the good of his family and the country".
But the unnamed friend added that William is "burning" on the inside.
Sky News has approached Kensington Palace for comment.
In the latest clip of his ITV interview, which airs in full on Sunday, Harry addresses Diana's death, saying: "Everyone knows where they were and what they were doing the night my mother died.
"I cried once, at the burial, and you know I go into detail about how strange it was and how actually there was some guilt that I felt and I think William felt as well, by walking around the outside of Kensington Palace.
"There were 50,000 bouquets of flowers to our mother, and there we were shaking people's hands, smiling. I've seen the videos, right, I looked back over it all.
"And the wet hands that we were shaking, we couldn't understand why their hands were wet, but it was all the tears that they were wiping away.
"Everyone thought and felt like they knew our mum, and the two closest people to her, the two most loved people by her, were unable to show any emotion in that moment."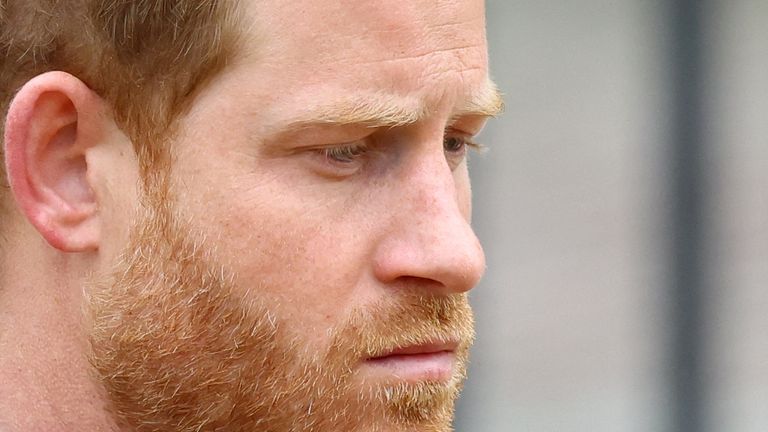 Read more:
Harry's book 'detonating landmine under Buckingham Palace'
Prince's biggest revelations in memoir
In another clip from the interview, Prince Harry said he saw a "red mist" in Prince William during an argument between them, claiming his brother "wanted me to hit him back, but I chose not to".
His book is due to be released next week but Sky News obtained a copy after it was accidentally put out for sale early in Spain.
In the book, Harry makes several jaw-dropping allegations about the Royal Family, along with revelations about his own life, including his use of cocaine, how he was told about his mother's car accident and the moment he lost his virginity.