Rally Supporting Lawsuits Against Anti-Asian Discrimination at Harvard and UNC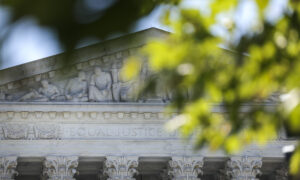 A coalition of Asian American organizations, community leaders, allies, and supporters is hosting an "Equal Education Rights for All" rally on the steps of the Supreme Court on Oct. 30, 1:30 p.m.–4 p.m. ET, to support a lawsuit against anti-Asian discrimination by Harvard and the University of North Carolina.
On Oct. 31, the Supreme Court is scheduled to hear oral arguments in the long-running case of Students for Fair Admissions (SFFA) v. President and Fellows of Harvard College, which will address the use of race-based admissions policies not only at Harvard but at the University of North Carolina at Chapel Hill.
The lawsuit, which seeks to overturn the 2003 ruling in Grutter v. Bollinger permitting universities to consider race in admissions decisions with the aim of augmenting diversity, began as two separate legal actions against the two institutions. Their contention was that such discriminatory policies unfairly disadvantage Asian American applicants—and, in the case of UNC, white applicants—violating Title 6 of the Civil Rights Act of 1964.
In January, the court consolidated the two actions into a single lawsuit, only to split them up again in order to allow new Justice Ketanji Brown Jackson, who has served on Harvard's board of overseers, to participate in the UNC case while recusing herself from the one involving Harvard.
During her confirmation hearings, Jackson gave assurances to Sen. Ted Cruz (R-Texas) that she would stay out of the Harvard case to avoid a conflict of interest.
* Click the "Save" button below the video to access it later on "My List."
Follow EpochTV on social media:
Twitter: https://twitter.com/EpochTVus
Rumble: https://rumble.com/c/EpochTV
Truth Social: https://truthsocial.com/@EpochTV
Gettr: https://gettr.com/user/epochtv
Facebook: https://www.facebook.com/EpochTVus
Gab: https://gab.com/EpochTV
Telegram: https://t.me/EpochTV