Man also says he witnessed Epps directing group that removed 2-by-4 lumber and a long cardboard tube from utility hatch at U.S. Capitol
Ray Epps, the former Arizona Oath Keepers leader who was famously captured on camera a day before the Jan. 6, 2021, protests urging protesters to go into the U.S. Capitol, allegedly directed a group of individuals who removed "siege weapons" including a long piece of 2-by-4 lumber, from a utility hatch on Capitol grounds after telling a witness they needed to slow down the crowd lest it "[expletive] up the plan," a Kentucky man claims.
Eric Clark, 45, says he encountered Epps on the west side of the Capitol on Jan. 6, 2021, but did not realize who he was until seeing news reports about Epps earlier this year. Behavior and statements Clark said he witnessed took on new meaning after he read news reports about Epps's possible role as a provocateur at the Capitol.
"I didn't know who Ray Epps was," Clark told The Epoch Times. "I just knew a tall mountain of a man who said something to me, and I saw some things occur.
"It was almost literally, probably right at a year later, when I saw a [news] post with Ray Epps in it, and I was able to put a name to a face," Clark said.
Through his attorney, Epps denied Clark's story.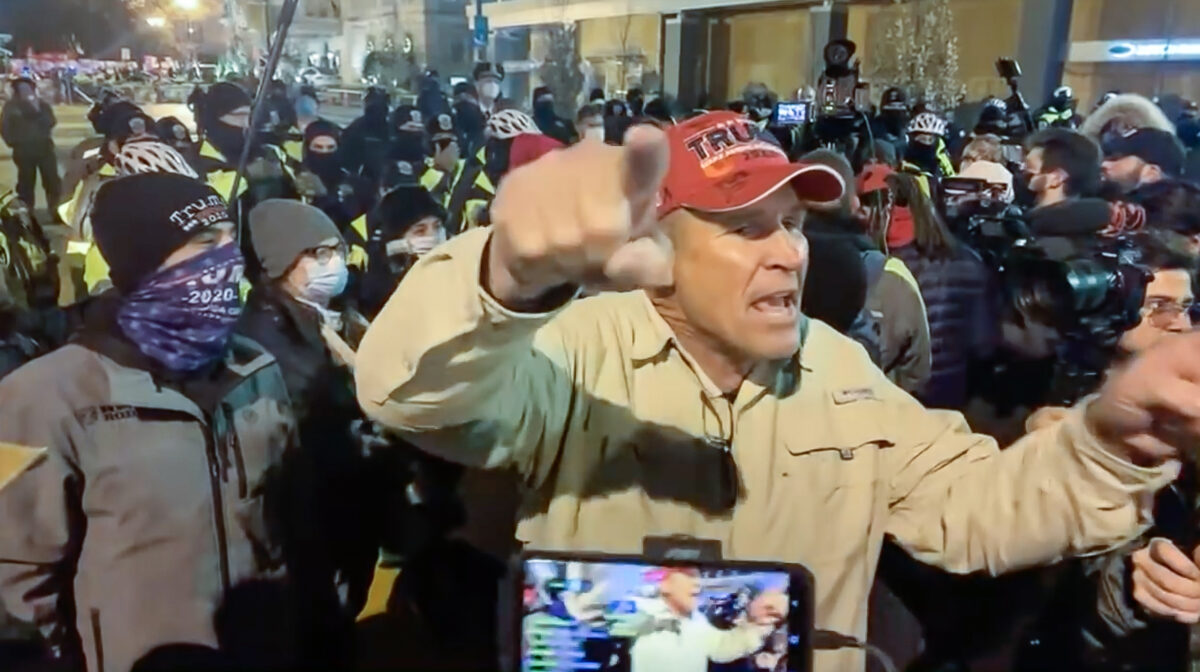 Epps has long denied being an informant for the FBI or other law enforcement on Jan. 6. His photo—assigned No. 16—was initially placed on the FBI's January 6 most-wanted website, but later removed without explanation. Epps has not been arrested or charged with crimes for being at the Capitol.
Clark had been at the Ellipse to hear President Donald Trump speak earlier that day. Due to the massive crowds, Clark stood about 50 yards away and watched the speech on a jumbo video monitor. He left before the speech ended and walked to the Capitol.
'Oorah!' Drew Epps's Attention
By the time he arrived, the pathway from the Peace Fountain up to the west side of the Capitol had been breached and crowds were gathering on the west terrace, Clark said. When he arrived at the base of a scaffold tower set up for news media for the forthcoming inauguration, Clark let out a loud cry of "Oorah!"
Military-history buffs and fans of contemporary war movies will recognize "Oorah!" as a motivational cry that U.S. Marines shout to each other. It's a sign of brotherhood, and an indication the Marine might be about to do what Marines typically do: be the first to fight.
"As soon as we arrived at the Peace Monument, what I see already is something's wrong," Clark said. "Something's at least off-kilter. Something's already gone on.
"There were just people all the way up to the top of the Capitol steps and a thin line of Capitol guard people all the way up on that tower already," he said.
Clark said after he let out his cry of "Oorah!" Epps approached him.
"He says, 'Semper Fidelis devil dog, we got to hold this crowd back a little longer, or they're gonna [expletive] up the plan,'" Clark said. "Okay, there's some kind of plan?"
Clark said he was not fully sure what to make of Epps' statement. "So I start chanting, 'Back the blue, back the blue,' and he sort of marches off to the right, down to the other end," he said.
Epps, Clark Seen on Video
While Epps denied saying the crowd would "[expletive] up the plan," The Epoch Times located a video shot by Quincy Franklin—known online as the Black Conservative Preacher—that captured Clark and Epps standing next to each other off and on during a five-minute period that afternoon in the location Clark described. Clark was wearing a Guy Fawkes mask.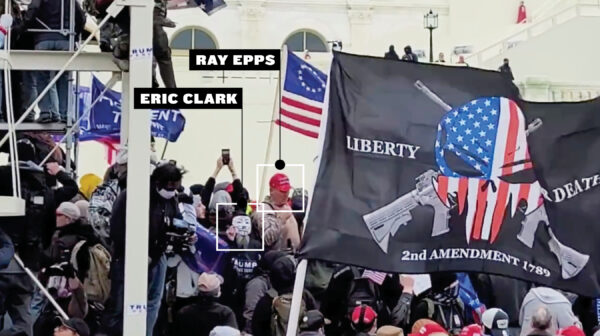 At the 2:31 mark on a video titled "The Storm Arrived Part 3," a protester sprays a fire extinguisher into the air, prompting Epps to move away from the police line down the steps. Clark was right behind Epps, who moved to his right as Clark kept running straight down the steps. Clark ended up about 25 feet from Epps.
About two minutes later, both men were back up near the police line at the foot of the media tower, the video shows. For more than two minutes, they stood next to each other before again separating as they descended the stairs.
Clark said he watched Epps interact with various people in the growing crowd. Epps appeared to command great authority with protesters and police, he said.
"When he came and said what he had to say to me, he had an obvious presence of authority amongst not just the protesters, but the Capitol guard as well," Clark said. "Any time he would walk by, they would back off."
Clark said Epps then pulled a man from the crowd.
"Mr. Epps had already come back down to our end, he grabbed a man in a black hoodie out of the crowd," Clark said. "He said something to him and he marches off to the right, where all the Capitol guards were."
What happened next is still burned in Clark's memory.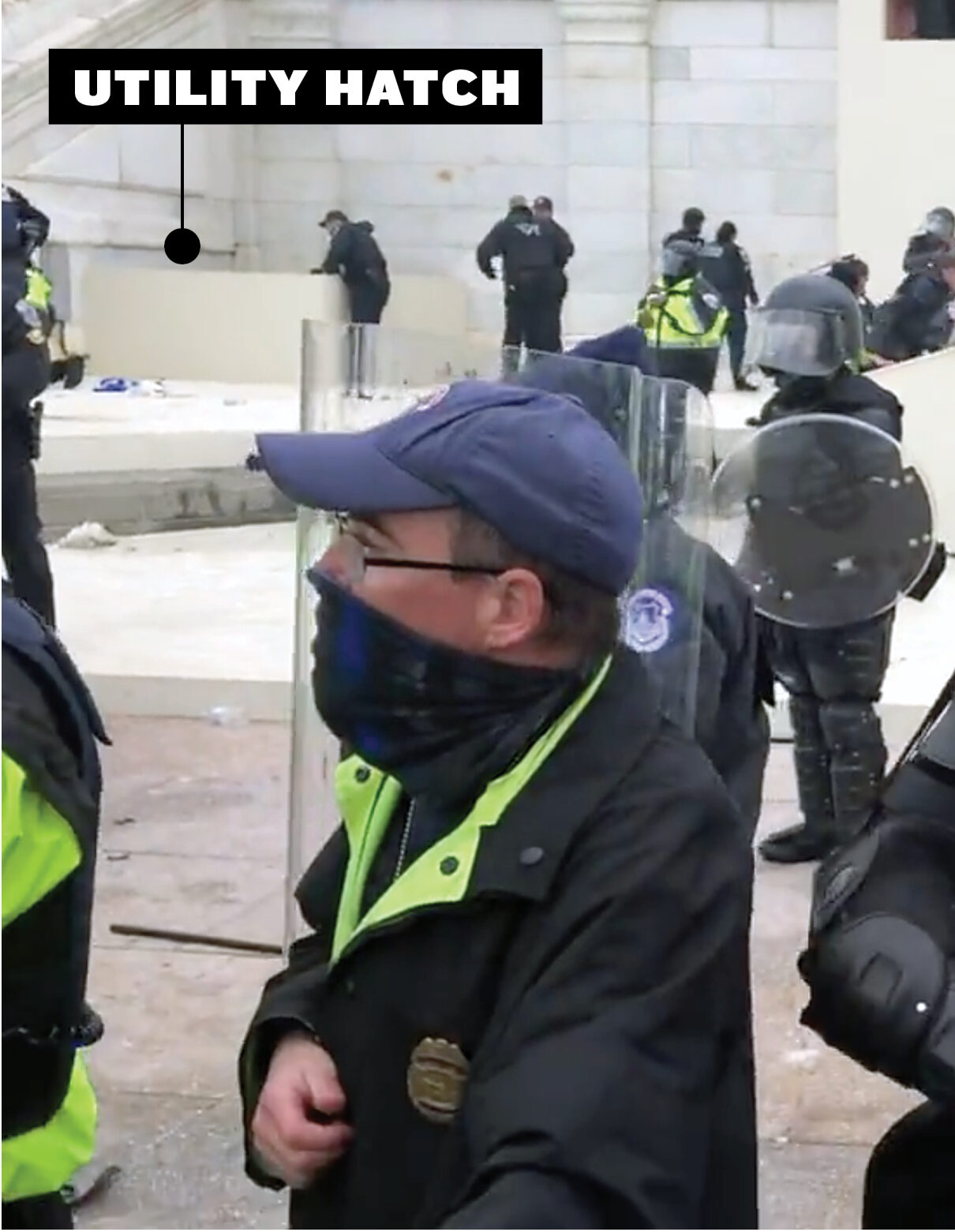 "The other gentleman [Epps] pulled out in the black hoodie pulls two other people out of the crowd, and they make a beeline directly toward this structure," Clark said. "It's like 4-foot-by-4-foot by-4-foot, and it has a hatch like a lid on top of it."
The men pulled the hatch and from inside this utility access retrieved a 12-foot-long 2-by-4, a piece of thick cardboard tubing about the same length, and a stepping stool approximately 3 feet tall, he said. The cardboard tube was about 6 inches in diameter.
Epps separated from the group after speaking to the first man and did not help the men remove the alleged siege tools, Clark said.
"I looked down in it [the structure] and it appears to be like utility or wet-wall access, some type of drain clean-out or whatever, but it's definitely some type of small tunnel area," he said, "where they're pulling all this stuff out of," he said.
Clark said one of the men wore a bright red or orange hat. One of the other men wore a tan Carhartt-style jacket.
Clark said he wanted no part of whatever the men were doing, so he headed up to the next level of the west terrace. After assisting a woman who had been doused with pepper spray, he followed a crowd and was pushed through an open doorway and ended up inside the Capitol, he said.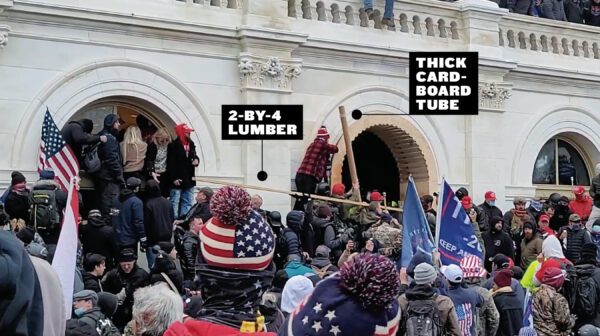 The Epoch Times independently observed a hatch located exactly at the location described by Clark.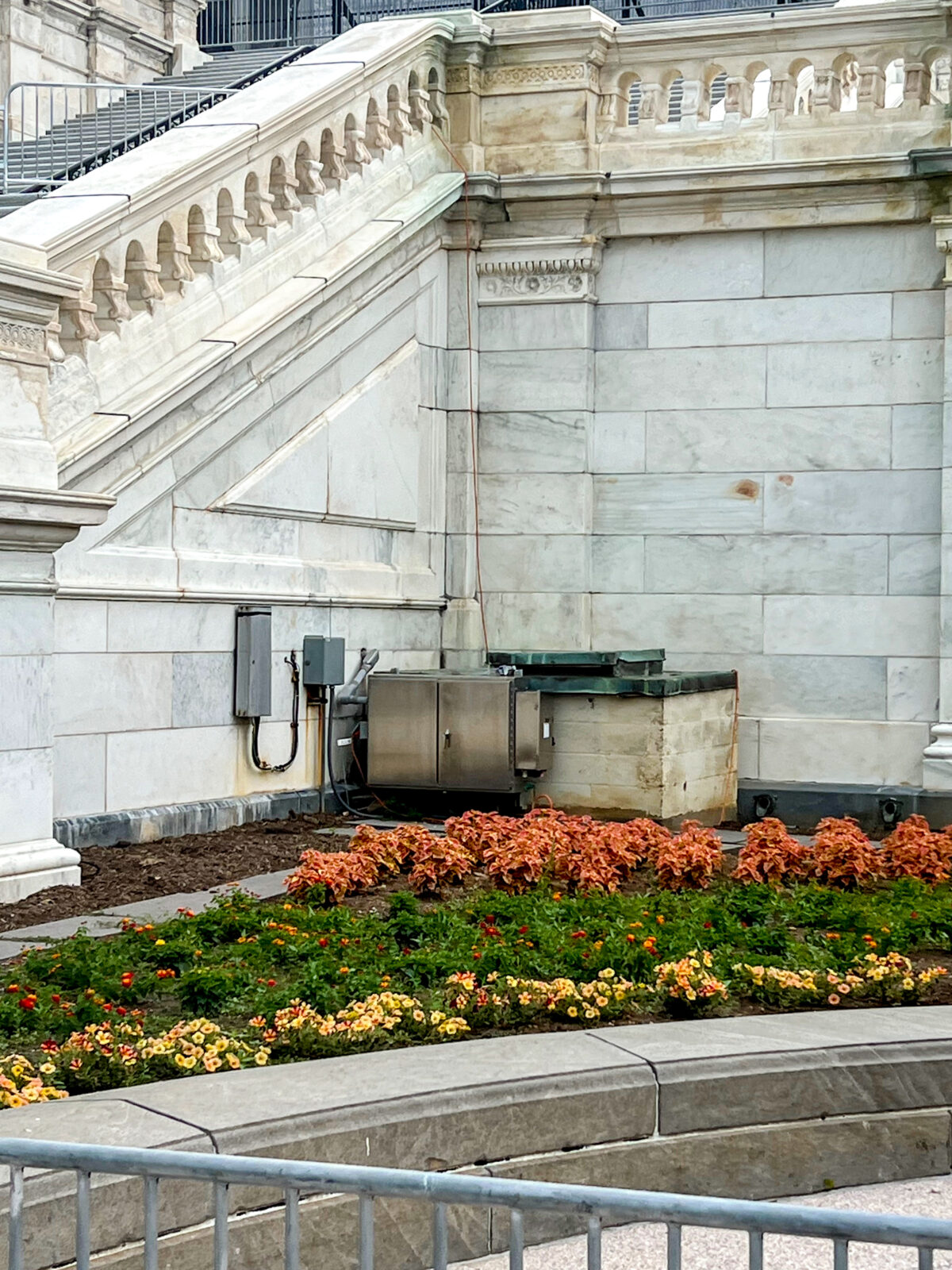 Clark Charged
Clark was charged by federal prosecutors with knowingly entering or remaining in a restricted building without legal authority, and violent or disorderly conduct in a Capitol building. He pleaded not guilty.
One of the items Clark said he witnessed being pulled from the utility hatch matches a video of an unidentified man vandalizing a window at the Capitol. Then man, known only by the hashtag #RedOnRedGlasses, has not been identified or charged, although the FBI lists him as No. 300 on its January 6 most-wanted page.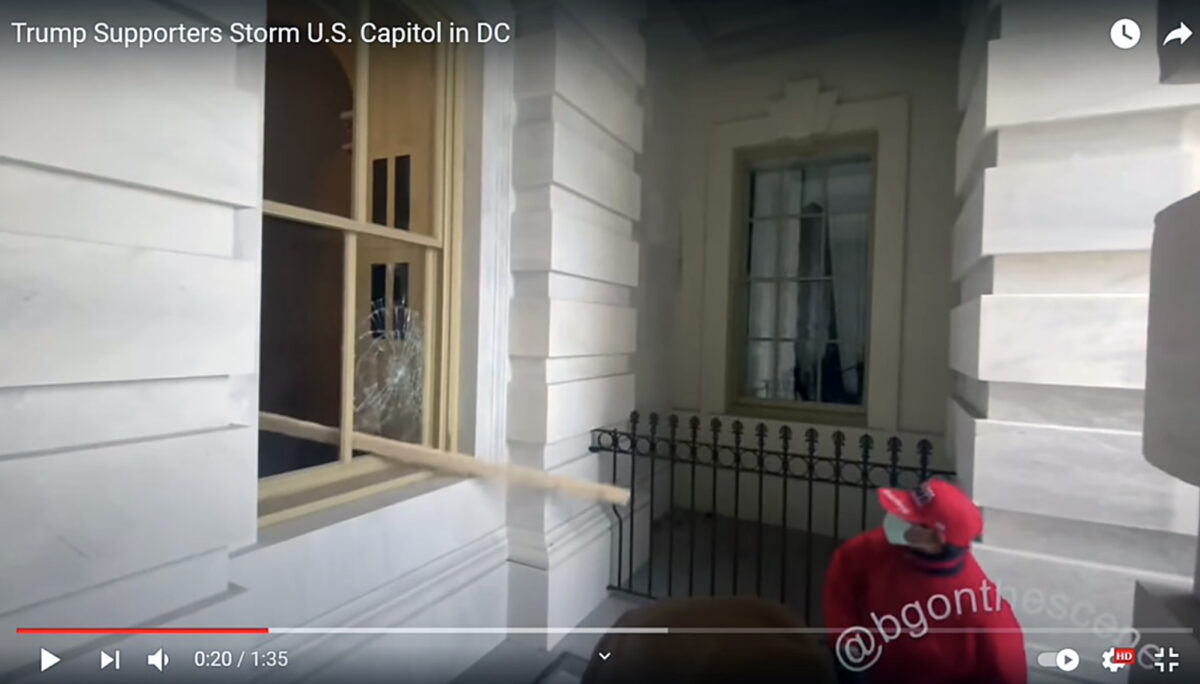 Epps's actions on the day first received widespread attention in June and December 2021, when the website Revolver.News published stories detailing Epps's alleged role as an unindicted actor.
John Blischak, Epps's Phoenix-based attorney, denied Clark's assertions.
"I have read your comments and as Mr. Epps stated: 'It never happened,'" Blischak told The Epoch Times in an email. "I do not question his integrity whatsoever."
William Miller, spokesman for the U.S. Attorney's Office in Washington D.C., said: "We are not commenting on Jan. 6 cases or the investigation beyond what is stated or filed with the Court."
Videos from the day show items similar to those described by Clark being passed around as weapons at the entrance to the Lower West Terrace tunnel. A short stepladder was also seen inside the tunnel entrance. It is not known from where those items came.
Multiple Suspicious Actions
The controversy surrounding Epps has not died down, despite attempts by the January 6 Select Committee to throw cold water on what is often derisively described as a right-wing conspiracy theory. Epps met with the committee, although no transcript of the testimony has been released. According to media reports, Epps told the FBI he did not encourage protester Ryan Samsel to push over the police barrier at the second breach point on Jan. 6.
Video shows Epps in several places on the Capitol grounds chiding protesters for violence and urging them to let police officers do their jobs without interference. One man seemed to be threatening the police line on the west side of the Capitol when Epps intervened. "I'd love to [expletive] get it on," the man said. "I would have come locked and loaded if I knew this was happening."
Epps asked the man to move back away from police. "Take a step back," he said on video broadcast by Just Another Channel. "We're holding ground. We're not trying to get people hurt. They don't want to get hurt, you don't want to get hurt. Back off."
Epps was seen on other video footage appearing to assist the crowd as it passed a massive fabric Trump sign in a metal frame across the west terrace. A short time later, protesters tried to ram the sign into the police line. Some defendants have been charged with using the sign as a deadly weapon, according to federal charging documents.
Clark's Journey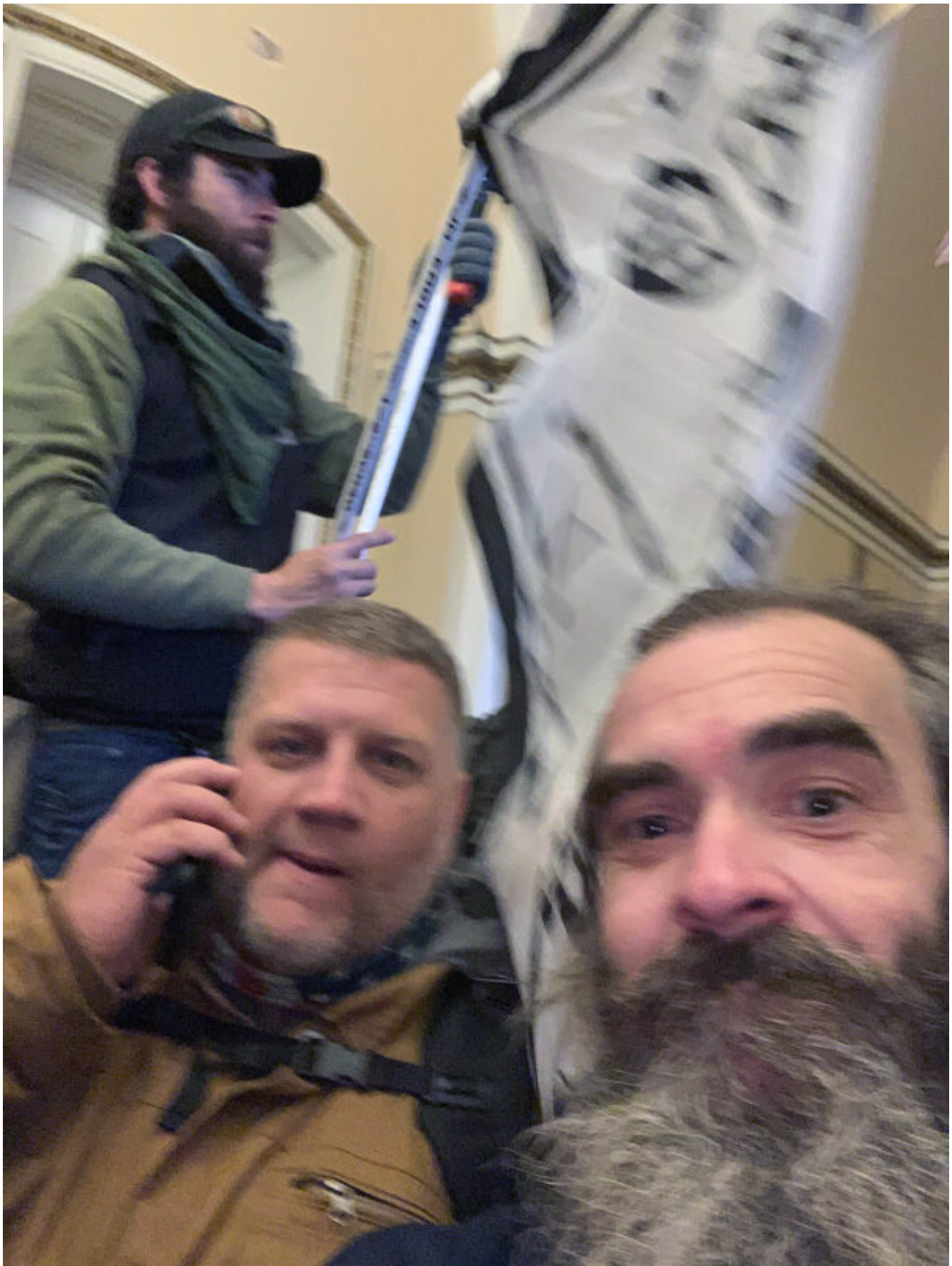 The journey to attending the Jan. 6 events was a rough one for Clark. He spent 25 years addicted to methamphetamine, an addiction that led to being discharged from the U.S. Marine Corps after two years. He said he has been sober for four and a half years after finding God, who led him out of the shackles of addiction.
He said God wanted him to go to Washington D.C. that day.
"I'm convinced of it. And I don't think—I'm convinced of it. I have been convinced of it since I got home on January 7. Nobody will hear what I have to say," Clark said. "My public defender tells me I'm lying when I tell him. The FBI acts like it's no big deal.
"In my heart," Clark said. "I knew God's hand was going to descend on D.C. that day, and he wanted me there and I started looking for Greyhound bus tickets and lucked into somebody who let me carpool with them—I didn't luck into anything. There is no luck. God gave me somebody to carpool with. And a really nice room to stay in."
Clark said he is determined to take his Jan. 6 charges to trial, and if he loses, he will serve the time.
"I'll sit in solitary confinement some year—ain't nothing," he said. "I deserve that for crimes that I committed as a heroin and meth addict that I got away with. Not sweating their three years."