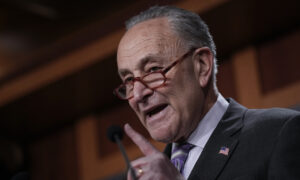 Senate Majority Leader Chuck Schumer (D-N.Y.) blasted Russia for causing the downing of a U.S. drone on March 14.
U.S. European Command (EUCOM) announced that two Russian Su-27 fighters intercepted an unmanned intelligence-gathering MQ-9 aircraft over the Black Sea, hit and damaged it, forcing the United States to shoot down the drone into the sea.
"Our MQ-9 aircraft was conducting routine operations in international airspace when it was intercepted and hit by a Russian aircraft, resulting in a crash and complete loss of the MQ-9," said U.S. Air Force Gen. James Hecker, the commander of U.S. Air Forces Europe and Air Forces Africa, in a statement.
"In fact, this unsafe and unprofessional act by the Russians nearly caused both aircraft to crash."
In a speech on the Senate floor, Schumer said, "This intercept was so dangerous and so brazen that the U.S. Air Force was forced to crash their drone into international waters."
"It is another reckless act by [Russian] President [Vladimir] Putin and his military."
Schumer had a message for Russia's president: Enough.
"Now I want to tell Mr. Putin, 'Stop this behavior before you are the cause of an unintended escalation,'" he said.
"We have seen this behavior from the Russian military before and it will not deter the United States from conducting operations over the Black Sea. These aggressive actions by Russian aircraft are risky and could lead, I repeat, to unintended escalation," Schumer said.
"The United States has routinely flown over the Black Sea since before Putin's illegal and reckless invasion of Ukraine. And I'm confident our military will continue to do so."
Hecker agreed the United States will not stop military flights over the Black Sea.
"U.S. and Allied aircraft will continue to operate in international airspace and we call on the Russians to conduct themselves professionally and safely," he said.
According to EUCOM, "This incident follows a pattern of dangerous actions by Russian pilots while interacting with U.S. and Allied aircraft over international airspace, including over the Black Sea.
"These aggressive actions by Russian aircrew are dangerous and could lead to miscalculation and unintended escalation."
The Russians have not recovered the drone, according to Pentagon Press Secretary Gen. Pat Ryder.
U.S. Marine Corps Gen. David Berger said on March 14, "This is my biggest worry, both there and in the Pacific, is that an aggressive Russia or China pilot or vessel captain or something gets too close, doesn't realize where they are, causes a collision and it's two in the morning and we're trying to unpack this as fast as we can.
"I really worry about that," he said at an event at the National Press Club. "In other words, either intentionally or unintentionally, things bumping into each other, causing a collision, and then two great nations—powerful nations—trying to sort it out at two in the morning."
After the event, Berger told The Epoch Times that what happened is not a case where Article 5 of the NATO charter can be activated.
Article 5 says that an attack on one member country is an attack on all members.
He said this is due to the act being "over water, which isn't NATO territory," and that it occurred in "international airspace over international water."