More than 5.4 million Americans live in eight Orange counties across the United States, including Orange counties within the nation's four most populous states—California, Texas, Florida, and New York.
The newest Orange counties in California, Texas, and Florida are named for the fruit, although the citrus industry in these places has long since given way to urban and suburban development. 
The older Orange counties—in New York, North Carolina, Vermont, Virginia, Indiana—were named for the Dutch House of Orange, which became the ruling family of England with the 1689 ascension of King William III to the British throne. 
The eight Orange counties are wholly or partially within 16 congressional districts. Nine are now held by Democrats and seven by Republicans. They feature four of the most-watched midterm congressional races on the Nov. 8 ballot. 
California's and Florida's Orange counties include Disneyland in Anaheim, California, and Disney World in Orlando, Florida. Their combined 4.6 million population and 10 congressional districts comprise the bulk of residents of America's Orange counties.
The other six Orange counties' populations amount to about 800,000 people with about half of that number in New York's "original Orange County," as locals will correctly point out. 
Congressional races in New York's and Virginia's Orange counties, and two in California's Orange County, are expected to be competitive on Nov. 8. A previously purple congressional district in Florida's Orange County is no longer likely competitive following post-2020 Census redistricting, joining slam-dunk contests in North Carolina, Vermont, Texas, and Indiana Orange counties.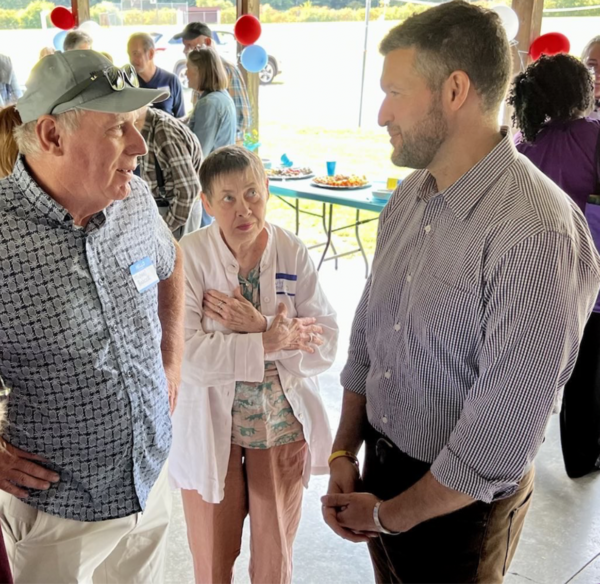 Competitive Purple Oranges
— New York Orange County's 400,000 residents are entirely within the state's Congressional District 18 (CD 18). The New York City suburban district includes snippets of three neighboring counties, but mostly stretches across Orange County between the Hudson and Delaware rivers.
CD 18 is currently represented by Rep. Sean Patrick Maloney (D-N.Y.), who is seeking reelection in neighboring CD 17 rather than in the district he's served for five two-year terms, following court-ordered redrafting of the state's 26 congressional districts after New York lost its 27th congressional seat in post-2020 Census reapportionment. 
Running to succeed him is Rep. Pat Ryan (D-N.Y.), a former Ulster County executive, who assumed the state's lame-duck CD 19 seat on Sept. 13 after scoring an upset Aug. 23 special election victory over Dutchess County Executive Marc Molinaro, the GOP's 2018 gubernatorial candidate. 
Molinaro is favored to succeed Ryan in his Nov. 8 election against Democrat Josh Riley in the "new" CD 19. 
Ryan's special election victory in his closely watched battle against Molinaro—the only one of 2,500 primary candidates nationwide to win two elections on the same day, becoming the newest incumbent in Congress in one district while being nominated to run in another—buoyed Democrats' hopes of blunting, if not reversing, a projected "red wave" that would deliver Republicans House and Senate majorities in 2023.
Ryan rode reaction to the U.S. Supreme Court's late-June reversal of Roe vs. Wade to his CD 19 win, stressing his support for access to abortion. 
The U.S. Army Iraq war veteran and West Point graduate elected Ulster County executive in 2019 is not straying from that messaging in his CD 18 campaign against Republican state Assemblyman Colin Schmitt (R-New Windsor). But he must also contend with polls that indicate Hudson Valley voters are more concerned with inflation, jobs, and the economy than with abortion.
Schmitt, 32, has hammered Ryan, 40, for President Joe Biden's failed economic policies he claims have resulted in a 40-year high in inflation, on crime—he advocates stiffer penalties for repeat offenders—and Democratic policies he says have fostered an "open border."
He is not backing down from his anti-abortion stance, nor his record in opposing what he called a "radical" 2019 abortion bill adopted by New York lawmakers.
A real estate agent and sergeant in the Army National Guard, Schmitt, after serving as New Windsor Town Supervisor, has connections and name recognition in Orange County that Ryan, whose roots are in Ulster County, may not have.
Schmitt has garnered a key endorsement from the American Latino Coalition, an indication that, "the Latino community has been left behind by Joe Biden and House Democrats who appear to have zero focus on the issues that matter to them," he said in a statement.
Both candidates tout internal polling indicating they are either ahead or within striking distance of winning a close race. Schmitt's campaign cites a September BK Strategies survey that showed Ryan with a half-point lead while Ryan's campaign reports its early October internal polling give him a 7-point lead. 
Ryan is the favorite in CD 18. On Oct. 26, the Cook Partisan Voting Index (CPVI) said the race "leans Democrat," meaning there is a significant Republican presence in the district, but it favors Democratic candidates. FiveThirtyEight puts Ryan's odds of defeating Schmitt at 71 percent.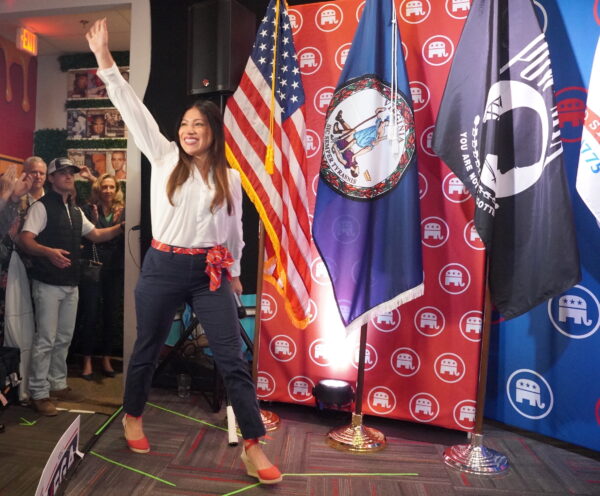 — Virginia Orange County's 36,250 residents are entirely within the state's CD 7, which wholly encompasses seven central and northern Virginia counties and partially includes two others.
CD 7 is represented by Rep. Abigail Spanberger (D-Va.), a former CIA officer who is seeking a third term against Texas-born Republican challenger Yesli Vega, a daughter of Salvadoran immigrants and Prince William Board Supervisor who has served as a police officer and auxiliary sheriff's deputy.
Spanberger is seeking reelection in a "new" constituency that includes more Republican voters after post-2020 Census reapportionment excluded areas of suburban Richmond that served as her base when she flipped CD 7 blue in 2018  to become the first Democrat since the 1960s to win the seat.
The Cook Partisan Voting Index (CPVI) ranks Virginia's CD 7 and the state's CD 2 among 22 congressional districts where incumbent Democrats are engaged in "tossup races." 
FiveThirtyEight gauges CD 7 as "highly competitive" with a nominal +2 Democrat "lean" but rates Spanberger's odds of winning at 72 percent. Sabato's "Crystal Ball" and Inside Elections give Spanberger a slight edge.
The chair of Republican Gov. Glenn Youngkin's 2021 Latinos for Youngkin campaign, Vega emerged victorious from a contentious six-candidate GOP scrum on June 21 to earn the party's CD 7 berth as the self-proclaimed "first conservative Hispanic to win a Republican congressional primary in Virginia."
Spanberger, who was not tested in a primary, alos touts law enforcement credentials. The daughter of a federal law enforcement officer, she worked for more than four years as a U.S. Postal Inspection Service agent specializing in money laundering and narcotics cases before serving eight years with the CIA as an operations officer.
During an Oct. 25 rally in Dumfries, Youngkin and U.S. Sen. Ted Cruz (R-Texas) lobbied for Vega, slamming Spanberger as a supporter of Biden policies that have led to inflation, economic uncertainty, crisis at the border, and "woke" policies that undermine family values.
With inflation at a 40-year high, "Hunter Biden can't afford crack cocaine," Cruz said to raucous applause in a reference to the president's son. 
Vega claimed "woke" progressive Democrats were engaged in a "deliberate attempt to remove parents from their children's lives." She offered a simple solution to fix what ails the nation: "Do the complete opposite of what Abigail Spanberger has been doing."
"God has called us for such a time as this," she shouted. "Let the arrows fly. … I know that in 15 days we're gonna flip the 7th District."
Spanberger said Vega's appearance with Cruz—who is engaged in a 17-state swing on behalf of GOP candidates—won't help her in moderate, purple CD 7.
"My opponent's desperate decision to campaign with Sen. Ted Cruz—who is infamous for shutting down the government for 16 days in an effort to repeal the Affordable Care Act in 2013—is no surprise, given that my opponent has also voiced her support for shutting down the government," she said in a Twitter post.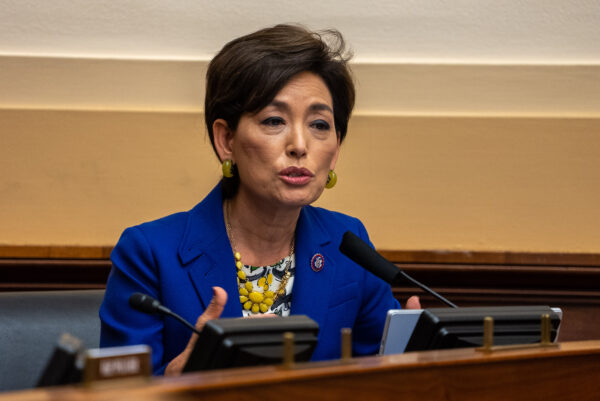 — California Orange County's 3.7 million residents are constituents across six congressional districts, four wholly within, and six partially in, the state's fifth-largest county.
The county has traditionally been Southern California's conservative bastion, but is now purple. It is represented by three Democrats in the state's CDs 38, 46, and 47, and three Republicans in the state's CDs 40, 45, and 48. All six incumbents are running, with four of the congressional races not projected to be competitive. 
FiveThirtyEight gives 99 percent odds of winning on Nov. 8 to 10-term incumbent Rep. Linda Sanchez (D-Calif.) in CD 38, three-term incumbent Rep. Lou Correa (D-Calif.) in CD 46, first-term Rep. Young Kim (R-Calif) in CD 40, and first-term Rep. Dan Issa (R-Calif.) in CD 48. Issa previously served nine terms as CD 50 representative 2000-18.
The most competitive—or, at least compelling—races in California's Orange County are in the state's CD 45 and CD 47, where FiveThirtyEight gives Republican and Democratic incumbents 80 percent odds of winning but polls and the Cook Partisan Voting Index (CPVI) give them either "toss-up" or "lean" designations, indicating tight races.
In CD 45, first-term Rep. Michelle Steel (R-Calif.), a Korean-American, is being challenged by Democrat Jay Chen, the son of Taiwanese immigrants, in a district where 37 percent of voters are Asian-Americans with Vietnamese-Americans the largest ethnic group.
Along with standard partisan issues—inflation, jobs, crime, immigration, and abortion access—China is also on the table in the Steel-Chen CD 45 race with both candidates alleging the other has links to China and is weak on communism.
Steel, 67, touts her small business background as a hard-working immigrant who toiled in her family's clothing store for decades before serving on the Orange County Board of Supervisors, including as chair, before becoming one of the first three Korean-American women elected to Congress in 2020.
In September, photoshopped Steel campaign mailers showed Chen brandishing Karl Marx's "Communist Manifesto" in front of children in a classroom with framed photos of dictators Mao Tse Tung and Joseph Stalin, a People's Republic of China flag, Black Power symbols, and Sen. Bernie Sanders' (I-Vt.) presidential campaign logo.
Steel maintains in campaign videos and press releases that in 2010, as a trustee at Mount San Antonio College, Chen voted in favor of creating a Mandarin program that was funded by the Confucius Institute, a Chinese language and culture network partially funded by Chinese Communist Party and designated in 2020 by the State Department "as a foreign mission of the People's Republic of China."
Steel's red-and-yellow campaign posters planted around Orange County's 'Little Saigon' neighborhood describe Chen as "China's Choice."
Chen, 44, a real estate agent who attended Harvard University and did a study abroad stint at Peking University, is a lieutenant commander in the U.S. Navy reserves and veteran of the campaign against ISIS in Iraq and Syria.
In an Oct. 26 statement, Chen noted Steel's claims are false and that she is enduring "intensifying condemnation for her deceptive and xenophobic campaign tactics" by Orange County's Vietnamese-Americans for a "disinformation campaign that preys on the community's trauma."
In Facebook ads, Chen alleges that Steel and her husband, Shawn Steel, maintain links to communism and Chinese Communist Party officials across Asia, accusing her opponent of being "willing to stoop to the lowest level of politicking to remain in office and can not be trusted."
In CD 47, two-term Rep. Katie Porter (D-Calif), a consumer advocacy attorney, is being challenged by former state Assemblyman and Assembly GOP Republican Leader Scott Baugh, an attorney who was Orange County Republican Committee chair 2004-15.
Baugh is the founding chair of Institute for Fair Elections and, if elected, says he would support school choice and deny citizenship to those who intentionally violated immigration laws. He opposes abortion and same-sex marriage and would strive to reduce business regulations.
Porter, among Congress's most liberal Democrats, in her six years in the House has drawn national notice for tough questioning of corporate executives in committee hearings.
She is a co-sponsor of the Women's Health Protection Act which would enshrine abortion access and supported the Inflation Reduction Act, blaming the surge in inflation on corporate greed. 
The Cook Partisan Voting Index (CPVI) rates CD 47 as D+7 "lean" Democratic, but updates in voter registration rolls show Republicans within 1.6 percentage points of matching Democrats. 
Non-Competitive Mixed Oranges
— Florida Orange County's 1.43 million residents are divvied-up into four congressional districts, each incorporating parts of neighboring counties across Central Florida's Interstate 4 corridor. A formerly solid red area that has swung blue and then purple and, after post-2020 Census redistricting spearheaded by Republican Gov. Ron DeSantis, is likely to swing red again in the 2022 midterm elections.
The four congressional districts are represented by three Democrats and one Republican. Two incumbents—six-term Rep. Bill Posey (R-Fla.) in the state's CD 8 and three-term Rep. Darren Soto (D-Fla.) in the state's CD 9—are projected to cruise to reelection.
CD 10, is currently represented by Rep. Val Demings (D-Fla.), a former Orlando Police chief, who is not seeking election to Congress but is running against Sen. Marco Rubio (R-Fla.) for the Senate on Nov. 8. FiveThirtyEight gives Democrat Maxwell Alejandro Frost, a former national organizing director for March for Our Lives, 99 percent odds to defeat Republican Calvin B. Wimbish.
CD 7 is now represented by three-term Rep. Stephanie Murphy (D-Fla.), a chair of the moderate Blue Dog caucus who is not seeking reelection in a dramatically altered purple district that has been redistricted distinctly red.
CD 7 formerly sprawled to the west from Seminole County into Orange County to include parts of Orlando in a relatively even competitive mix of Republican and Democratic voters. It now excludes Orlando—those areas were shifted into CD 10—and is 75 percent Republican-dominated Volusia and Seminole counties.
As a result, FiveThirtyEight rates Republican candidate Cory Mills' odds of defeating Democrat Karen Green at 99 percent, flipping the seat red.
Non-Competitive Red Oranges
— Texas Orange County's near-85,000 residents are entirely included in the state's CD 36. It is one of eight counties—Texas is a big state with 254 small counties—wholly within CD 36, which also includes a swath of suburban Harris County, but not the urban Houston part.
Southeast Texas CD 36 is represented by Rep. Brian Babin (R-Texas), a dentist by profession. FiveThirtyEight rates his odds of winning a fifth term against Democrat Jon Haire on Nov. 8 at 99 percent.
— Indiana Orange County's near-20,000 residents are entirely within the state's CD 9, which wholly encompasses 12 counties and includes parts of a 13th, stretching from the southern suburbs of Indianapolis to the northern suburbs of Louisville, Ky.
CD 9 is represented by Rep. Trey Hollingsworth (R-Ind.), who is not seeking a fourth term and is a rumored 2024 gubernatorial candidate. FiveThirtyEight gives Republican state Sen. Erin Houchin 99 percent odds of defeating Democrat Matthew Fyfe in succeeding Hollingsworth on Nov. 8.
Non-Competitive Blue Oranges
— North Carolina Orange County's 148,700 residents are within the state's CD 4, which wholly spans three other counties, partially incorporates two more, and includes "The Triangle," a center of high-tech innovation near Chapel Hill, and the University of North Carolina and Duke University. 
North Carolina's CD 4 has been represented by Rep. David Price (D-N.C.) for 34 years, continuously since 1996. The longest-serving member of the state's congressional delegation, Price is retiring and likely to be succeeded by Democrat state Sen. Valerie Foushee. FiveThirtyEight rates her odds of defeating Republican Courtney Geels in the deep blue district at 99 percent.
— Vermont has only one congressional district, so its Orange County's 29,277 residents are now represented by Rep. Peter Welch (D-Vt.), who is running for the Senate and favored to win. FiveThirtyEight rates Democrat state Sen. Becca Balint's odds of succeeding Welch at 99 percent in her Nov. 8 election against Republican Liam Madden.