Rep. Liz Cheney (R-Wyo.) is starting to ask Democrats to switch parties and vote for her, as she faces a tough primary battle with a candidate endorsed by former President Donald Trump.
Cheney's campaign website recently added a section that asks and answers questions about voting.
It notes that voters must be registered as a Republican to vote for Cheney in the Aug. 16 primary.
"How do I change my party affiliation to register as a Republican so I can vote for Liz?" the website states, before telling voters how to change their affiliation.
Under Wyoming law, voters can submit an application by mail to change their party up to 14 days before an election. They can also change their affiliation while at a polling place on the day of the primary election.
Cheney's campaign has also been mailing forms that outline how to change parties to Democrat voters, Joseph Barbuto, the chairman of the Wyoming Democratic Party, told The New York Times.
Barbuto himself got one in the mail.
"I haven't had any Republicans share online or tell me that they received it," Barbuto told the paper.
In February, Cheney said that she would not undertake such an effort.
"That is not something that I have contemplated, that I have organized or that I will organize," she said at the time.
"Liz Cheney told the New York Times that she wouldn't be encouraging Democrats to raid the Republican primary, but I guess the drive to hold onto power is just too strong for her to keep her word," Carly Miller, campaign manager for lawyer Harriet Hageman, who is challenging Cheney in the primary, told The Epoch Times in an email.
"What Cheney doesn't understand is that Democrats will drop her like a bad habit after she's no longer useful to them on the January 6th Committee. She's in No Man's Land—Democrats just see her as a temporary tool, while Republicans are fed up with her completely," Miller added.
Cheney's campaign did not respond to a request for comment.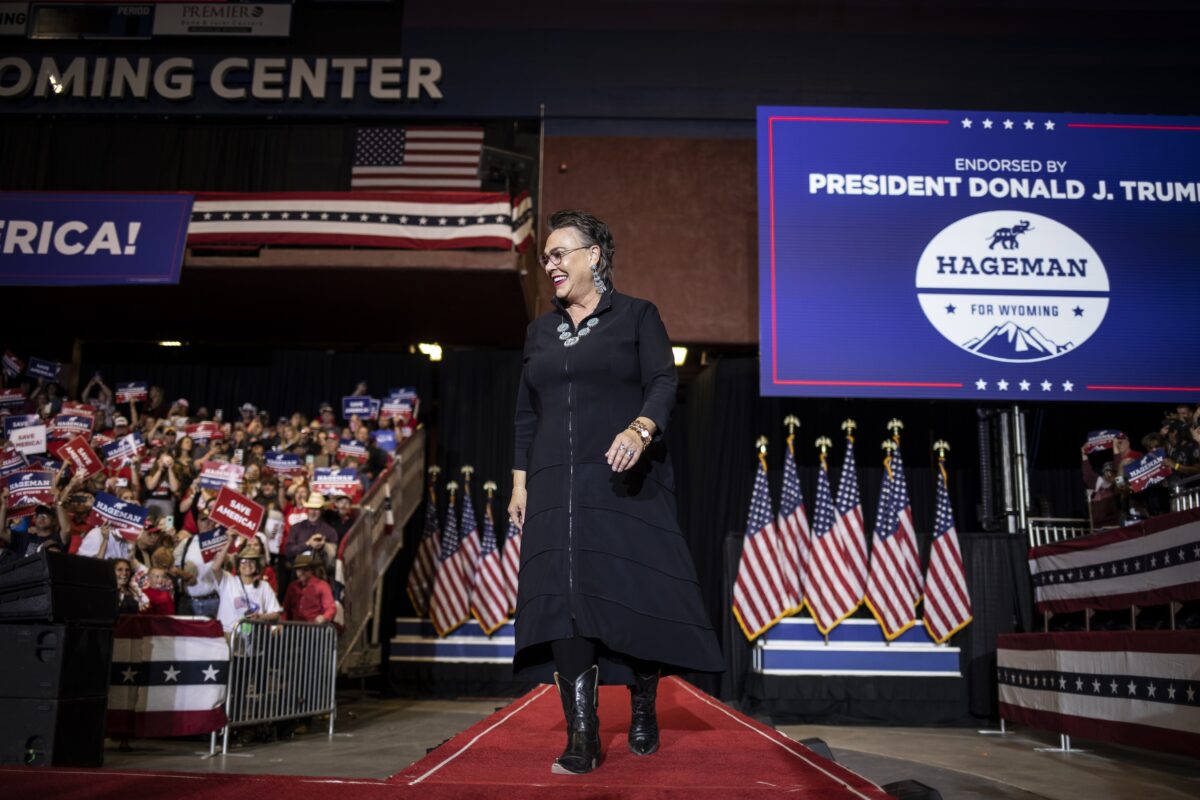 Due to her vote to impeach Trump and other actions against the Republican, Cheney has faced blowback from the GOP. The Wyoming Republican Party first censured her, then voted to stop recognizing her as one of its members.
Cheney was also removed as the number three Republican in the House of Representatives.
Cheney often speaks negatively about Trump, including during hearings of the House committee investigating the Jan. 6, 2021, breach of the U.S. Capitol.
Cheney is serving on the panel at the behest of House Speaker Nancy Pelosi (D-Calif.).
Trump endorsed Hageman, and a number of Trump allies have worked to try to get the lawyer the Republican nomination for the House seat representing Wyoming.
Some Wyoming voters tried getting restrictions to changing affiliations on the ballot for the upcoming midterm elections, but failed to get enough signatures, according to Ballotpedia.
Observers decried Cheney's move.
"While lecturing the nation about ethics, Liz Cheney is urging Democrats to vote for her in the Wyoming GOP primary," radio host Mark Levin said on social media.
Others, though, encouraged Democrats to support Cheney.
"If I lived in Wyoming, I would consent to @RepLizCheney 's request for these 2022 midterms & would also encourage other registered Dems in Wyoming to do the same," MSNBC analyst Fernand Amandi said. "No Dem has a prayer to win this seat, so a vote for @Liz_Cheney is a vote for democracy."