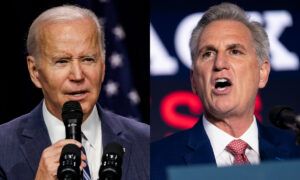 Surrounded by painters, dry-wallers, and apprentices, President Joe Biden took the podium at a union training center in Philadelphia to announce his plan to invest in American jobs, education, health care, and tech innovation, all while reducing the nation's deficit.
The speech on Mar. 9 unveiled the president's budget for 2024, and showcased his economic and social agenda for the country. That vision contrasts sharply with that of Republicans, who control the House of Representatives, making passage of the budget highly unlikely as proposed.
Both sides have pledged to preserve and strengthen Medicare, which is a key component of Biden's 2024 budget proposal
Focus on the Middle Class
"When the middle class does well, the poor have a way up and the wealthy still do very well," Biden said. "I want to build the economy from the bottom up and the middle out, not from the top down."
The president said he hopes to give Americans "a little bit of breathing room" after paying their bills, in part by renegotiating drug costs paid by Medicare, which he said would save Americans $160 billion.
The plan promises to lower costs for the middle class, reduce health care costs for all Americans, invest in education, protect the environment, and lower energy costs. The president also proposed to reinvigorate manufacturing in America. "We're going to export product, and bring the jobs back here," he said.
The plan relies heavily on tax increases for the wealthiest Americans, but Biden insisted that would not create a burden for taxpayers because it will stimulate the economy and improve personal income.
The president pointed out that the average billionaire pays just 3 percent in income taxes. He said, "No billionaire should pay lower taxes than a firefighter or a schoolteacher."
He proposed to make large corporations pay a minimum of 15 percent in corporate income tax, which is less than the rate paid by the average taxpayer.
Competing Vision
While the president proposed to increase benefits to Americans while raising taxes on some, GOP leaders have said they will not consider a tax increase and are intent on restoring the nation's financial health by cutting federal spending.
Before the president arrived in Philadelphia, Republican leaders unleashed a fusillade of criticism for his spending plan.
House Speaker Kevin McCarthy (R-Calif.) chided the president on Twitter, saying that his budget is "completely unserious."
"He proposes trillions in new taxes that you and your family will pay directly or through higher costs," McCarthy said, repeating what has become a Republican mantra: "Washington has a spending problem, NOT a revenue problem."
"President Joe Biden's budget is a reckless proposal doubling down on the same far-left spending policies that have led to record inflation and our current debt crisis," the Republican leadership team said in a statement on Mar. 9.
"We must cut wasteful government spending. Our debt is one of the greatest threats to America and the time to address this crisis is now. Yet, President Biden is proposing out-of-control spending and delaying debt negotiations, following his pattern of shrugging and ignoring when faced with a crisis," they said.
The statement by McCarthy, Majority Leader Steve Scalise (R-La.), Majority Whip Tom Emmer (R-Minn.), and Republican Conference chairwoman Elise Stefanik (R-N.Y.) echoed statements made in a press conference the previous day, in which McCarthy called for spending cuts without increased taxation.
"I do not believe that raising taxes is the answer. I've had this discussion with the president," McCarthy said on Mar. 8.
The president and the speaker met to discuss the national debt on Feb. 2, a meeting that both described in positive terms, but which produced no resolution.
"I believe we could find common ground. It won't be new taxes," McCarthy said. "Raising taxes in a low-growth economy like this will only hurt us more and put us into recession."
Sen. Rick Scott (R-Fla.) denounced the president's plan on both fiscal and ideological grounds, saying a "'woke' agenda has clearly taken over his party," in a statement on Mar. 9.
Scott is considered an outlier among Senate Republicans, though his criticism of the president's social agenda is widely shared.
McCarthy took aim on Mar. 8 at the president's preference for the practice known as ESG investing, which means choosing fund investments based on environmental, social, and governance (ESG) factors in addition to financial outcomes.
"We're looking here talking about fiscal responsibility. They [Democrats] are now picking their liberal policies instead of people being able to get a return on their retirement investments," McCarthy said.
"Now they're going to [reduce retirement savings] because they're gonna say you can only invest in my liberal policies, not on the return of the investment."
Republican House Divided
While Republicans are united in their opposition to the Biden budget, they remain a house divided in drafting a plan of their own.
Republicans are reportedly preparing three budget proposals, one each from the House Budget Committee, the Republican Study Committee, and the Freedom Caucus.
Emmer alluded to the division in the Republicans' press conference on Mar. 8, which was intended as a call for bipartisanship in the wake of a joint briefing with House Democrats by the Congressional Budget Office.
"You can't make a difference on your own. You got to do it with other people, and Kevin McCarthy has literally started to bring both sides of this—all side—because it's not that easy anymore. It's not just both sides," Emer said in an apparent reference to factions within the Republican caucus.
Biden said he believes the Republican objective to reduct the deficit without increasing taxes or cutting Social Security, Medicare, or defense spending is unachievable.
"How are they going to make the math work?" Biden asked. "What are they going to cut?" He suggest that Republicans cannot make their vision work without cutting social programs that many Americans depend on.
The president acknowledged that he and the Republicans have a different vision for the economy, but said he is willing to work together to reconcile their proposals.
"I'm ready to meet with the speaker anytime, tomorrow if he has a budget," the president said. He proposed to compare their positions line-by-line and come to an agreement.