Riverside Parents Wait Over 6 Hours to Comment on Mask and Vaccine Mandates
During Riverside Unified School District's (RUSD) most recent Board of Education meeting, some parents and teachers were forced to wait until after midnight to voice concerns over COVID-19 vaccine requirements for staff and mask mandates for students.
Health and safety guidelines for the school district require students to wear face masks on buses, in all indoor areas including indoor athletics and extracurricular activities, with the exception of wrestling. Students playing wind instruments are provided modified masks and are required to maintain six feet of distancing when indoors.
The California Department of Public Health (CDPH) requires all certificated and classified staff, walk-on coaches, substitutes, tutors, and volunteers who are on-site at a school or supporting a school function be fully vaccinated or be tested weekly as of Oct. 15. RUSD began testing its employees this week.
Like current mandatory vaccine requirements for mumps and measles in order to attend California public schools, Governor Newsom has directed the CDPH to require students receive COVID-19 vaccinations upon their final approval by the FDA, which is estimated to happen in 2022 or 2023.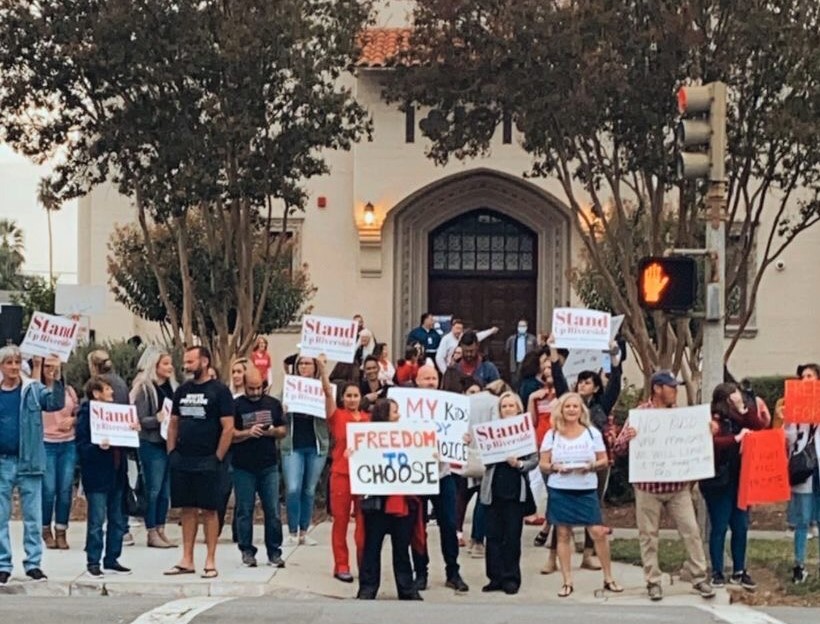 Attendance by frustrated Riverside parents began to wane as the recent board meeting approached midnight, but many in the crowd stayed until the very end, not speaking until well after 12:30 am.
Teacher Laura Lester spoke from the podium on behalf of herself as well as a collective of USD employees in attendance.
"I am here as a teacher, a mother, a sister, a daughter and a friend. I am deeply grieved by the current state of affairs. I never thought I would live to see the day where I was forced to choose between my job, and a vaccine," Lester said.
"These mandates, which have yet to be enacted by law or the judicial process, seems surreal to say the least. I never thought I would leave to see the day where I would be stripped of my right to choose or stand to lose everything I have worked so hard to obtain, should I elect not to adhere to the status quo.
"I will not apologize for my beliefs, nor will I deny my ideologies. I don't want to fight. I want respect, objectivity and tolerance despite our differences in opinions – that if you serve the current narrative of canceled culture, that if you are not with us, then you are against us and deserving of every loss afforded to you.
"I don't want to fight, but I will, for myself, for my children, for my students and their parents who would succumb to the pressure to concede, and for my fellow colleagues who won't speak up fearing retaliation. I am neither brave, nor courageous, rather I am compelled by a higher power and my convictions to speak before you now. We collectively as certificated and classified employees of Riverside Unified School District, implore our USD in conjunction with our unions and the Board of Education to reconsider the mandates outlined within our memorandum of understanding, and the pending vaccination mandate. Not only are the policies and procedures in our MOU, a poor response to the California Department of Health, orders, but they also unfairly and callously target the unvaccinated, especially with respect to COVID-19 testing probe."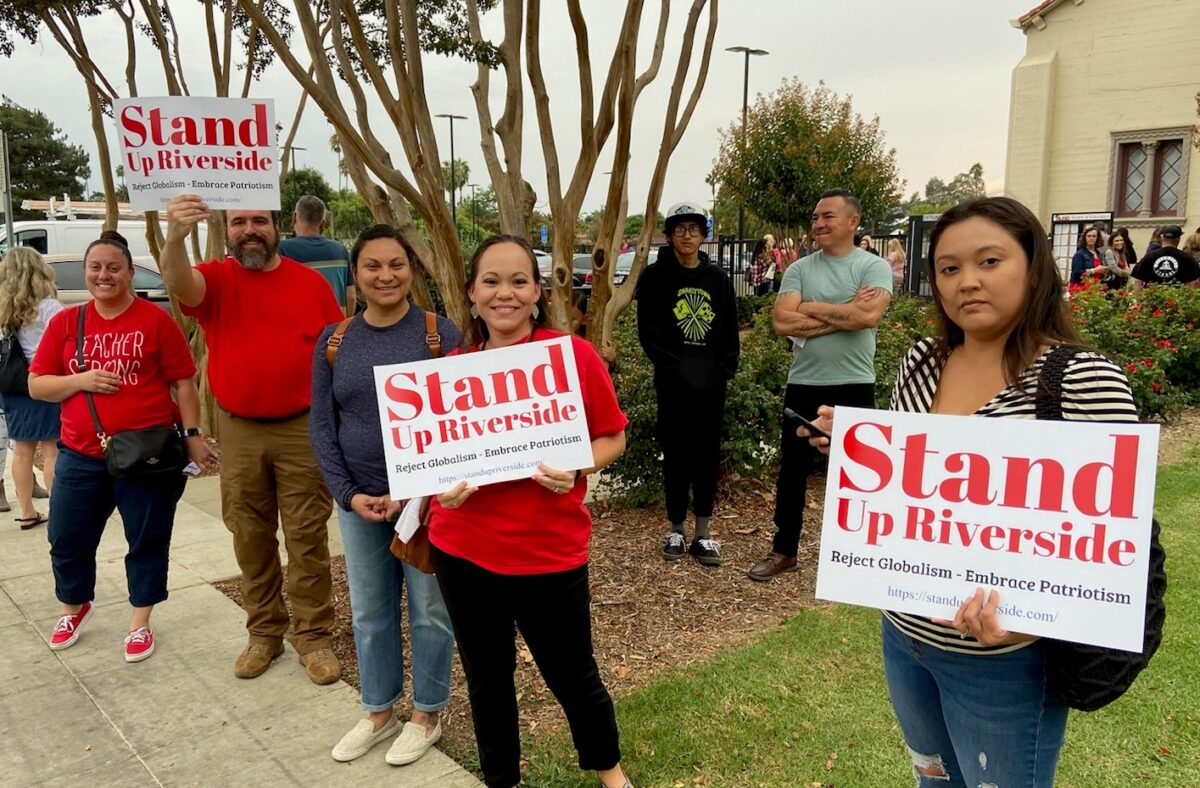 Lester ran out of time before finishing the group's letter, and members of the audience vocally complained and asked to be allowed to give their time to the speaker. However, Board President Tom Hunt told the crowd, "This is not Congress, you can't give your time to another person."
Yet after a few minutes of heated discussion, he agreed to allow other teachers to forfeit their time to speak so that the group's letter could finish being read.
"I got a feeling you guys worked this out before we got here," Hunt commented.
Lester continued reading after each parent conceded their time: "We believe you are treating two groups, equally capable of contracting and spreading the virus quite differently, which in turn fosters a hostile and discriminatory work environment," she read.
"We have faced instances of segregation, where those who are unvaccinated or declined to state, have had to sit at separate tables from those who are vaccinated during staff meetings, instances of those who are unvaccinated or declined to state have been asked not to enter the classrooms of those who are vaccinated, even though I'm wearing a mask. Others have repeatedly been asked by colleagues regarding their vaccinated status and were deemed ignorant when revealing their status. Still, some have felt so ostracized by their vaccinated colleagues that they elected to get the vaccine in an effort to deter the chastisement they were experiencing in their work environment, only to later endure many of the negative side effects of the vaccine.
"It is imperative to point out that not only are we employees of our USD, but most importantly citizens of the United States of America. In accordance with our civil liberties, as citizens, we are born with certain inalienable rights which include, but are not limited to, our right to privacy and freedom. Our Constitution specifically protects the religious freedoms of the people. Does that not include the right to choose whether or not we accept a vaccine?"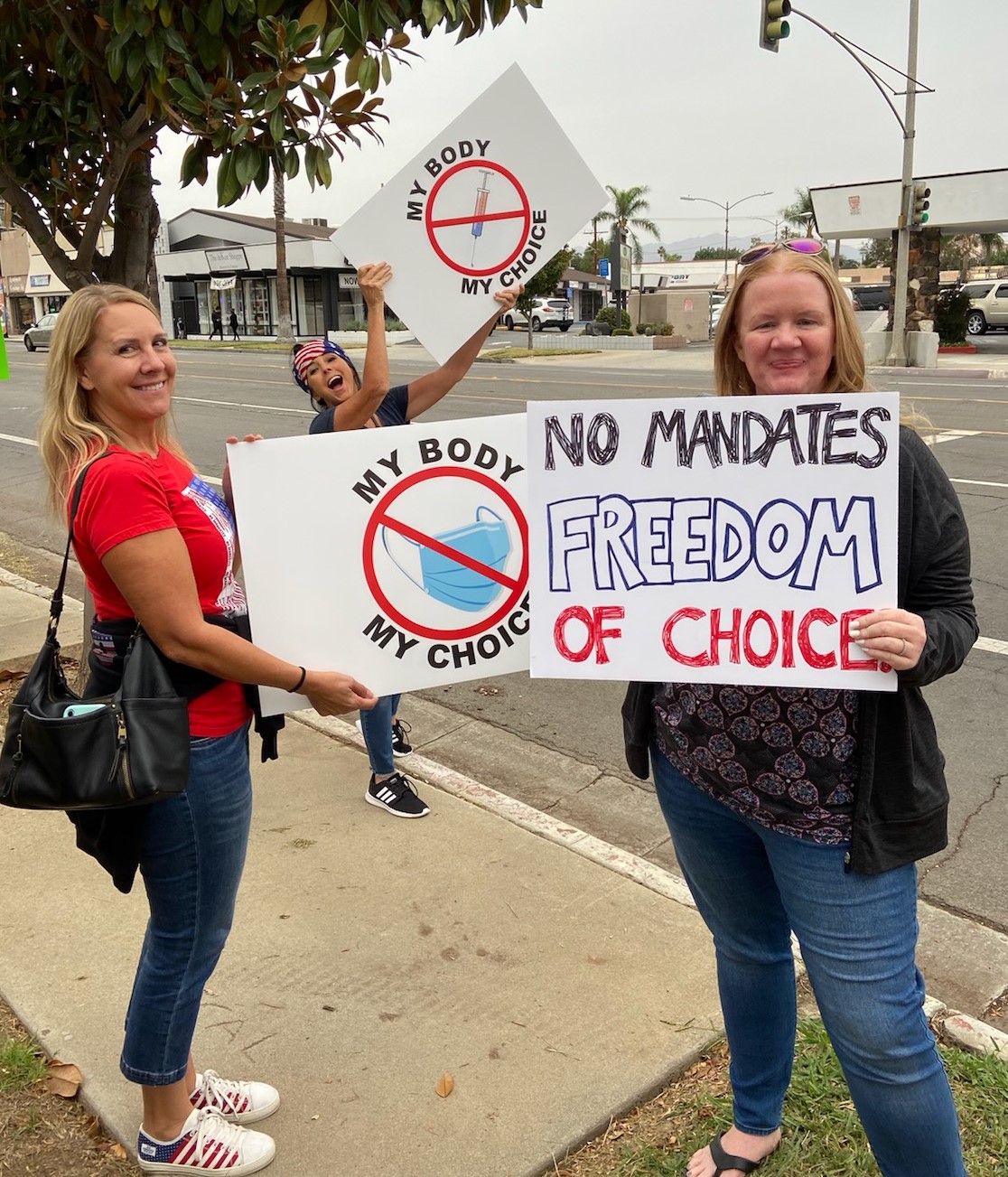 Nearly in tears, another teacher spoke during her turn: "Hi my name is Nicole, and I've been teaching for 20 years. I absolutely love what I do, and I feel like it is an honor and privilege to work with our youth and inspire and empower them. I am not an activist, let alone someone who would ever volunteer to speak publicly especially when I know this could put a target on me, but I feel like I can no longer sit back and do nothing as the lives of our youth are being greatly impacted and enough is enough."
"I understand that COVID is real but I do not feel like it is a free pass to take away our human rights, freedoms and privacy. Our Constitution protects our rights and freedoms and HIPPA laws protect our privacy, and it is time that our district and board recognize and stand up for these rights and freedoms. This is not about being a Democrat or Republican or being vaccinated or choosing not to. This is about our freedom to choose," she said.
"I am standing before you, asking you to link arms with other districts and boards and fight for our freedoms. Say no to mandated masking, say no to mandated vaccines, say no to policies that are causing discrimination and segregation amongst and between the vaccinated and unvaccinated. Please treat us like professionals that know when to stay home if we are sick and allow our medical choices to be between us and our doctor. I'm standing before you now and asking you, our elected officials, to be an example to our youth and most importantly take the stress that all of this is adding to our youth and their families, along with our teachers and staff, out of the equation. We have been divided for far too long and it is time to unite and make a decision to stand up against these unconstitutional mandates. Thank you, sir."
At the conclusion of the comments, president Hunt asked if a tape of the comments could be compiled to send to elected officials.
"I'd like to know if we can make a clip of all that's been said here, that we can send to the Governor, Assemblymember Jose Medina, and Senator Roth, and Assemblywoman Cervantes, so we can show them what our community is saying on the mandates they put on the school district. If you can make that clip, I'll write the cover letter," Hunt said.
Data shows that around 16 percent of COVID-19 cases recorded nationwide have involved children 17 years old and younger. Yet children only make up .08 percent of total deaths.
Organizers from Stand-Up Riverside and Nurses4Freedom are planning a rally at the next RUSD Board of Education meeting on Oct. 21, to be attended by AM 590 The Answer radio personality Don Dix. A flyer for the event obtained by The Epoch Times reads: "Stop the Mandates! Our Children Need Our Support! It's Time to Stand Up for Their Bodily Autonomy!"
Calls by The Epoch Times to the Board of Education for comment were not immediately returned.