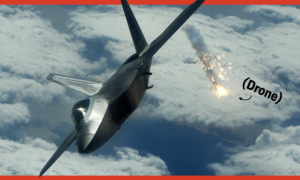 A $32 million U.S. drone that was flying over the Black Sea fell into the water after it encountered two Russian fighter jets.
The drone in question was an unmanned American Reaper drone—specifically, the MQ-9 model. It was flying through international airspace, over the Black Sea near the Crimean peninsula, toward the Russian border.
As the drone was getting closer to the border, its location was picked up by Russian radar, and as a response, two Russian SU-27 fighter jets were scrambled in order to intercept. And within several minutes of making contact, the drone fell into the water.
However, as to why the drone fell into the Black Sea, there are two versions of the story: the American version and the Russian version. Let's go through them together.
🪙 Claim $200 of FREE Survival Gear with your Purchase of Emergency Food 👉 https://ept.ms/3l9ebCq
Episode Resources:
🔵 My Patriot Supply:
🔵 MQ-9 Reaper:
🔵 Russian Statement:
🔵 American Statement:
🔵 Russian Cockpit Video:
🔵 Wreckage Race: