San Diego Sunsets COVID-19 Emergency, City Employee Vaccine Mandate
SAN DIEGO—The San Diego City Council Jan. 24 voted to end the city's COVID-19 emergency declaration and a city employee vaccine mandate at the end of February.
Mayor Todd Gloria, City Attorney Mara Elliott, and City Councilwoman Marni von Wilpert on Monday released a joint statement proposing to end the emergency declaration—which had been in effect since March 17, 2020, under then-Mayor Kevin Faulconer's administration. Since that date, it has been renewed and extended multiple times by the San Diego City Council.
"Consistent with the State of California's decision to lift the COVID-19 state of emergency effective Feb. 28, 2023, the city of San Diego will look to take similar action as the conditions requiring a local emergency declaration have steadily improved," Gloria, Elliott, and von Wilpert said in the joint statement.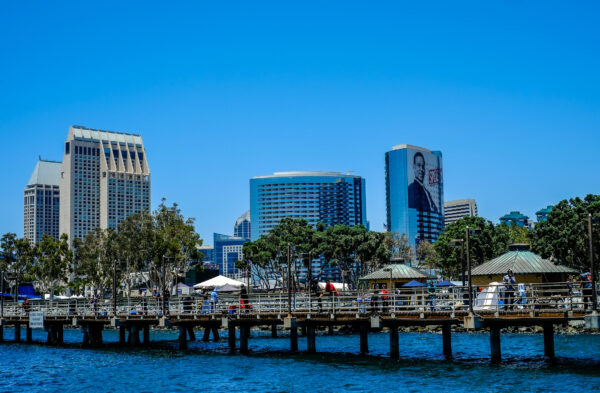 "As part of this action, we will also sunset our vaccine mandate for city employees due to a decrease in COVID-19 positive cases and hospitalizations, and 91 percent of city employees having been vaccinated," the statement added.
On Nov. 29, 2021, the city council adopted the mandatory COVID-19 vaccination policy, which required current and newly hired or appointed city employees, elected officials, board members, and volunteers to be fully vaccinated against COVID-19.
The mandate was challenged in court by a citizens group ReOpen San Diego, which alleged that the mandate kept "an entire category of individuals from meaningful participation in city government" by way of barring unvaccinated city officials and volunteers from attending city meetings or business in city buildings.
By March 2022, the vaccination rate for city employees had increased to more than 90 percent, which allowed the city to accommodate around 790 religious or medical exemptions to its mandatory vaccination policy. City departments accommodated those employees by providing free weekly COVID-19 testing at the workplace. Employees who refused to comply with the weekly testing regimen were subject to termination.
Gov. Gavin Newsom announced on Oct. 17, 2022, that he will end the COVID-19 state of emergency on Feb. 28 —finding that "California has the tools needed to continue fighting COVID-19, including vaccines and boosters, testing, treatments and other mitigation measures like masking and indoor ventilation," a city report read.