San Francisco Tourism Down 61 Percent in 2020, Now Recovering
SAN FRANCISCO—The tourism industry in San Francisco is starting to recover as lockdown restrictions ease.
The lockdowns due to COVID-19 have greatly affected the tourism industry. According to one report, San Francisco tourism in 2020 dropped 61 percent compared to 2019.
The San Francisco Travel Association reported a total of 10.2 million visitors in 2020, compared to 26.2 million in 2019.
Visitors spent a total of $2.3 billion, down 77.7 percent from 2019's record high of $10.3 billion.
The president of the travel association predicted in the report that domestic travel will pick up first, followed by the international market.
On March 23, the city moved up to the less restrictive Orange Tier of the state's reopening map. This means that many indoor activities like museums, places of worship, movie theaters, and restaurants may open at 50 percent capacity.
Some of the top attractions in the city, like Pier 39 and Fisherman's Wharf, are seeing tourism gain momentum again as more people are allowed for indoor and outdoor dining.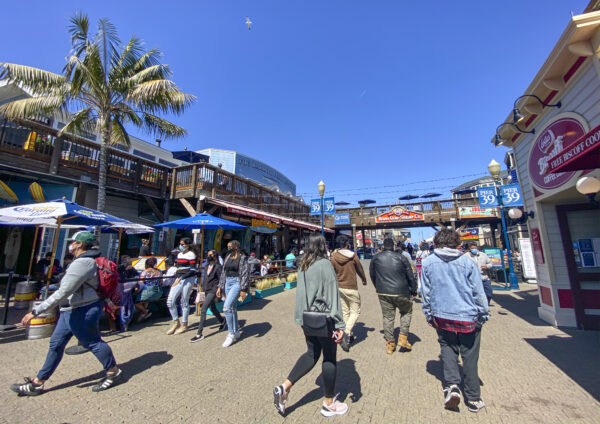 Small businesses that had to cut down on employees and hours in order to break even are also seeing hope.
"We're starting to see more people in, coming down for lunch. We have more people walking in the area, we have more tourists from [the] state, out of state also. So we're getting a little bit more relief, better relief, more customers going around, shopping around," Alfredo Mendez, owner at Pal Electronics Inc., told NTD Television.
Tom La Torre, co-owner of the restaurant Sabella and La Torre, said the restaurant is doing about a third of the business it was doing compared to before the pandemic. The family-owned restaurant had 35 employees a year ago. Now there are 10.
"We get real busy on the weekends, so people [come] from the Bay Area, from all over, just to come out and get away," La Torre told NTD Television. "Business is coming back. I see the tour buses go by now—the double-deckers—they have people on [them], so it's a good sign. Alcatraz is open, so it seems like things are going to come back. It may take a while."
They said they see more domestic tourists than international ones.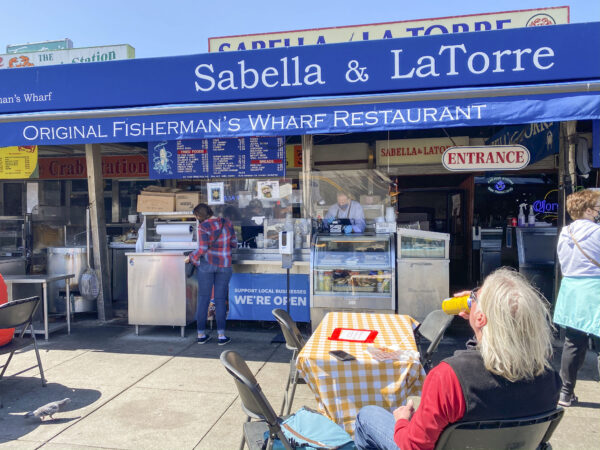 Kristin Montoya, a tourist from New Mexico who was visiting San Francisco for the first time, told NTD Television: "I don't know what I was really expecting, but it's really nice. I love the ocean, I love it. So it's just a fun last-minute trip."
Andrea, a tourist from Southern California, drives up to San Francisco once in a while to escape.
"[We're] doing a road trip right now for spring break for my son. It's his first time, so I brought him up here. I took advantage of the fact that it's actually empty. There's not many people, and I'm able to explore, walk around without the concerns or worries of having something covering my face," Andrea told NTD Television.
San Francisco's tourism is expected to continue to gradually recover and may return to pre-pandemic levels by 2023, the travel association stated in the report.