Santa Ana Classrooms Will Remain Closed Until Next School Year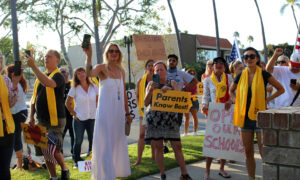 Santa Ana public school students won't be returning to class during the current curricular year.
The Santa Ana Unified School District's (SAUSD) board voted March 23 to keep schools closed for in-person instruction for the remainder of the school year. Board members opted not to vote on creating a hybrid class schedule, following a presentation that stated it was safer to stick with remote learning.
"Considering the options for our students and families, and the instructional and social emotional benefits, we will not be entering into a hybrid approach to instruction and will stay the course with remaining in distance learning which will allow our students to receive instruction from their teachers, and have regular interaction with their peers, five days a week," Lorraine Perez, deputy superintendent of education services, said during the meeting.
Perez said that the district was providing the "highest quality learning experiences given our current circumstances."
Board member Valerie Amezcua questioned the decision, asking how they would respond if a survey indicating parents want their children back in school.  She also said the district is losing students due to its current policies.
"How many kids do we still have in our district?" Valerie Amezcua said. "Because we have lost a lot of kids to the surrounding districts and I don't blame them. If I was a parent, I would probably go to another district too because I want my child in school."
Santa Ana has made an exception for high-needs students. During its board meeting, members discussed the reopening of learning labs, which allow the district to bring high-need students back onto campuses at a small scale.
Most public commenters urged the board to allow students to return to in-person classes.
"Santa Ana is one of the last districts to decide whether to resume in-person instruction or remain completely remote learning," said one commenter, named Lucy. "As you delay your response to be aware that our students are watching their counterparts in other school districts return to campus, as they continue to isolate at home.
"I ask the board to listen to the parents of the children that you are here to educate, give the parents a choice."