Self-Described 'Anarchy Princess' Destroys Ashli Babbitt Floral Tribute at US Capitol While Police Watch
A social-media personality who calls herself the "Anarchy Princess" kicked over and stomped on flowers left at the base of the steps to the U.S. Capitol in memory of Ashli Babbitt on the slain Air Force veteran's 37th birthday, and then went on a profanity-laced live stream justifying her destruction of the memorial.
It was the second anti-Babbitt tirade the woman went on in as many days in Washington D.C. A video posted on Twitter from Oct. 8 showed her screaming obscenities about Babbitt, who was killed by Capitol Police Lt. Michael Byrd on Jan. 6, 2021.
The woman identified herself in another live stream video as 37-year-old Brianne Marie Chapman. Online court records indicate she is from Fredericksburg, Va.
Although Chapman destroyed the Babbitt memorial in full view of the Capitol Police, they did not intervene. One officer carrying a rifle said something inaudible to her as she filmed the flowers lined up along a metal police barricade.
"This right here?" she asked. "I know. That's what I was going to do. I was hoping you weren't going to arrest me or something if I do it."
Chapman broadcast her vandalism live on YouTube.
"Nobody wants any of this [expletive]," she said as she kicked the roses and other flowers leaning against the barricade. "[Expletive] Ashli Babbitt."
"I just kicked Ashli Babbitt's flowers off the [expletive] Capitol," she bragged to the nearly 5,000 people who viewed her video on Oct. 10. "Yep, they let me do it. Capitol Police don't like Ashli Babbitt.
"This is abandoned property," she said. "Technically, it can just be thrown in the trash."
Chapman said one Capitol Police officer suggested she might be in some trouble as she finished stomping on and grinding the flowers under her heel.
"I'm done," she said. "Leave your [expletive] memorial. Bye, [expletive]."
As she walked away from the Capitol, Chapman repeatedly sang, "[expletive] Ashli Babbitt."
Babbitt's mother, Micki Witthoeft, had asked on social media that people place flowers on the steps of their state capitol buildings in commemoration of her daughter's 37th birthday.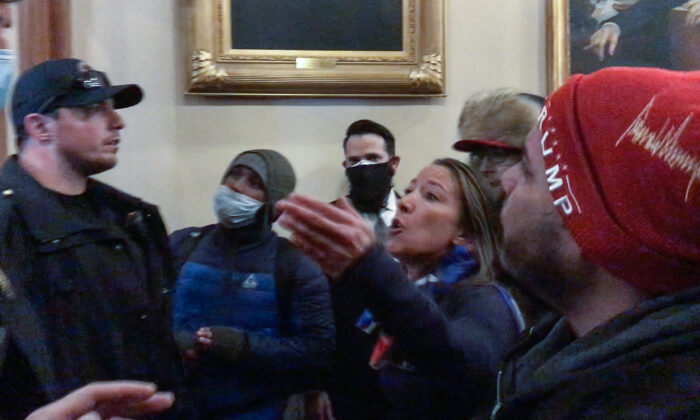 Witthoeft told The Epoch Times that Chapman showed up later on Oct. 10 at the nightly vigil held for Jan. 6 pretrial detainees outside the D.C. jail.
"Yes, she follows me," Witthoeft said. "She was also at the vigil tonight. [It's] getting harder and harder not to kick her [behind]."
The vandalism drew swift condemnation on social media, although the videos have not been removed from Twitter or YouTube as hate speech or branded as hateful conduct.
"Evil," remarked the Hodge Twins, Keith and Kevin Hodge, to their 1.1 million Twitter followers.
"Another person in deep darkness, unfortunately," replied one of the twins' followers. "Only hope for her is Jesus."
"An Antifa member supporting police is something I did not expect to see today," remarked another.
Chapman continued her live stream as she walked around D.C. for nearly two hours, wearing a Santa Claus sweater.
"Those were like [expletive] Walmart flowers," she said. "They were half-dead anyway."
'Absolute Evil'
Independent journalist Tayler Hansen, who first posted a clip of the video on Twitter, called Chapman's actions "absolute evil."
"It's Ashli Babbitt's birthday today for those who weren't aware," Hansen wrote. "The kind of people that hate Ashli and her mother for no reason are not just mentally ill, but sick in the heart as well."
Ashli's widower, Aaron Babbitt, told The Epoch Times he saw the video. "She seems like a very disturbed person," he said of Chapman.
Hansen said Chapman has been stalking Witthoeft around Washington D.C. for weeks.
On Oct. 4, Chapman stood across the street from the D.C. federal courthouse, filming Witthoeft standing in front of the building during the Oath Keepers seditious-conspiracy trial.
"I'm surrounded by literal [expletive] terrorists," Chapman said at one point during the 2-hour 12-minute broadcast.
During the pro-abortion Women's March in D.C. on Oct. 8, Chapman went on a wild tirade about Ashli Babbitt in front of media cameras.
"[Expletive] Ashli Babbitt. She deserved to die," Chapman screamed.
As she walked away from the destruction she wrought on the floral tribute, Chapman said to her live-stream audience: "Can I have weed money now? C'mon guys, it's going to be a long day."