Senate Panel Advances Archivist Nominee Accused of Abusive Behavior
[ad_1]

The Senate Homeland Security Committee on March 15 advanced the nomination of Dr. Colleen Shogan to be the Archivist of the United States amid allegations that the official had abused political power in partisan ways.
Shogan, who previously served at the Congressional Research Service (CRS), has faced criticism over the content of her Twitter posts and reported abuses of power.
The Democrat-majority committee approved the nominee in an 8-4 party-line vote.
Sen. Josh Hawley (R-Mo.) led the opposition to Shogan's nomination, explaining that he had "deep reservations" about Shogan's nomination.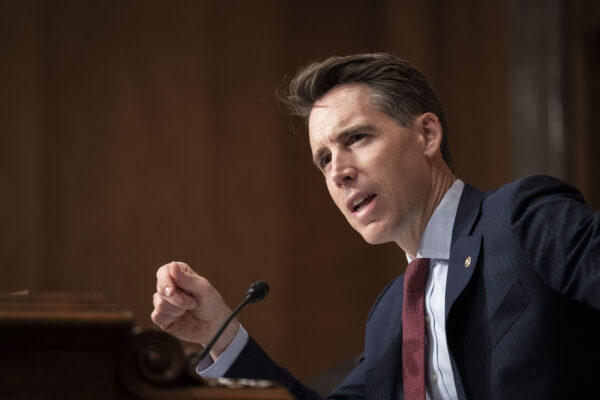 Accused of 'Abusive' and 'Partisan' Conduct
One such reservation expressed by Hawley cited a whistleblower report alleging Shogan of "abusive" and "partisan" conduct during her time with the CRS.
"The whistleblower alleges that Dr. Shogan engaged in a pattern of abusive, retaliatory, and partisan conduct during her time at the Congressional Research Service, where she directly supervised the whistleblower," Hawley wrote in a March 8 letter to Chairman Gary Peters (D-Mich.).
For instance, the whistleblower alleged that Shogan made "unsolicited statements of support for political candidates in the workplace."
"The whistleblower … alleges that Dr. Shogan failed to remain non-partisan and objective," Hawley explained in the March 8 letter. "Rather, she engaged in abuse, retaliation, and persecution. She allegedly suppressed reports requested by Congress, undermined the whistleblower's promotion applications, and attempted to demoralize the whistleblower in an apparent effort to run her out of CRS."
The whistleblower, who Hawley reported was disabled, said that as "part of this effort [to run the whistleblower out of CRS], Dr. Shogan allegedly colluded with others in the office to force the whistleblower, a woman with a disability, to take a detail assignment that worsened her mobility and health."
The whistleblower also said that Shogan tried to organize signing events for her personal book on federal property during work hours.
"The whistleblower alleges that Dr. Shogan attempted to organize signing events for her own book on federal property during work hours, for commercial gain, in violation of existing policies," Hawley wrote.
It is not clear which of Shogan's many books were the subject of this allegation. Shogan has written several books and some articles, including an article attacking the modern Republican Party as "anti-intellectual."
Accused of 'Lying to the Committee'
Near the top of the hearing, Hawley also noted that Shogan had made conclusively untrue statements to the committee about her Twitter posts.
"We have a pattern from this nominee of stonewalling this committee, misleading this committee, and now she's faced some very disturbing whistleblower allegations," Hawley said, citing past appearances by Shogan before the same panel.
In September 2022, now-retired Sen. Rob Portman (R-Ohio) discovered inflammatory, partisan posts made by Shogan to her Twitter page. By the time she appeared before the panel, Shogan had locked her Twitter page as private, meaning only those approved by Shogan could see the Twitter posts.
When Portman requested access to the posts, Shogan reportedly refused.
The same month, Hawley also asked for access to the tweets.
"During your testimony, several Senators raised concerns about public posts you made on Twitter," Hawley said at the time. "You have since locked your Twitter account. Please provide copies of all posts you have ever made public on Twitter."
In her response to Hawley, Shogan suggested she had posted nothing controversial to her Twitter page but nevertheless refused Hawley's request.
"My personal Twitter account is comprised of posts about my mystery novels, events at the White House Historical Association, Pittsburgh sports teams, travels, and my dog," Shogan replied. "It was made private months ago. before I was nominated as Archivist."
This claim, Hawley said, "is not true." He cited comments uncovered by Portman's investigation, including attacks on supporters of President Donald Trump and Senate Republicans.
"She can say whatever she wants on Twitter, what she cannot do is lie to this committee," Hawley said.
Shogan could not be reached for comment on the allegations, but has maintained the Senate should not take the claims seriously and should move ahead with her confirmation.
[ad_2]

Source link