Sen. Jim Risch (R-Idaho) and fellow GOP senators introduced a bill on March 9 that includes resuming construction of the border wall to secure the nation's southern border and stop the rising flow of illegal immigrants crossing that boundary into the United States.
"Since President [Joe] Biden took office, more than 4.7 million illegal immigrants—double the population of Idaho—have been encountered at the southern border.
"This is a direct result [of] the president's open border policies that have catalyzed a full-blown disaster," said Risch in a release his office released.
Joining Risch as co-sponsors of the Solving the Border Crisis Act are his fellow senator from Idaho, Mike Crapo, and senators Bill Hagerty of Tennessee, Thom Tillis and Ted Budd of North Carolina, and Arkansas's John Boozman.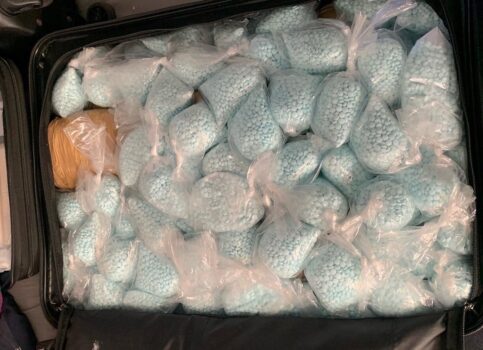 The bill also seeks to renew Title 42, a health act from 1944 intended to prevent the spread of communicable diseases. President Donald Trump's administration enlisted it during the COVID-19 pandemic and the Biden administration continues to use it to turn away asylum seekers at the border.
The authors included in the act pursuing a "sense of Congress resolution" to formally express to the president the opinion of the legislative body that the border crisis is a national security emergency.
Other provisions were ensuring that detention facilities are adequate for Immigration and Customs Security (ICE) to do its job; developing a thorough plan to handle illegal immigrants if Title 42 is not renewed; rejecting the Biden administration policy of permitting asylum officers—in place of immigration judges—to hear and rule on asylum claims; and certifying that Customs and Border Protection (CBP) are following and upholding the law by collecting the DNA of illegal immigrants in federal custody.
Call For 'Effective' Leadership
"With my legislation … America would return to reasonable, commonsense border policies that not only stop illegal immigration but deter it," said Risch.
Sen. Crapo added, "A record number of illegal border crossings on the Biden administration's watch has created a humanitarian crisis of staggering proportions and fueled the increased smuggling of deadly drugs such as fentanyl into our country. 
"This ongoing crisis demands stronger more effective leadership. Congress must act to secure the border now."
Most of the illegal fentanyl in the United States is manufactured in Mexico by cartels and then trafficked into the United States.
The number of illegal immigrants attempting to cross from Mexico into the United States has been growing.
As The Epoch Times reported on Feb. 8, before the Biden administration "there had never been a month in which there were more than 200,000 interceptions of illegal immigrants along the border."
And over the previous 10 months, "more than 200,000 illegal immigrants have been intercepted along the border" every month.