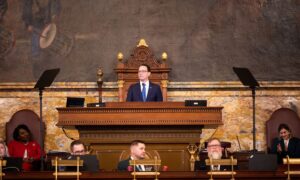 Pennsylvania's Democrat Gov. Josh Shapiro has included two new charitable feeding plans in his proposed state budget—free breakfast to all students and a new state fund to raise the Supplemental Nutrition Assistance Program (SNAP) minimum monthly benefit by 50 percent.
SNAP is federally funded, with the U.S. Department of Agriculture sending money to states which administer the program. Finding state money to bolster the benefit is a new idea in Pennsylvania.
"It shouldn't be okay to anyone, especially when we're talking about a $44 billion budget, that people are going to bed hungry at night and the kids have to go all day without a meal," Shapiro said in his budget address.
"It is hard to comprehend that in a commonwealth as well-resourced as ours, people are hungry. But we need to have that conversation. We need to feed our kids."
Pennsylvania state Rep. Seth Grove, Republican Appropriations Chairman, discussed the Republican House perspective of the governor's budget proposal Wednesday in advance of upcoming budget hearings. He is not convinced SNAP should be increased through the state.
"Anecdotally, we have heard from our members and from individuals—just go to [the grocery store]— A lot of individuals have a lot of money sitting on their SNAP cards that they've been saving throughout the years," Grove said.
"So the big question is, if it's a necessity, if they need it, why are there such huge balances on these cards?… If we're seeing huge balances, I'm not sure if there's a need to supplement SNAP benefits."
Household size and gross monthly income determine who receives free food dollars. For example, a household of three people may earn up to $46,080 to qualify for SNAP. Certain deductibles determine how much a household would receive in a month.
In October, the Pennsylvania Department of Human Services (DHS) increased the income threshold for SNAP applicants to 200 percent of the Federal Poverty Income Guidelines. This made 174,000 more households eligible for the program. SNAP benefits help 1.8 million Pennsylvanians buy groceries, according to DHS.
Here are the monthly income thresholds from DHS for Pennsylvania SNAP eligibility:
One-person household income up to $2,266, monthly benefit amount $23-$281
Two-person household income up to $3,052, monthly SNAP benefit: $23-$516
Three-person household income up to $3,840, monthly SNAP benefit: up to $740
Four-person household income up to $4,626, monthly SNAP benefit: up to $939
Five-person household income up to $5,412, monthly SNAP benefit: up to $1,116
Six-person household income up to $6,200, monthly SNAP benefit: up to $1,339
Seven-person household income up to $6,986, monthly SNAP benefit: up to $1,480
Eight-person household income up to $7,772, monthly SNAP benefit: up to $1,637
Nine-person household income up to $8,560, monthly SNAP benefit: up to $1,902
Breakfast, Lunch
In his budget address, Shapiro also proposed giving every child in public school a free breakfast.
"How can we expect our kids to pay attention in class and learn and succeed if they haven't eaten all day? We can't," he said.
It is worth noting that children in low-income homes currently qualify for free school lunch in all schools and breakfast in many schools. In predominately low-income school districts, all students automatically qualify for school lunch.
Grove said some areas, such as Lower Merion Township, where the median household income was $148,000 in 2021, probably don't need free breakfast. He said there should be means testing to determine whether a family is eligible for assistance.
Shapiro's social media team is promoting his agenda with memes on social media where followers are debating the plan.
Many have commented about the nutritional content of current school breakfasts, saying they include sugary cereal bars and more healthy options should be offered.
Some say parents should feed their children on their own; others say the program would be a help to single parents who can't always find the time to prepare meals.