South Dakota House Speaker Recommending Rejection of Noem's Proposed Transgender Bill Changes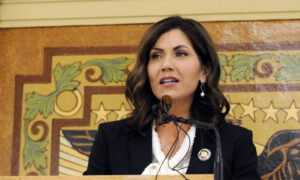 The speaker of South Dakota's House of Representatives says he'll recommend on Monday that the chamber reject proposed changes to a bill aimed at keeping biological males from participating in female sports.
"After consulting many legal scholars across the state of South Dakota, it is unanimous that the governor's proposal is outside of her constitutional authority as the recommended changes are clearly substantive. I will be recommending that the House of Representatives rejects Governor Noem's proposal as unconstitutional. We will then send HB 1217 back to her desk, giving her one more opportunity to do what's right for women's sports in South Dakota by signing it," Speaker Spencer Gosch, a Republican, said in a statement to news outlets.
"Let's join the existing coalition of states that have passed similar legislation like Idaho, Mississippi, Tennessee, and most recently Arkansas," he added.
Gov. Kristi Noem, a Republican, on March 19 sent the legislation, House Bill 1217, back to the lower chamber. She said the bill contains "vague and overly broad language" that could have "significant unintended consequences." She pressed representatives to make "style and form" changes before sending it back to her.
Noem's suggested alterations include limiting the operation of the bill to elementary and secondary school athletics, modifying language about civil liability, and removing a requirement that requires schools to obtain annual verification forms on a student's age, biological sex, and whether the student had taken any performance-enhancing drugs.
Sponsors of the legislation say it's an act "to promote continued fairness in women's sports." Its first stipulation would be to require an athletic team or sport that's designated as a single sex team only be available to people of that sex.
Monday is the state's last legislative session day. At present, HB 1217 is the only bill on the House docket. Republicans hold a 59-11 majority in the lower chamber.
Noem drew criticism from some conservatives for trying to make changes to the transgender sports bill, especially after she said one reason was pressure from the National Collegiate Athletic Association (NCAA), which is against barring biological males from girls' sports.
The governor has "shown herself to be a run-of-the-mill politician—trying to appease wealthy and powerful special interests in her state while also making it falsely appear that she is doing the right thing," Terry Schilling, president of the American Principles Project, said in a statement, calling Noem's proposed changes a "surrender to NCAA threats."
Noem later unveiled a national coalition aimed at protecting fairness in women's sports, which she said is a better way to challenge the NCAA.
"Once we have enough states on board, a coalition brought big enough where the NCAA cannot possibly punish us all, then we can guarantee fairness at the collegiate level," Noem said at a briefing introducing the coalition.
Janita Kan and Masooma Haq contributed to that report.