Stacey Abrams Joins Green Energy Nonprofit Pushing to Ban Gas Stoves
[ad_1]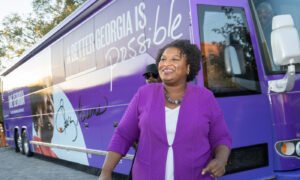 After losing Georgia's governorship a second time to the state's Republican Gov. Brian Kemp, Democrat Stacey Abrams has found a new job working for a green energy group that aims to eliminate gas stoves.
Rewiring America, a self-professed "electrification nonprofit" based in Washington, is leading the charge to convert American homes, businesses, and communities to run solely on electric energy.
On March 14, the group announced that Abrams would be joining the organization as senior counsel, a role in which she will help to launch a national awareness campaign promoting the transition to electric energy.
"Growing up on the Gulf Coast, not far from a significant concentration of the petrochemical industry, I've seen the environmental and health injustices that visit communities isolated from political power and economic opportunity," Abrams said in a statement. "We are at an inflection point, where families in the South and across the country live too close to the economic edge, and every dollar saved now changes their future. But few understand how much money they can save with a little help to upgrade their homes and vehicles.
"I'm excited to join Rewiring America to share the benefits of electrification and ensure families get their fair share. I look forward to working together as we build the tools that will transform everyday Americans from energy consumers to energy moguls in their own communities."
In recent months, natural gas-powered stoves have been a target of the political left after a study linking their use to an increase in risk for childhood asthma was published in December. The lead author of that study was Talor Gruenwald, a research associate at Rewiring America.
Weeks after the study was published, Energy Secretary Jennifer Granholm touted its findings as a reason to increase access to electric and induction stoves.
Rewiring America was also present for the White House's Electrification Summit on Dec. 14, and was tasked by the president with launching an education campaign to promote "electrification opportunities" to consumers.
The organization is sponsored by the Windward Fund, a charity that "incubates and hosts" environmental initiatives with the backing of Arabella Advisors, a massive left-wing dark money network based in Washington.
Rewiring America has also come under scrutiny for alleged conflicts of interest over its founders' involvement in for-profit green energy ventures that benefited from policies their organization advocated for.
However, those allegations have been refuted by the group.
"There is no conflict between founding a nonprofit—one that promotes cutting energy costs for families, improving indoor air quality, and lowering emissions—and working with for-profit businesses that do the same," a Rewiring America spokesperson told Fox News. "That's called mission alignment."
And Abrams, the organization said, will be an asset to that mission.
"Rewiring America anchors our work in how the decisions we make around the kitchen table about the machines we use can save us money, make our homes and communities healthier, and reduce climate-harming emissions," Rewiring America co-founder and CEO Ari Matusiak said in the announcement. "Stacey Abrams' career of public service has hit all these themes and more. She's a brilliant and visionary organizer who will accelerate our work and expand the audience for the benefits of electrification—the most equity-centered climate strategy we have."


[ad_2]

Source link