Star US Soccer Midfielder McKennie Will Miss World Cup Qualifiers After Breaking Foot
Italian club Juventus confirmed that United States Men's National Team (USMNT) midfielder Weston McKennie suffered broken bones in his left foot during a European Champions League match versus Spain's Villarreal on Tuesday night.
McKennie is expected to miss 8 to 12 weeks recovering from compound fractures in the second and third metatarsals in his left foot following a hard tackle from behind by Villarreal's Pervis Estupinan in the 80th minute.
McKennie will miss the final three games for the United States in North and Central America and the Caribbean (CONCACAF) World Cup qualifying, resuming March 24 against rival Mexico at Azteca Stadium, Panama, on March 27, and finally Costa Rica on March 30.
The United States currently sits second in CONCACAF qualifying with 21 points, one point behind Canada and ahead of Mexico on goal-differential. Panama is in fourth with 17 points and Costa Rica fifth with 16 points.
The top three teams advance to the World Cup in November. Fourth place still has an opportunity to qualify with a single play-off game, likely against New Zealand.
The 23-year-old McKennie was born in Fort Lewis, Washington to a father in the U.S. Air Force, who was stationed at Ramstein Air Base in Germany, when McKennie was 6 to 9 years old.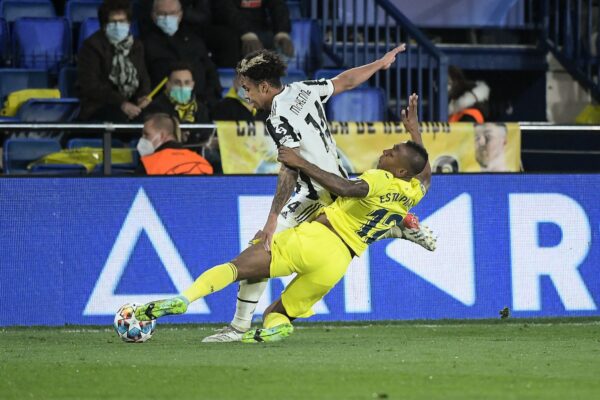 McKennie began playing soccer locally for club FC Phonix Otterbach in 2004. After moving back to the United States, he played with the youth team for FC Dallas of the MLS for seven years from 2009 to 2016, before moving back to Germany to join club FC Schalke 04.
Losing McKennie motivated FC Dallas to form their reserve team, North Texas SC, which competes in the USL League One. 
On Aug. 29, 2020, Juventus announced that McKennie was joining the club in Italy's top Serie-A division on a one year loan, becoming Juventus's first American player and Serie-A's fifth.
For the United States, McKennie has been on youth teams including the under-17 and under-20 national teams, and scored in his first senior team competition in a friendly against Portugal on Nov. 14, 2017.
In the past year of Gold Cup and CONCACAF competitions, Mc Kennie was key in beating Mexico in all games for the year. He scored the 2–2 equalizer on June 6, 2021, which led to a U.S. 3–2 come-from-behind victory late in extra time.
However on Sept. 7, 2021, McKennie was suspended for two games from the national team for breaking COVID-19 team protocols, by bringing a guest into his hotel room in Nashville, Tennessee during their match against Canada.
Upon returning to the squad, he continued to lead the team with superb play in the midfield, which was greatly needed with the absence of superstar Christian Pulisic due to injury, and has been said to give the team its "swagger."
McKennie is an excellent defensive midfielder, who is able to win possession with tackles and positioning, also beginning counter-attacks, as well as finishing at goal.
Following the suspension in this final stage of World Cup qualifying, McKennie has scored in home victories over Mexico (2–0) on Nov. 12, 2021, and Honduras on Feb. 2, 2022.
McKennie has played more than 80 minutes in seven of the last 11 World Cup qualifying matches.