State of Emergency Declared in Costa Rica as Immigration Surge from Central America Continues Towards the United States
Officials in Costa Rica will declare a state of emergency due to a sharp rise in the number of migrants passing through the country.
President Rodrigo Chaves told a press conference he has told the "security ministry to take a firm stance with anyone who takes Costa Rica's kindness for weakness".
The number of people crossing the small Central American country on the way to the United States has risen dramatically.
Read more: What does the UN 1951 Refugee Convention say?
More than 60,000 people have passed through Paso Canoas – a town on the border with Costa Rica and Panama and home to fewer than 20,000 people – this month alone.
Mr Chaves will travel to Panama for talks next month aimed at stemming the migrant crisis.
He is expected to visit Panama's treacherous Darien Gap – which links Panama and Colombia to the south – where thousands pass each day on the way to the US.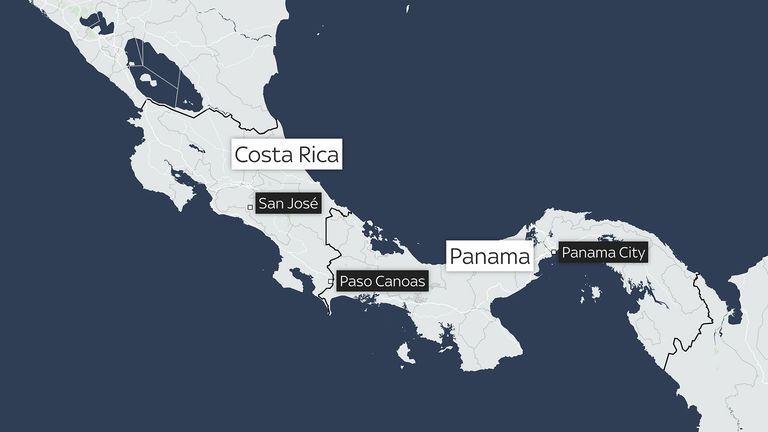 'Unprecedented numbers'
Some 390,000 people crossed the dangerous stretch of jungle between January and September this year, according to Panama's National Migration Service.
In August alone, 82,000 were reported to have travelled the route – the highest monthly figure ever recorded.
The majority are from Venezuela, Ecuador and Haiti.
Read more on Sky News:
Refugee Convention debate vital to protect the most vulnerable
Migrants at US border push city to 'breaking point'
The International Organisation for Migration is calling for governments in Central America and Mexico to address the immediate humanitarian needs of people on the move as "unprecedented numbers of vulnerable migrants transit through the region."
It comes as Britain's Home Secretary Suella Braverman called for a reform of the "outdated" international asylum system in a speech in Washington DC.
Ms Braverman said "we now live in a completely different time" to 1951 when the UN Human Rights Convention – which forms the basis of the asylum system – was signed.
The UN's refugee agency, the UNHCR, responded to Ms Braverman's speech by saying the convention "remains as relevant today as when it was adopted in providing an indispensable framework for addressing those challenges, based on international co-operation".