Suspect in Sacramento Mass Shooting Released From Prison Just Weeks Before
One of the suspects in the Sacramento weekend mass shooting was released early from prison just weeks before the incident.
Smiley Martin, 27, was arrested Tuesday in connection to the incident that left six dead and a dozen more injured in downtown Sacramento. He was charged with possession of a firearm by a prohibited person and possession of a machine gun.
Dana Simas, a spokeswoman for the California Department of Corrections and Rehabilitation (CDCR), told the Sacramento Bee that Martin, who was sentenced to 10 years in prison in 2018, "had already received 508 days of pre-sentencing credits, and received a variety of additional post-sentencing credits" and "was released to Sacramento County probation in February 2022
In 2018, he was sentenced to 10 years in prison for domestic violence and assault with great bodily injury. Prosecutors said Martin entered his girlfriend's home, punched her, whipped her with a belt, and dragged her from the home by her hair in that incident. The Bee reported that records show that he has a criminal history dating back to 2013.
The Parole Board in 2021 rejected Martin's bid for an early release in May because he poses "a significant, unreasonable risk of safety to the community."
District attorneys last year vehemently opposed Martin's release from the sentence.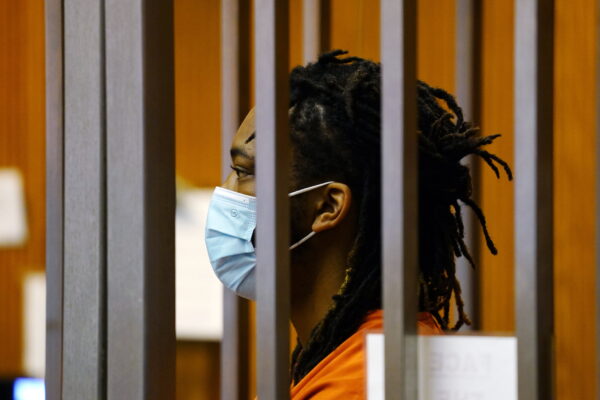 "Inmate Martin's criminal conduct is violent and lengthy," Deputy District Attorney Danielle Abildgaard wrote to the Board of Parole Hearings in a letter dated April 29, 2021, according to the paper.
The Sacramento Police Department said that Martin was injured during Sunday's shooting and will be booked when his condition improves enough.
His brother, 26-year-old Dandrae Martin, was arrested Monday in connection to the shooting and was charged with assault with a deadly weapon and carrying a loaded gun as a convict. Daviyonne Dawson, 31, was also arrested on suspicion of carrying a firearm as a prohibited person, officials said.
"At this time, Dawson is not charged with crimes directly related to the shootings," Sacramento police said in a statement. "Based on the type of firearm recovered, detectives do not believe that this gun was used in the shooting."
The Sacramento County coroner identified the slain victims as Johntaya Alexander, 21; Melinda Davis, 57; Yamile Martinez-Andrade, 21; Sergio Harris, 38; Joshua Hoye-Lucchesi, 32; and De'vazia Turner, 29.
California in recent years has seen cases where violent or repeat offenders have been released from prison or jail early before committing crimes just days later.