Teachers Have Mixed Reactions to Biden Administration Spending Billions on 'Green' School Initiatives
While public schooling in America struggles financially to keep its head above water, President Joe Biden is pumping billions into making U.S. learning institutions energy-efficient and "greener."
Concurrently, the landscape of education faces significant challenges.
Critical teacher shortages persist, while 2022 marked historically low student performance in subjects like reading and math.
Fanning these flames is the escalating student mental health crisis.
Seventy percent of U.S. public schools noted a spike in the number of students seeking mental health assistance since the onset of the COVID-19 pandemic.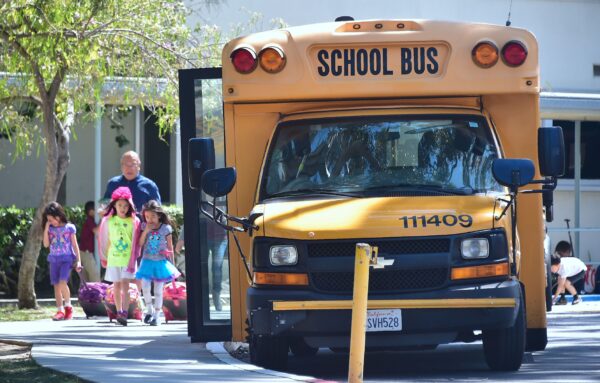 The perfect storm of factors has left many teachers astonished that green energy programs in U.S. schools are a top priority.
Funding allocations discussed in a White House brief include $5 billion for the Clean School Bus Program. The initiative offers grants and rebates to replace older school buses with more energy-efficient models, including zero-emission electric vehicles.
Another $90 billion of Department of Transportation (DOT) money is wrapped into the spending package. The release states the DOT funding "can be used for school route projects that make it easier and safer for K-12 students [to] walk and bike to school."
Rolled into this expenditure is an additional $500 million from the Department of Energy to improve costs, air quality, and the installation of renewable energy infrastructure.
Meanwhile, frustrated educators are expressing concerns over the enormous price tag for carbon-conscious school projects.
"I could think of a thousand better ways to spend this money," Taylor Beal told The Epoch Times.
As a former high school principal and current reading specialist in Delaware, Beal knows her way around the classroom. "I've worn a lot of hats in education over my 10 years in the field," she said.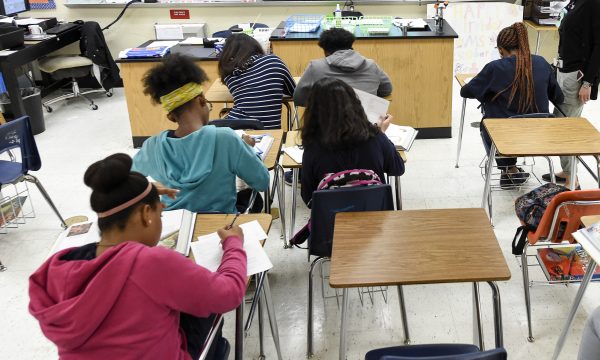 Beal says schools are underfunded in general and in her opinion, the amount of money being spent on creating "greener" learning institutions should go to staffing resources and more pressing issues.
"Buildings are falling down and outdated. Teachers are quitting in droves from being overworked and underpaid," she explained.
When asked if she thought green energy is something that should be urgently addressed in schools, she replied, "Um, no. Not in the least."
Beal was also candid in her thoughts on the staggering amount of DOT money being spent on better route planning.
"This won't impact our school at all. Kids are not going to suddenly walk to school. No one in our area, suburbs, bikes to school."
When the 2022-2023 academic year kicked off, Delaware still had 500 teacher vacancies. Much of this is attributed to early retirement from higher stress and fewer graduates from educator programs. It's become an echo heard across many states, especially in the post-pandemic classroom era.
Fewer people want to teach due to low pay and increasingly stressful workloads.
"We think about it as a perfect storm of conditions," the president of the Delaware State Education Association, Stephanie Ingram, told reporters.
By The Numbers
It's no secret that U.S. students have grappled with a return to normalcy after two years of virtual learning and pandemic protocols. Reports cards this year have been a harsh reminder that students need better educational support.
Proficiency in math and reading for fourth and eighth graders plummeted in every state between 2019 and 2022. In 8th Grade, math scores dropped by eight points, the lowest since 2000. For the 4th Grade, math scores dropped by five points, the worst decline since 2003.
Reading proficiency also fell by three points in both grades.
It represents an alarming decline that some say is a wake-up call for money to be spent where students really need it.
"Now more than ever … our schools need more help and resources to truly make an impact in the teaching and learning process for students," urban literacy specialist Kathryn Starke told The Epoch Times.
Reading proficiency is a passion for Starke, who works with urban elementary school literacy programs. She's also the founder of Creative Minds Publications.
From her perspective, big cash drops on green energy programs for schools will do nothing to help struggling students.
"Unfortunately, spending billions on zero-emission school buses or route planning for students to walk or bike to school will not make a significant difference for students in our elementary schools," she said.
"It certainly has no impact on the historic low test scores and is not on the minds of students."
Starke believes Biden's "green" funding would get better mileage by attracting new teachers with higher salaries, assistants, aides, tutors, and consultants to support children floundering in their studies.
Because from an educator's standpoint, supporting teachers also benefits those on the learning end.
"We have students who can't get resources or support. We have schools that can't staff teachers. Teachers who are there are asked to give extra time, run meetings, cover classes … it's never-ending," Beal said.
Cautious Optimism
Some have a more optimistic outlook on Biden's green school initiatives but think the spending should be carefully monitored. Especially when there are billions of dollars involved.
"I do think this is also an opportunity to highlight that educators, in general, need to watch government spending at all times," Dr. Leena Bakshi told The Epoch Times.
Bakshi is the executive director of STEM4Real and also spent eight years working with students in a classroom setting.
She highlighted a recent California scandal where a superintendent in Alameda County spent funds from the Elementary and Secondary School Emergency Relief Fund on managerial bonuses.
The money was originally intended to provide services directly to students and their families.

With this cautionary example, Bakshi posed an important question, "Is the $90 billion being used for actual planning and infrastructure? Or are the funds going to consulting companies with very few dollars going directly to students and their families?"
Though funding watchdogs aside, she thinks the proposed green programs could be a good thing. "While we are looking at test scores, the long-term effects of pollution and asthma are very real and should also be considered."
Fellow educator and parent Victoria Taylor shares this sentiment, saying she's excited by the prospect of zero-emission buses.
"Teachers across the United States are cautiously optimistic about the potential benefits of billions of dollars invested in greening U.S. schools," Taylor told The Epoch Times.
Taylor is a parent, an educator, and also the founder of BestCaseParenting. She says that while many of her fellow parents and teachers are excited at the potential of green school initiatives, she also admits there are much bigger fish to fry, so to speak.
"The biggest problem we face is a lack of funding for essential supplies and programs. Many schools have to make difficult decisions about what subjects they can afford to teach. Many students are going without important services like music and art," Taylor lamented.
And while environmental impact awareness is a good thing, she also acknowledges, "Green energy solutions are definitely not a critical problem for us at this time."
Though for educators like Beal, it comes down to more obvious places where the money should be spent.
"There are a thousand other problems that need to be addressed," she said.