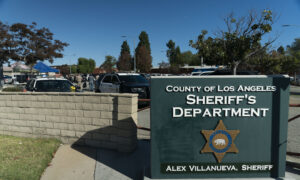 'The universe delivered the justice we weren't given in court,' the mother said
A 17-year-old California teenager, who in 2021 stole a car and rammed it into a mother walking with her baby and later received a light punishment, was on Wednesday shot to death in the street.
Kristopher Baca, who was sentenced to just several months in a juvenile probation camp for the 2021 crime, was shot and killed on Jan. 18 in Palmdale, according to Det. Ray Lugo of the Los Angeles County Sheriff's Department, the LA Times reports.
Lugo told the outlet that Baca was walking to his grandmother's home when a car pulled up behind him and someone inside the vehicle shot him "numerous" times. He died on the spot.
The mother who Baca plowed into with the car in 2021, identified only as Rachel, told Fox News that she had mixed feelings after learning about Baca's death.
"The universe delivered the justice we weren't given in court, but a much harsher punishment than he'd have been dealt in a court of law," she said.
Harrowing Hit-and-Run
Baca made headlines in August 2021 when horrifying video emerged of the sedan he was driving mowing down a mother pushing a stroller with her 8-month-old child, sending them flying into the air.
The video showed Baca attempting to flee but a pickup truck blocked his escape and the car that Baca was driving slammed into a telephone pole.
Both mother and child survived, and Baca, who was 16 at the time and under the influence of drugs, was arrested.
Rachel told Fox News at the time that she had suffered "severe cuts on her arms, hands, and shoulder, and slipped three discs in her back" because of the hit-and-run.
It would later be reported that Baca had a criminal background and was on probation at the time of the hit-and-run. The teenager was previously convicted of spiking a teenage girl's drink, which led to her hospitalization, according to Fox 11 Los Angeles.
The Office of Los Angeles County District Attorney George Gascón declined to charge Baca with assault with a deadly weapon or attempted murder, Fox 11 reported.
Instead, Baca was charged with two felony charges of assault by means of force likely to produce great bodily injury and one felony count of hit-and-run, to which he pleaded guilty.
Baca then received a sentence of five-to-seven months in a youth camp.
In a victim impact statement cited by Fox News, the mother described the harrowing moment that Baca ran into her and her baby.
"As the car approached me and my child, I stopped walking and moved the stroller and myself up against a building on the right side of the road to ensure that we gave the reckless driver plenty of room to pass," Rachel said, according to the outlet.
"As the car got dangerously close to us, [the juvenile suspect] turned the wheels in our direction and accelerated as he aimed to kill us."
Sentencing Controversy and Early Release
Gascón's office initially said in a statement that the Sheriff's Department agreed with the felony charges, though it later walked it back after Los Angeles County Sheriff Alex Villanueva objected to this characterization.
"Today, the LA County district attorney's office  released a statement claiming that the Sheriff's Department was ok with the lightweight sentencing in a brutal hit and run in Venice CA," Villanueva said in a statement on social media.
"We were never consulted as we were not the investigating agency. Sheriff's Investigators would never be ok with the lightweight sentencing in this hit and run case. Stop empowering and encouraging criminal behavior. Hold them accountable #VictimsMatter," the sheriff added.
Baca made headlines again when, after serving five months, he applied for early release from the camp, which prosecutors have described as "less than a military school and a little bit tougher than a summer camp."
Rachel told Fox News at the time that she was not informed of the hearing in advance.
"I remain incredibly disappointed with the justice system in LA, but I am unsurprised to learn that I am yet again being denied my rights as a victim to participate and use my voice in the judicial process. [expletive] George Gascón," she said.
Rachel earlier criticized the short sentence for Baca, particularly in light of his prior record, telling reporters that, "Someone with a criminal record tried to kill me and my son, and George Gascón thinks that five months of camp is sufficient punishment."
Gascón was elected in 2020 on a promise to implement sweeping criminal justice reforms but has come under heavy criticism following an uptick in crime and the deaths of police officers.
The Epoch Times contacted Gascón's office for comment but received no reply.
Katabella Roberts contributed to this report.