The National Weather Service (NWS) has issued severe weather warnings and alerts to "tens of millions of people" across the United States as a powerful system has started to develop on March 31.
"At least a few long-track, strong to potentially violent tornadoes, intense damaging wind, and very large hail are probable across much of the Mississippi Valley," said the NWS in a bulletin.
The weather service's Storm Prediction Center expanded an area of concern to the central United States, impacting millions of people. More than 85 million people were under weather advisories due to a potential outbreak of thunderstorms with the potential to cause hail, damaging wind gusts, and strong tornadoes that could move for long distances over the ground.
The area at greatest risk for storms follows a large stretch of the Mississippi River from Wisconsin all the way to Mississippi, with two high-risk advisories centered on Memphis, Tennessee, and the border between Iowa and Illinois, according to the map.
The major population centers at high risk for storms starting Friday afternoon include Chicago; St. Louis; Little Rock and Jonesboro, Arkansas; and Des Moines and Cedar Rapids, Iowa. But people throughout eastern Iowa, western and northern Illinois, and Arkansas should also be prepared, the map shows.
"The deepening low pressure system responsible for much of the anticipated active weather is forecast to push northeast from the central Plains today and enter the Great Lakes region by tonight," the NWS said. "A strong cold front attached to this system will clash with warm and humid air surging into the Lower/Mid-Mississippi Valley, sparking numerous thunderstorms from the Midwest to eastern Texas."
The storms are then "forecast to swing eastward tonight through the Ohio and Tennessee valleys before weakening early Saturday across the Mid-Atlantic and Southeast," according to the NWS. "In order to further highlight the concern, the Storm Prediction Center has issued a Moderate Risk (level 4/5) of severe thunderstorms across parts of southeast Iowa, northwest Illinois, and northeast Missouri, as well as a separate area from northeast Arkansas to far western Kentucky," it added.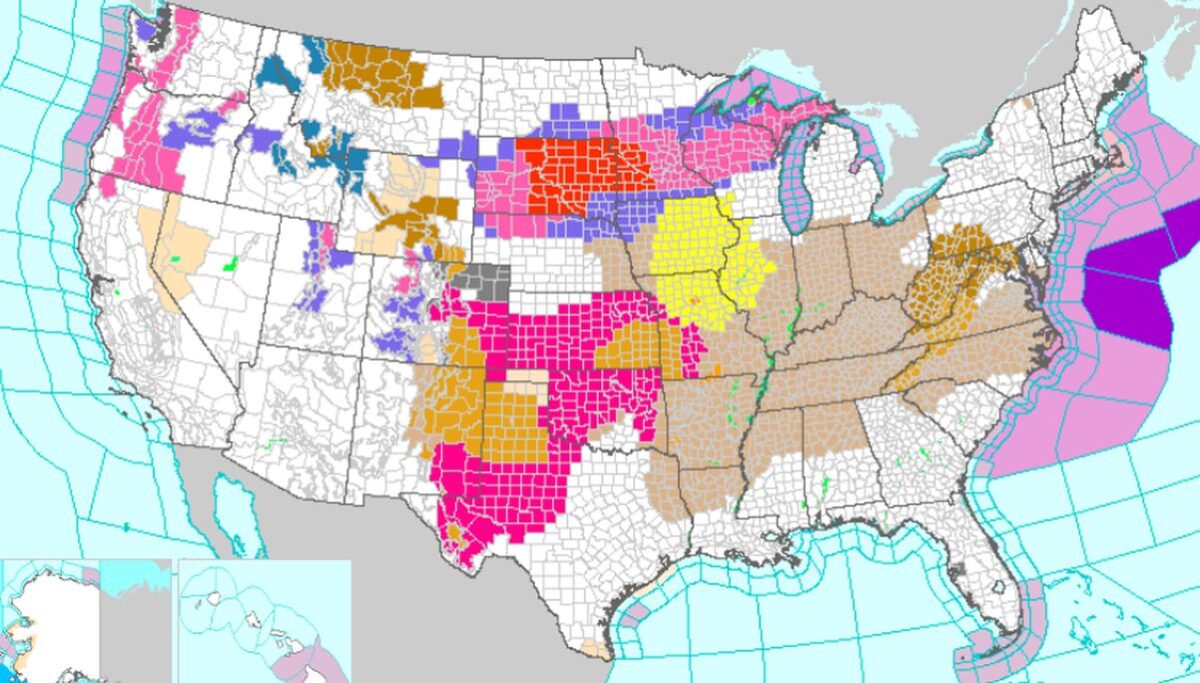 Severe Winds Major Concern
Of the storms, Fox Weather forecaster Britta Merwin said that the storms will be "very dangerous" and may spawn tornadoes that stay on the ground for more than an hour.
"To have that double component of strong straight line winds and a tornadic ability—that's some scary stuff," Merwin said.
"That wind threat, by the way, that's the major concern up north across the Midwest for places like Iowa and Illinois," Merwin stated. "That's a spot that is known for strong straight-line wind damage as we head into spring."
About a week ago, a vicious tornado in Mississippi killed at least 21 people, injured dozens and flattened entire blocks as it carved a path of destruction for more than an hour. About 2,000 homes were damaged or destroyed, according to the Mississippi Emergency Management Agency.
President Joe Biden and first lady Jill Biden are scheduled to visit Rolling Fork, Mississippi, on Friday.
In South Dakota, Gov. Kristi Noem ordered state executive branch offices to be closed Friday in parts of the state, as freezing rain, snow and high winds were expected. Many counties were under blizzard or ice storm warnings.
The hazardous forecast is a result of strong southerly winds transporting copious amounts of moisture from the Gulf of Mexico north, where they will interact with the strengthening storm system.
The Associated Press contributed to this report.