Terminated NYC Workers Ask Mayor to Spare Them From Vaccine Mandates Since Athletes Are Now Exempt
NEW YORK—Amid record-cold temperatures, hundreds gathered in Flushing Meadows Corona Park on Tuesday to protest against the city's COVID-19 vaccine mandates, imploring Mayor Eric Adams to allow city workers who were fired for not taking the jabs to be rehired. Adams recently granted vaccination exemption for the city's athletes and performers.
"We are not anti-vaxxers, we are opposed to the mandate and we believe that every person has the right to medical privacy and choice. We currently have lawsuits in place to put an end to the unethical mandates that are currently threatening our livelihoods," said an FDNY member who was born and raised in a multiracial immigrant family.
On March 26, Adams denied accusations of being lobbied by economic groups to nullify the mandate for athletes.
New York City Council member Vickie Paladino, a Republican representing Queens, organized the rally.
Paladino said she hopes Adams will allow "the average Jane and Joe" who didn't get vaccinated to get their jobs back.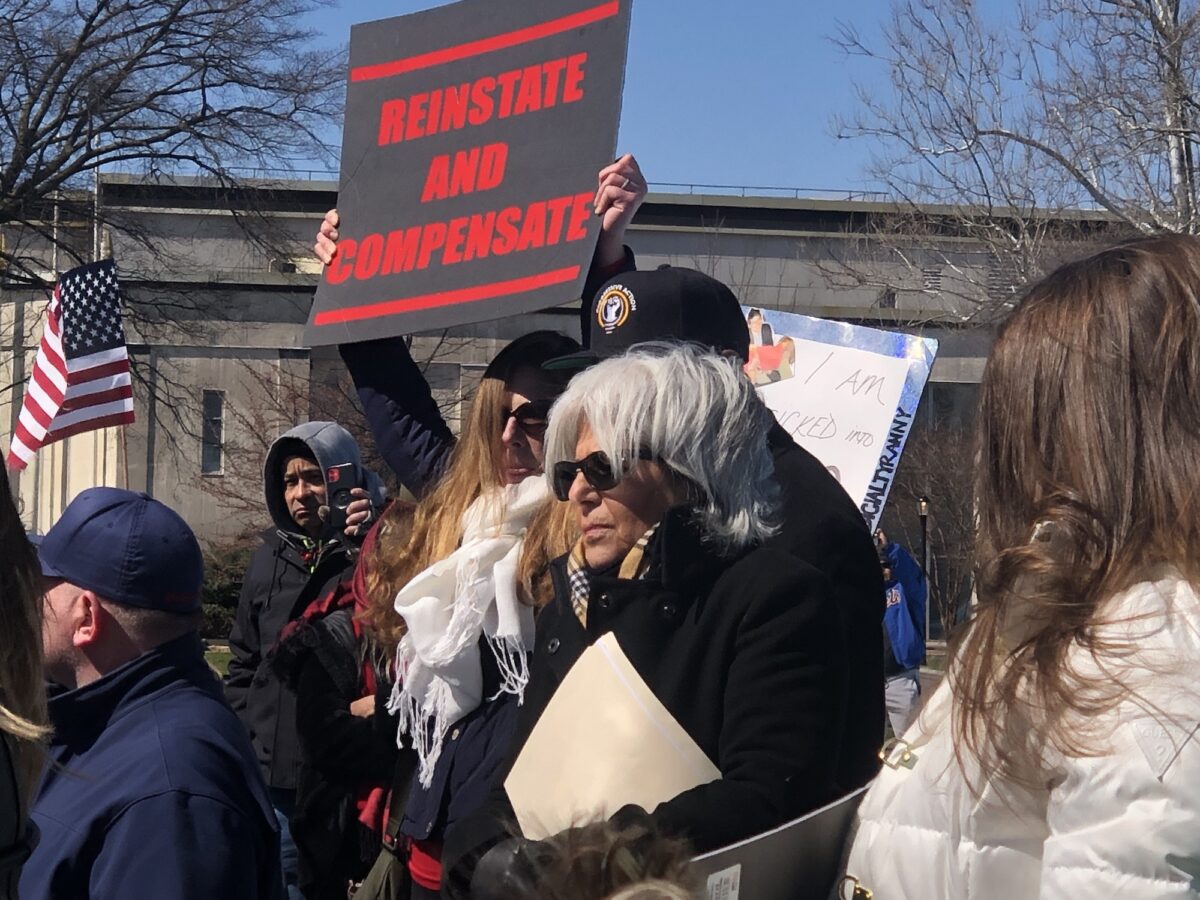 Bravest For Choice organizer Matt Connor, an FDNY member, told The Epoch Times: "In the interests of economic opportunity and equity, New York City has recently provided exemptions from mandated COVID-19 vaccines for high level-performers in the arenas of professional sport and the arts, those of us in the fire service are seeking an extension of those same exemptions so that we can return to the performance of our duties to protect life and property in this great city. The ball is in the city's court."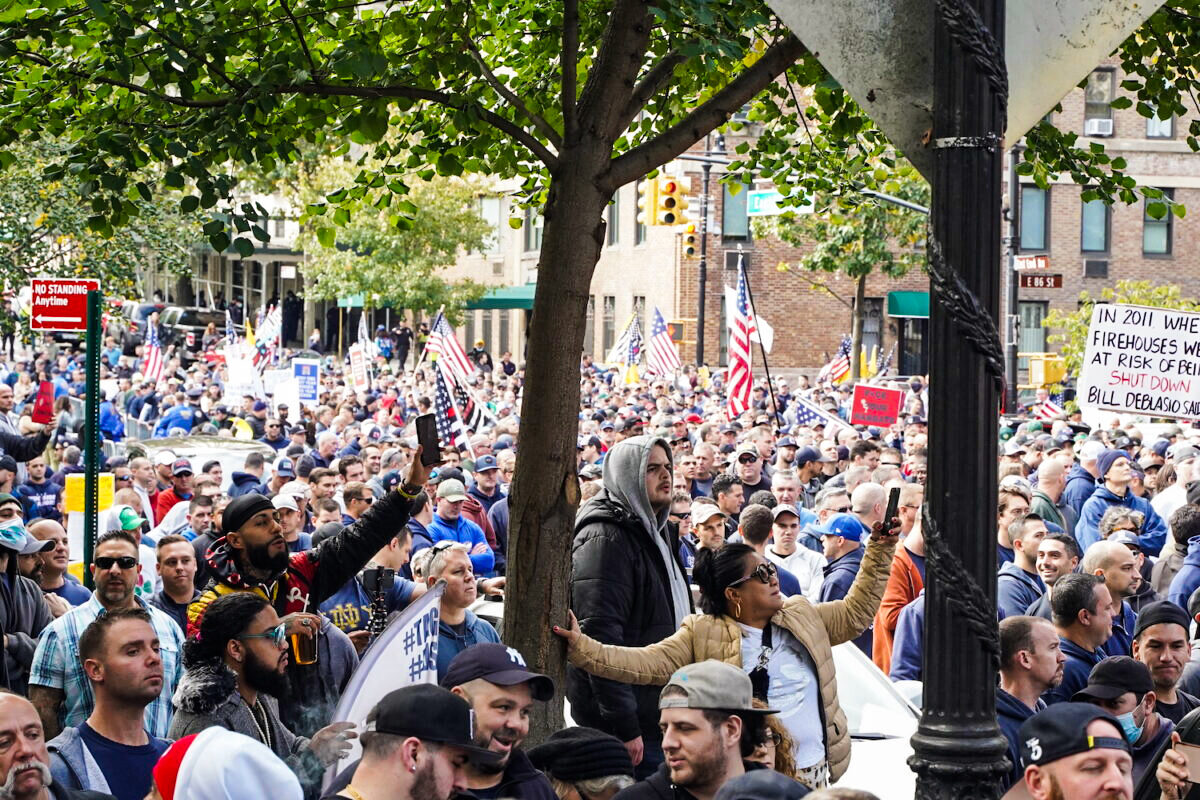 Former NYC mayoral candidate Curtis Sliwa was also present.
"[I'm] just here to support the workers, as I did all during the mayoral campaign. The mayor needs to roll back all the mandates now," Sliwa told The Epoch Times.
"We feel that every individual should have a choice to get vaccinated or not. We should have been given the option for weekly testing in the event that you did not want to get the mandate. There are state workers like those in the legislative and the executive branch who are not mandated," said a vaccinated member of the New York State Court Officers Association who spoke at the protest.
"We worked tirelessly to keep the judicial system running, and it never stopped. Terminating us now will only slow down the judicial process. Our state deserves to have fair and just courthouses. By terminating court employees, the justice system will be negatively affected. We urge all politicians to stop this mandate."
One lady who had been with the NYPD for 16 years, plus two years of cadet time, is waiting for a religious or medical exemption while doing weekly testing.
"It's just nerve-racking because you don't know what to expect. And you have to pretty much plan for a Plan B," she told The Epoch Times.
"It's not what it seems—that people are just getting terminated. People are actually resigning and putting their papers in to protect their pensions, because you have to. I'm gonna do it under duress, because I have no choice," she uttered with a lamentable look on her face.
She already started applying for another job, and if things don't work out, will move out of New York City.
One of the featured speakers was a Department of Education teacher who has since founded Teachers For Choice. Michael Kane told The Epoch Times that these gatherings are necessary because he thinks the mayor is under pressure from both sides of the political spectrum.
"We are calling for all city workers to be rehired and to end the mandate. But we're also calling for an end to all private employer mandates, and most importantly, no forced COVID vaccination for the kids," Kane said amid supportive cheers.
A private employer vaccine mandate for NYC workers is still in effect.
Kane is the lead plaintiff of a lawsuit titled Kane vs. De Blasio, which in December 2021, won a preliminary relief by the 2nd Circuit that will allow 15 teachers to reapply for a religious exemption from former Mayor Bill de Blasio's vaccine mandate.
He is hoping to secure a permanent injunction this week.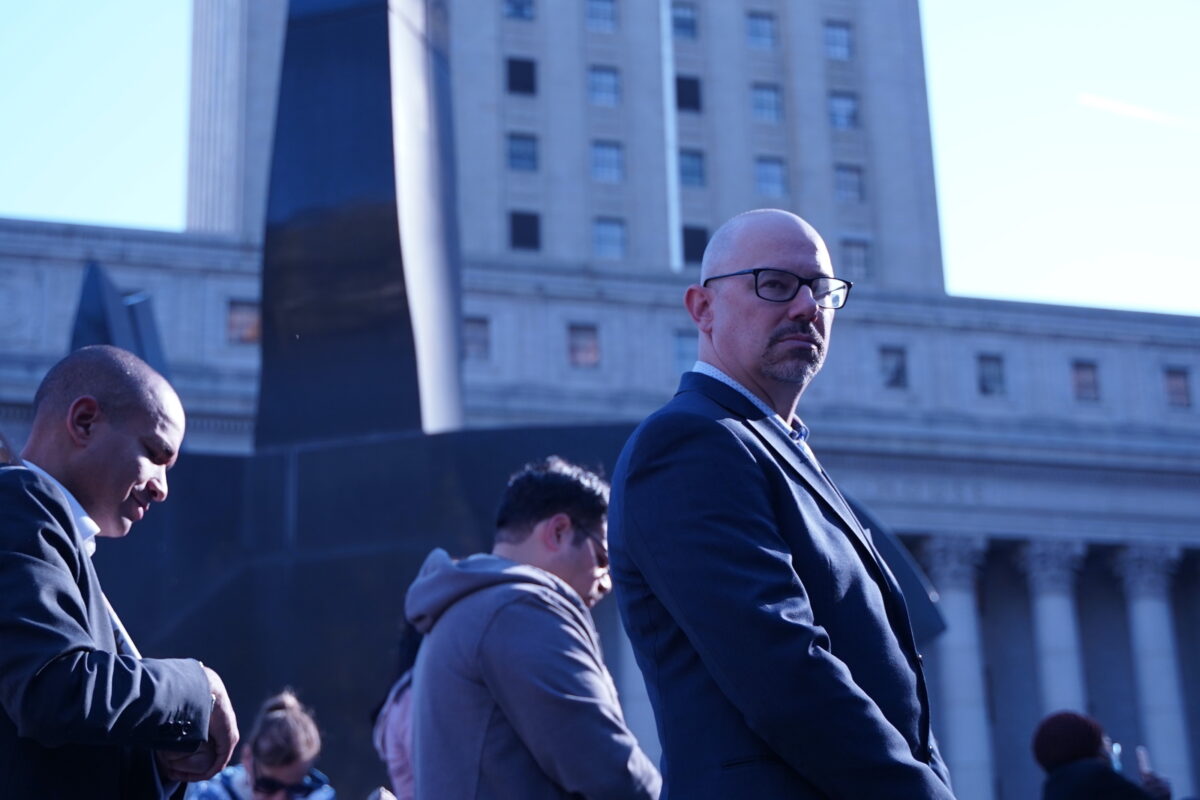 Matthew Giunta of the Department of Sanitation feels disappointed, saying that he had worked 6 days a week during the pandemic while other New Yorkers were working from home.
"I'm so disappointed that the previous administration, as well as the current, would punish me and others like me by placing us on leave without pay, or even worse termination," Giunta said.
"My religious beliefs have guided me my entire adult life. And what I found to be very unsettling is that my identical twin brother, who is here supporting me today, was granted a religious exemption while I was denied."
On March 24, New York City Council Speaker Adrienne Adams questioned the mayor's decision to exempt athletes but not the city workers, calling it "a step away from following sensible, public health-driven policies that prioritize equity," the New York Post reported.
"I'm worried about the increasingly ambiguous messages that are being sent to New Yorkers about public health during this continuing pandemic," Adrienne Adams said.
"This exemption sends the wrong message that higher-paid workers and celebrities are being valued as more important than our devoted civil servants, which I reject," she added.
Mayor Adams downplayed her comments, saying that it's only normal to disagree.
"We have 8.8 million people and 30 million opinions. We only have one mayor. She's the speaker of the City Council, we're going to agree and disagree sometimes. That's all right. I don't agree with myself all the time," the mayor said during a press conference in Brooklyn. "She has the right to her opinion, and I have the right to carry out what's best for the city of New York."
The Epoch Times reached out to the mayor's office for comment.