The 'Apocalyptic' Aftermath of the Colorado Wildfires
LOUISVILLE, Colorado—Among the hundreds of homes that were destroyed or damaged in the Marshall Fire in Colorado in December nothing appears to have been left intact save for the plug-in outdoor nativity scene that miraculously survived the intense heat and flames. 
Whether by good fortune or divine intervention, the ornament's resilience in the face of a sudden tragedy sits in stark contrast to the burned-out cars and the piles of rubble, ash, and twisted metal where houses once stood in the now ruined Centennial Heights neighborhood in Louisville, Colorado.
"It looks apocalyptic—especially with the melted cars in front of the melted-down houses and settlements that have concrete and brick," said Colorado native Tara Dunn of White Ridge, Colo.
Dunn said Colorado natives "kind of have a sense" about a wildfire when it starts "based on what color the sun is outside."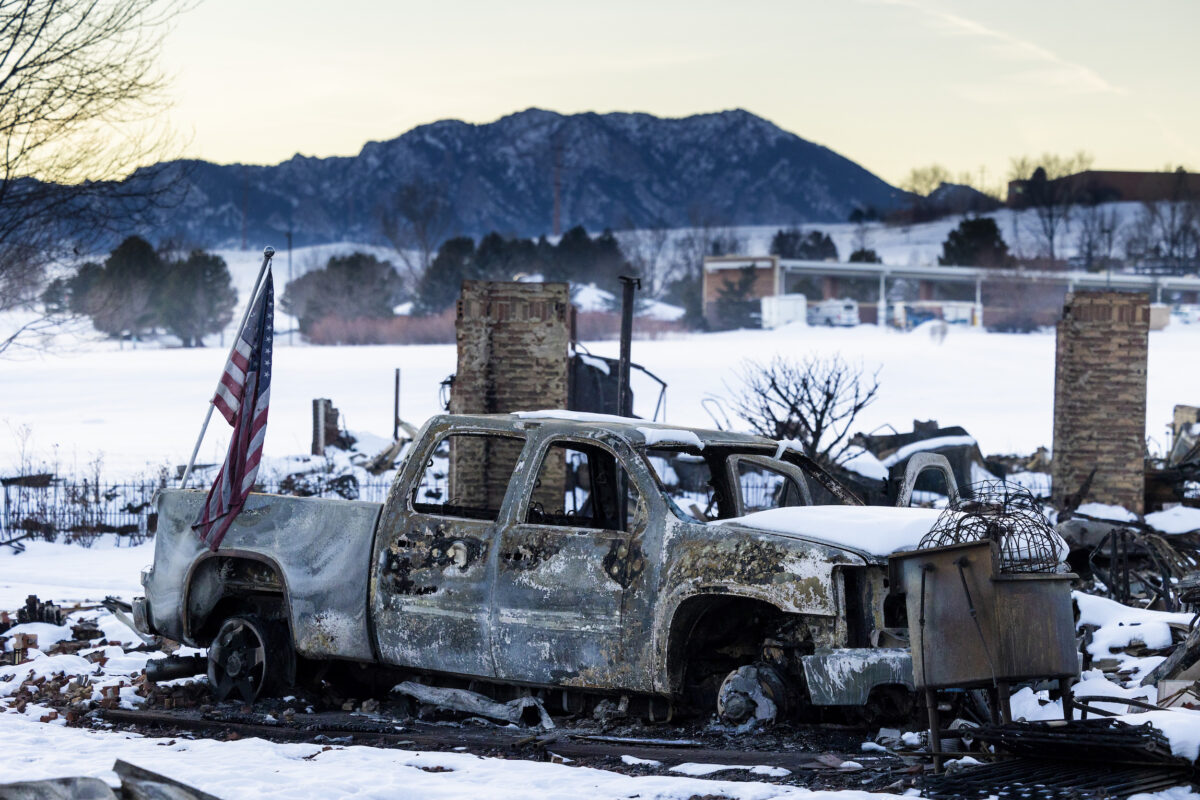 While having lunch with co-workers in Louisville on Dec. 31, Dunn said the group became concerned when they saw smoke gathering outside the restaurant. So they checked their smartphones for emergency information.
"By the time our food was ready it had gotten so bad outside there was ash covering the tables. We could draw pictures on the tables because there was so much ash from when people would open the door. We were eating inside the restaurant. The wind was blowing so badly, it would just rush in," she said.
"By the time we got to our office building, it was like, 'you guys need to leave.' Everybody was evacuating," Dunn said.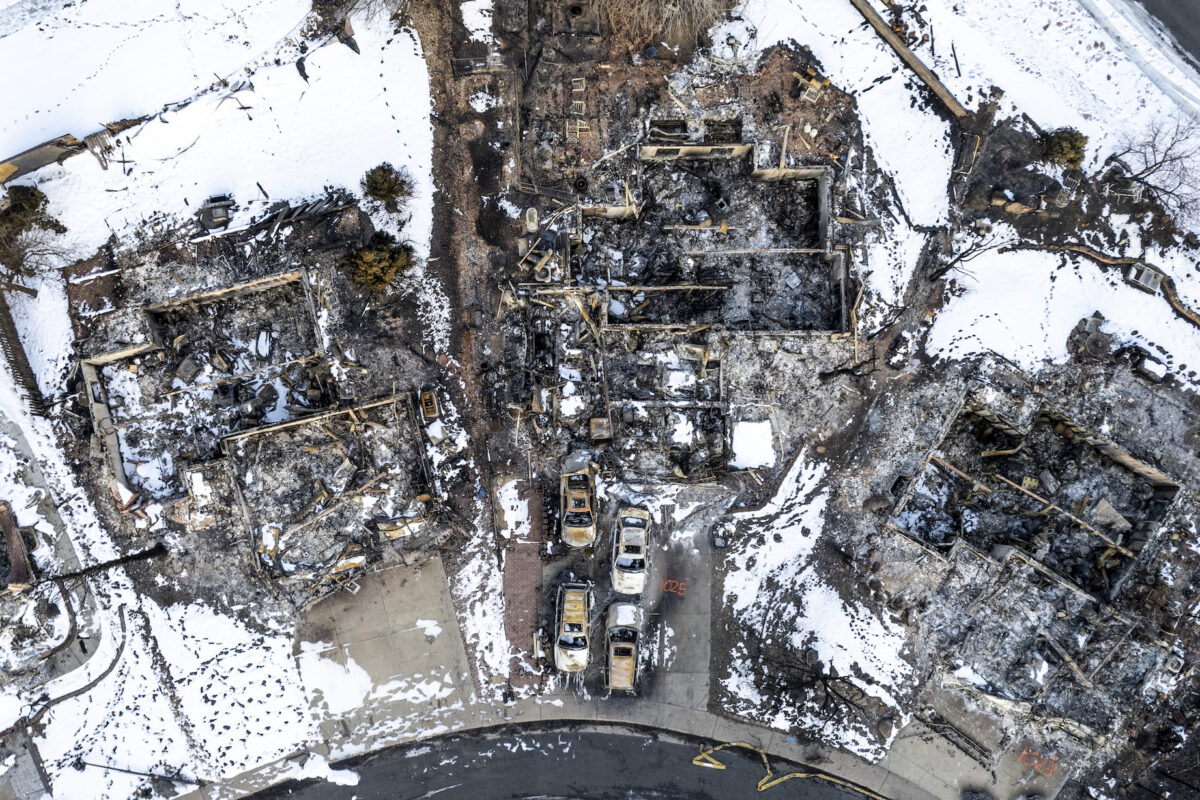 More than a week after the Marshall Fire swept through the town of Superior and the adjacent city of Louisville, Dunn said she still can't believe the magnitude of the devastation left behind in its wake.
"As I drove to work and started seeing all of the stuff that used to be there, it was extremely heavy, very sad," Dunn told The Epoch Times.
Dunn and her friend Callie Paul said they both wanted to see the aftermath up close for themselves and "kind of process things."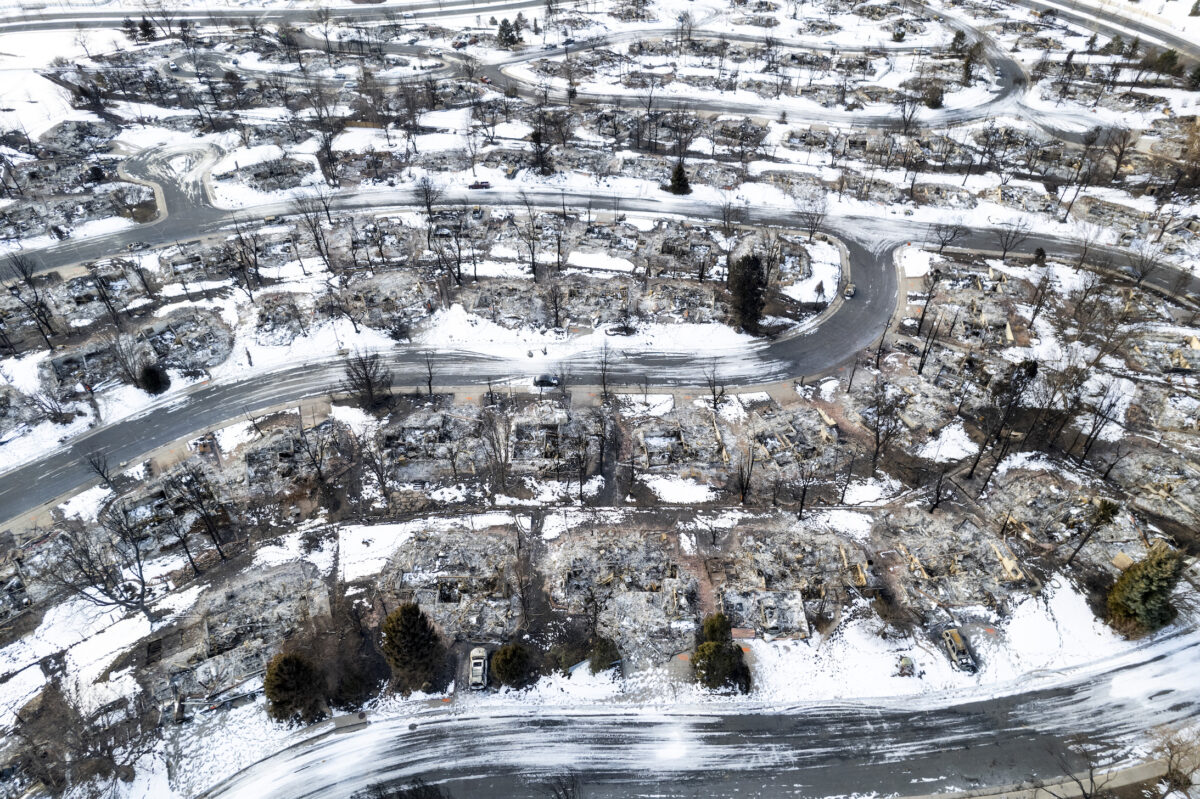 "I did some (Hurricane) Katrina relief during my undergrad (studies). This is the only thing I can compare it to—complete, total devastation and loss of everything, and just seeing remnants of people's lives completely gone," said Paul, also of White Ridge.
Described as one of the worst wildfires in Colorado history, nearly everything within the fire's 6,000-acre path of destruction is gone. Officials say the next phase will involve sifting through the ashes and debris for anything of personal value to return to homeowners. This includes the remains of pets that perished in the fire.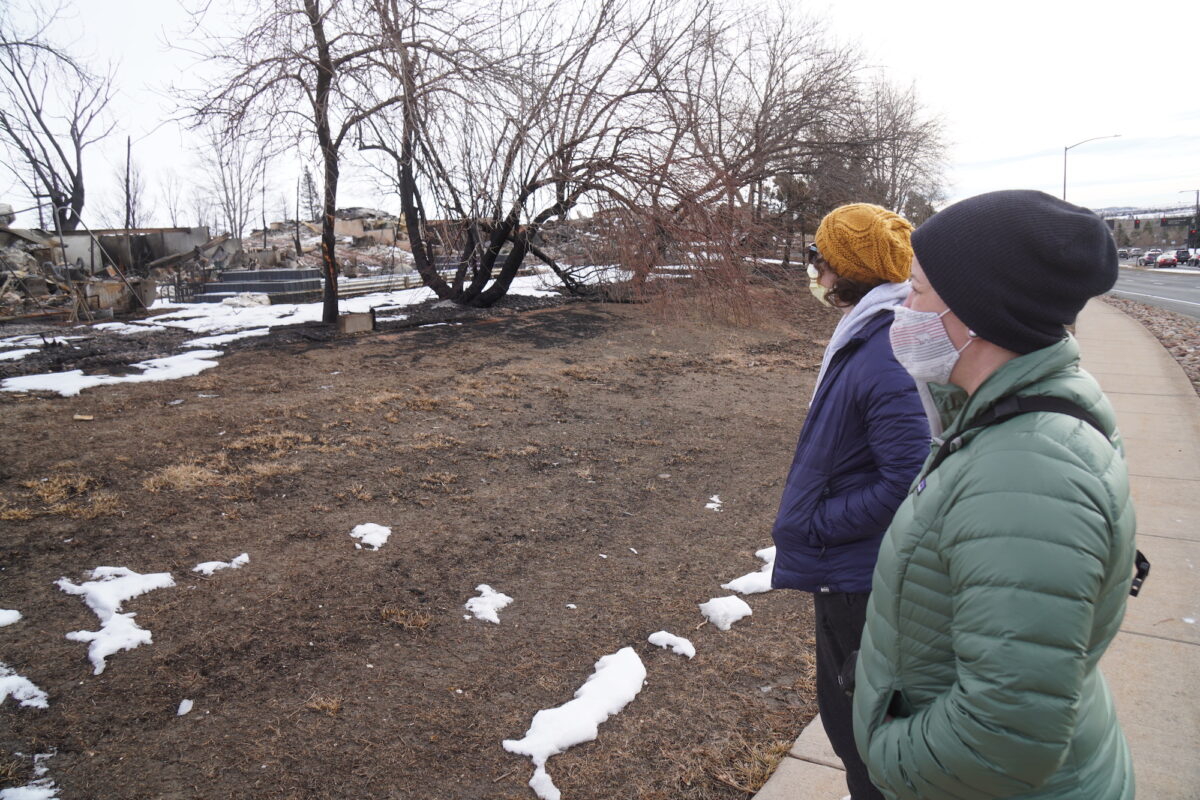 However, one county sheriff's deputy labeled the destroyed subdivision in Superior as a "crime scene" as workers dressed in full-body hazmat suits sifted through the debris.
At least two people are reported to have died in the blaze.
Boulder County Sheriff Joe Pelle declined a request for comment.
Driven by hurricane-force winds exceeding 110 mph, the Marshall Fire on Dec. 30, 2021, destroyed an estimated 1,084 homes and damaged a nearby shopping mall. The fire displaced tens of thousands of people who are now desperately seeking temporary shelter.
Two municipal workers who witnessed the fire said it came without warning and spread quickly.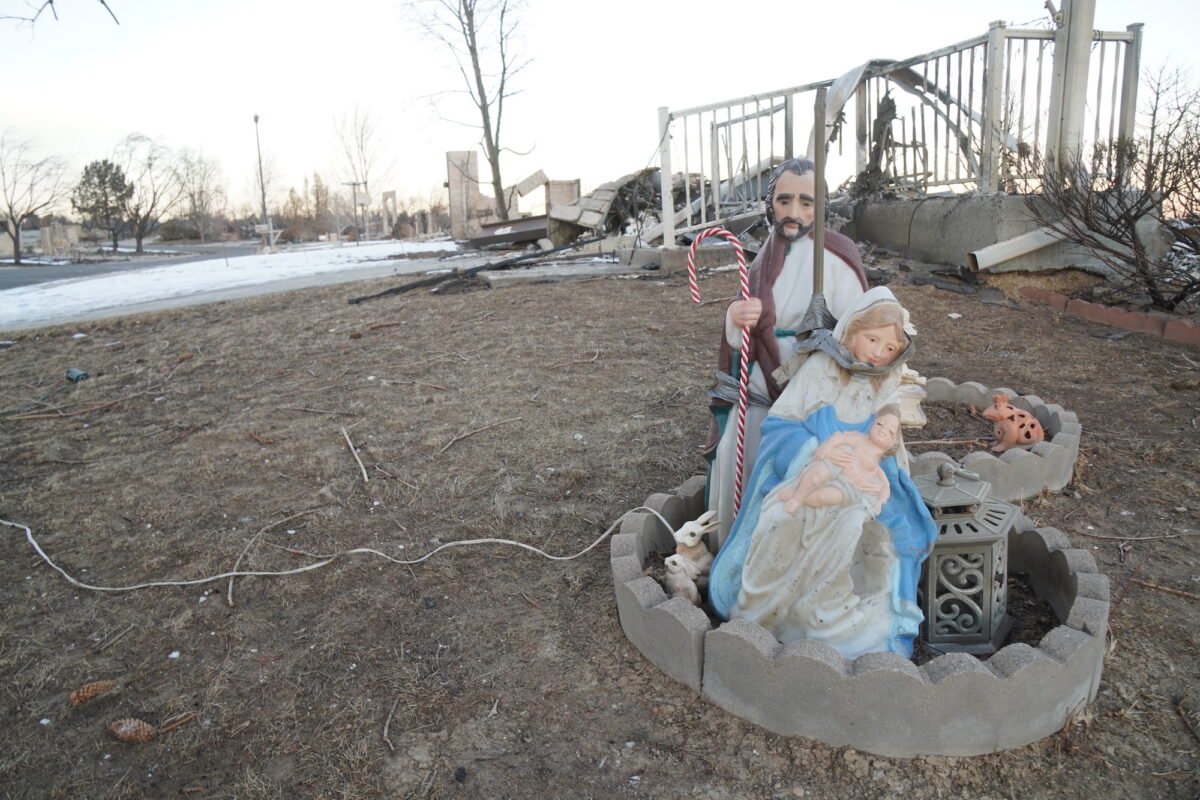 "It was sudden. We saw just a little bit of smoke and thought it was fog and that a storm was moving in early. Within 20 minutes the sky was red and orange and we realized it was not just a little something. It was getting dire," said one of the workers, who asked to remain anonymous.
"They call them chinooks," the worker said regarding the high-velocity winds that drove the flames in westward from the unincorporated community of Marshall. "It's the downward slopes where that high wind comes and then ramps up," he said.
The second worker, who also asked to remain anonymous, said he thought the fire was moving south and east of Louisville, "because you could see it just straight to the west."
"We thought we were going to be spared. The wind shifted. The power went out. Next thing you know there were fire departments at our door telling us we got to leave," he said.
In the grim aftermath, a temporary disaster relief center has been set up at the Boulder County Southeast Hub where 37 different organizations are pooling resources to help those affected by the disaster.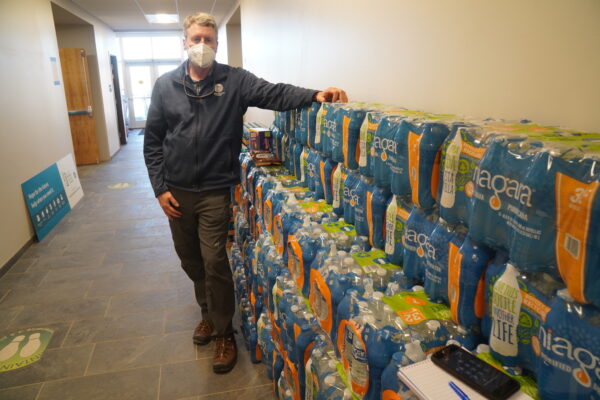 "Probably the two biggest issues are housing and trying to find temporary short-term housing and questions around debris removal and how that's going to be managed," said Boulder County Disaster Recovery Manager Garry Sanfacon.
"People have been really patient and understanding. It's only been a little over a week since the event. We're still in that immediate needs phase. We're starting to transition to a long-term recovery, which will take years."
On Jan. 11, the relief center was abuzz with activity as dozens of volunteers sat behind laptop computers helping stricken homeowners with financial assistance, counseling, and acquiring other vital resources and guidance to survive.
Sanfacon said the Community Foundation of Boulder County received over $18 million in donations and earmarked $5 million for the Marshall Fire Disaster Assistance Center in Louisville. So far, the relief center has dispersed $4 million in aid to almost 1,700 households, he said.
The Federal Emergency Management Agency (FEMA) is operating its own disaster recovery center in the county hub building and has registered over 2,200 households. The Colorado Small Business Administration has given out 70 loans worth $12.7 million, Sanfacon told the Epoch Times.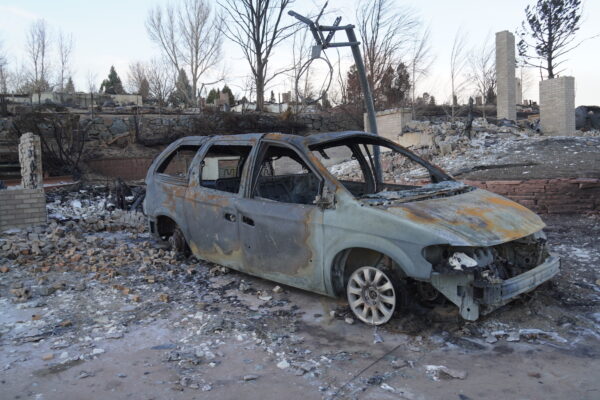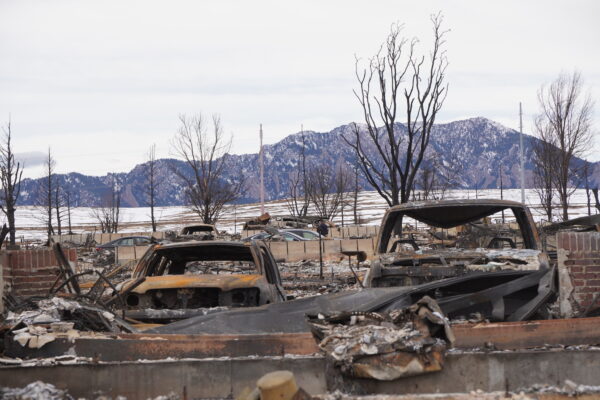 The county relief center will remain in operation for the next week or two, he said.
Outside the center, the parking lot was crammed with major insurance company trucks manned by staff to help those who needed help process their home insurance claims.
A woman helping an elderly woman to her car declined to comment, except to say, "She's got no place to live."
Louisville Assistant City Manager Emily Hogan said that emotions have been running high since the tragedy.
"The outpouring of support is really overwhelming," Hogan told The Epoch Times. "We've had dozens of people reach out to the city for what they can do."
"It's really a close-knit community. We witnessed that throughout the pandemic. We're seeing that again in the aftermath of the fire. It's really a terrible tragedy. We have many residents who have experienced such extreme loss. We just want them to know that the city is here for them. We will be here for you until you're back home."
On social media, offers of life essentials to the Marshall Fire victims continue to pour in.
Brighton, Colo., insurance company owner Melissa Rippy said she purchased a bookstore in October of 2021 and converted it to a mobile free library to distribute books to low-income families.
Now, she's distributing them to victims of the Marshall Fire through a chartered service called Elsie.
"All of our books are free and we collect them for the whole family. We are hoping to get Elsie to those who have been affected by the Marshall Fire so they can pick out some books through this difficult time," Rippy told The Epoch Times. "It won't bring their home back, but it may take their mind off of things for a while."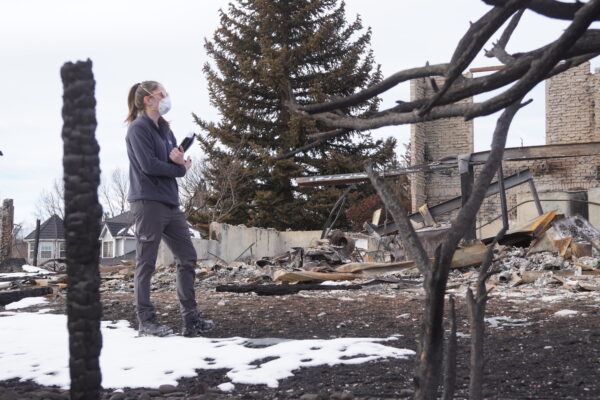 After the recent passing of her mother, Maureen Todd, who lives near Superior, said she decided to donate the entire contents of her mother's home to any impacted family that needs boxes of household items to start over with.
She even set up an email account just for this purpose: dogaholicmom@gmail.com.
"I'm just kind of wanting for a family to have everything–the towels, all the furniture, all the goods, a whole kitchen of pots, pans, plates, basic tools," Todd said.
"This can start somebody off and then they can say, 'I can buy a new set of dishes,' " she told The Epoch Times. "I am fortunate I didn't have this (tragedy) happen to me. I want to make their life easy. The whole purpose of this is so one family has everything."
Todd said the massive wildfire could be seen burning two miles away from her home, and it was like nothing she'd ever seen before.
"You felt the pain even if you were 100 miles away," she said. "It's horrible. You wouldn't think this could happen to a whole city."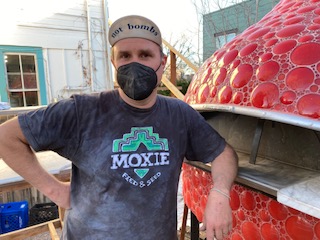 Andy Clark, owner of Moxie Bread Co. in downtown Louisville, said the Marshall Fire was "the fastest moving fire I've ever seen."
"I was actually in California with my son and my wife was here and the bakery called saying there's a brush fire. A half-hour later, they called back and said things were like upside down. So they evacuated.
"My wife said, 'My gosh this is crazy'. We all need to leave the house.' It all just happened so fast. Then I got home and half the town was gone," Clark told The Epoch Times.
Clark said in the meantime he's doing what he can for his employees and friends who were displaced by the fire.
"We have a baker here who lost her place and a bunch of friends who lost their place as well. Everybody is scrambling to find a place to live. I've been offering to find our folks a place and lot of people have generously offered their bedrooms and B&Bs. The generosity has been really stunning."
The problem, he said, is the quantity of local housing stock has been minimal for a decade and in "very high demand."
"It will be years to rebuild. A lot of the folks who were able to keep their house are in areas that are obliterated, like a war zone. Yes, they can go back to the house at some point, but it's a strange place to live. The saddest thing I saw yesterday was some sifting service. Oh boy, you're sifting through where your house used to be," he said.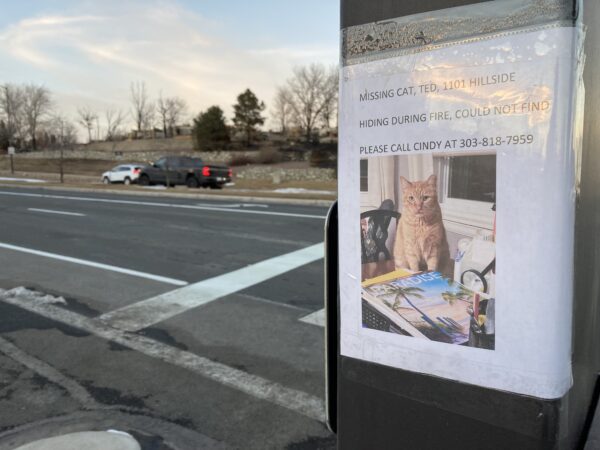 Near the Louisville fire station, a woman had placed a notice asking anyone to call her who knows the whereabouts of her beloved orange tabby, Ted.
Officials said that when the task of sifting through the rubble begins it will involve uncovering the remains of the many dogs and cats that perished in the fire.
Jennifer Fine, Marketing and Communications Manager for the Humane Society of Boulder County, said the organization has received about 50 animals impacted by the fire. About 40 have been reunited with their families, and 10 remain in pet boarding facilities while their families determine new living arrangements, she said.
"We are the hub for lost (and) missing and found pets in our community, including those related to this fire," Fine said. "We continue to receive lost and found reports via our website and phone calls to our facility. We are still actively accepting evacuated pets and will continue to support our community any way we can."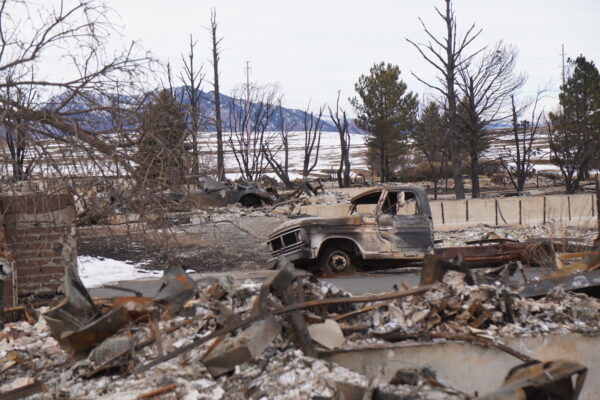 At the county disaster relief center, Brittany Smith, head volunteer for the Colorado Pet Pantry, said that as of Jan. 11 the organization had received over 1,000 pounds in donated pet food. People also have been donating other items, such as pet beds and toys.
"There have been a lot of private donations. We love our animals, and there has been such an outpouring of support for people to find their pets," Smith said.
On Jan. 12, the former Nordstrom department store at the Flatiron Crossing mall in Louisville continued serving as a major drop-off point for private donations of food, clothing, toys, and other household goods for displaced victims of the fire.
Pam White, a team leader with Adventist Community Services Disaster Response, helped coordinate volunteer efforts sorting and tagging items to place on store shelves and racks.
"We're definitely going to be here for three months," said White while she acknowledged the trauma many fire victims have sustained losing their homes.
"What happens is when they first come in they're afraid to talk to us," White said. "They are just so affected by this fire and what it's done to them. Later, as it goes on, their heads are up and they're talking to us and getting joy out" of rebuilding their household inventory.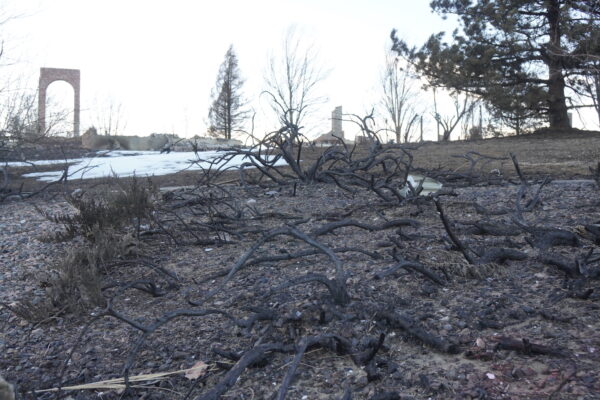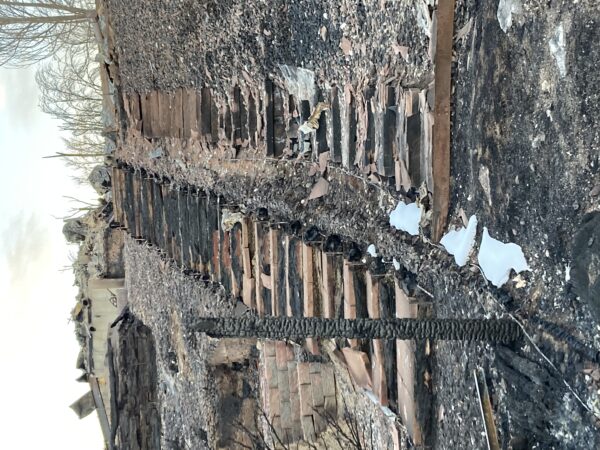 And the generosity from the community continues nonstop.
"We've had semi trucks (arrive) full of new clothes–people with their own trucks that they collected from their own neighborhoods, church organizations, " White said. "It takes a village to really get this done. We started this on Sunday (Jan. 9), and it was an empty, messy store. We had to organize tables to get it working. I imagine we've had 40 to 50 clients today, and each one takes a cart" filled with household goods.
One resident who lost her home in the fire appeared on the verge of tears as she loaded essentials in the back of her vehicle.
"I'm obviously not in a good place to talk about at the moment," she said.