The Censorship Establishment Fears an Open Twitter; Arizona AG Says the Election Can't Be Certified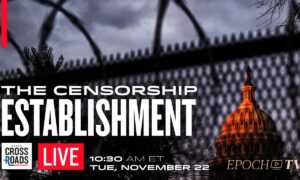 Soon after Elon Musk's takeover of Twitter, he began restoring accounts that were previously banned and took steps to restore citizen journalism on the platform. As this takes place, former voices of authority have been subject to increasing scrutiny, while community fact checks and Twitter trends are taking a sharp turn away from established narratives. The opening up of Twitter is allowing public discourse and ridicule, and is demonstrating why the censorship establishment fears the opening up of Twitter.
Meanwhile, the election results in Arizona have again come to a standstill, and the attorney general is now claiming the elections cannot be certified. This is bringing attention to some of the anomalies and issues the elections have faced in Arizona.
In this live Q&A with Crossroads host Joshua Philipp, we'll discuss these issues and others, and answer questions from the audience.
Subscribe to the new Crossroads newsletter and stay up-to-date!
*Big thanks to our sponsor Sekur! Use promo Code "JOSHUA" for 25% off at https://www.sekur.com
–
The Real Story of Jan. 6 Documentary(102 Minutes, Color)
"The Real Story of Jan. 6," a documentary by The Epoch Times, reveals the truth that has been hidden from the American people. While a narrative has been set that what took place that day was an insurrection, key events and witnesses have been ignored, until now.
🔴 The Real Story DVD: https://www.epochtv.shop/product-page/dvd-the-real-story-of-january-6 , Promo Code "Joshua" for 20% off
–
* Click the "Save" button below the video to access it later on "My List".
Donate to Support Crossroads: https://donorbox.org/crossroads
Crossroads merchandise: https://www.epochtv.shop
Follow Crossroads on social media:
Facebook: https://www.facebook.com/Crossroads.Josh
Twitter: https://twitter.com/crossroads_josh
Rumble: https://rumble.com/user/Crossroads_JoshuaPhilipp
Truth Social: https://truthsocial.com/@crossroads_josh
Gettr: https://www.gettr.com/user/crossroads_josh
Gab: https://gab.com/Crossroads_Josh
Telegram: https://t.me/Crossroads_josh