'The Only Way Democrats Win This Time Is If They Cheat': Former NYC Police Commissioner
MANHEIM, PA.— An enthusiastic Lancaster, Pennsylvania crowd of more than 400 people broke into chants at least 10 times Saturday, during a campaign rally for Republican gubernatorial candidate Doug Mastriano.
"Doug for Gov! Doug for gov!" they spontaneously shouted throughout the rally. But their whistles and applause turned to rapt attention when Bernard Kerik started his speech with a recollection of the terrorist attacks of Sept. 11, 2001. At the time, Kerik was the New York City Police Commissioner. He was on the grounds of the Twin Towers when the second airplane struck.
Years later, Kerik worked for former President Donald Trump as chief investigator for the legal team looking at the 2020 election. He met Mastriano while preparing for the high-profile Nov. 25, 2020, Pennsylvania Senate Hearing that questioned the election. The hearing was held in Gettysburg and featured testimony from former New York Mayor Rudy Giuliani, an attorney.
"Politics is a dirty, dirty business," Kerik said. But he noticed Mastriano had the respect of his peers during preparation for the hearing. "I've never been in a room with 20 different legislators, and every single one of them looks at one man and says, that guy is going to be the next governor of the state of Pennsylvania."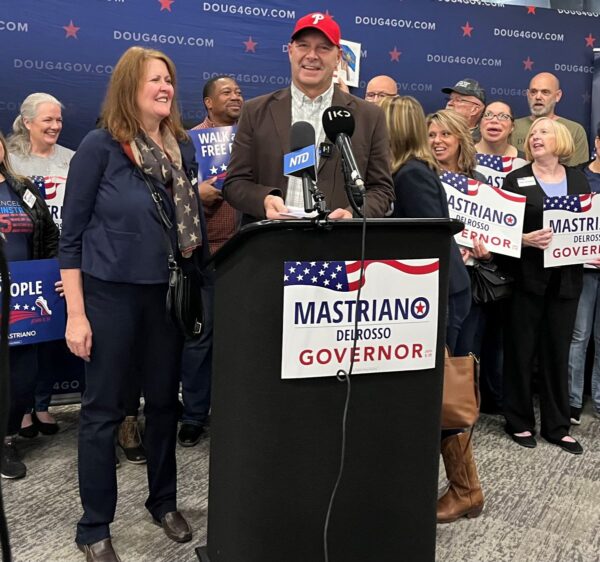 He offered his perspective on investigating the 2020 election.
"It's different for me because it's personal," Kerik said. "I witnessed what happened in the election. When the mainstream media says it's all a big lie, I'm the guy that had to collect the affidavits from the people that witnessed voter and election fraud. I'm the guy that had to help put those hearings together. I'm the guy that talked to a number of different lawyers, that were right here in Pennsylvania, in Pittsburgh. Republican lawyers that were not allowed to watch what was going on at the polls. So people can say all day long, 'There was no voter and election fraud.' That's B.S. and I know it."
Kerik said it is important for voters to talk to friends and get people out to vote, but it is also important to pay attention on election day.
"Remember this. The only way the Democrats are going to win this time is cheating," Kerik said. "We need to make sure we have people at the polls. We need to make sure we can get to the courts and get to the courts on time. We need to make sure there are no mistakes like there was in 2020."
Leadership Required to Curb Crime
Kerik also talked about what it takes to address crime by looking back at the high crime rate in New York when former mayor Rudy Giuliani came into office.
"We were averaging more than 2,000 murders per year. New York City was the murder capital of the United States," Kerik said. "In eight years, under Rudy Giuliani, we reduced the violent crime by 65 percent. We dropped the murder rate by 70 percent. And we dropped the murder rate in the black community by almost 80 percent."
He looks at today's high crime rates in large cities like Chicago Atlanta, Minneapolis, Portland, Seattle, and Philadelphia and sees Democrats leading each one.
"I hear people say crime is out of control. There's nothing you can do about it," Kerik said.
With 439 murders in Philadelphia year to date in 2022, Kerik looks to State Attorney General Josh Shapiro, the Democrat candidate for governor, and asks why he hasn't used his authority to step in and replace soft-on-crime city leaders. He named Philadelphia District Attorney Larry Krasner.
Last week Republican members of the Pennsylvania House announced they were seeking to impeach Krasner for failing to enforce the law.
"So I have one question for Josh Shapiro. Why is Larry Krasner still there? Why is anybody still in place?" Kerik asked. "Don't tell me it can't be fixed. Don't tell me it can't be done. It can be done with the right leadership." That leader, he said is Mastriano.