PHILADELPHIA, Pa.— Over 140 groups, including marching bands, Irish dancers, and cultural groups with 15,000 participants, marched through the streets of downtown Philadelphia for the annual St. Patrick's Day Parade to celebrate Irish culture on Sunday.
As founded in 1771, Philadelphia St. Patrick's Day parade is the second oldest parade of any kind in the United States. The parade is usually held on the Sunday before St. Patrick's Day.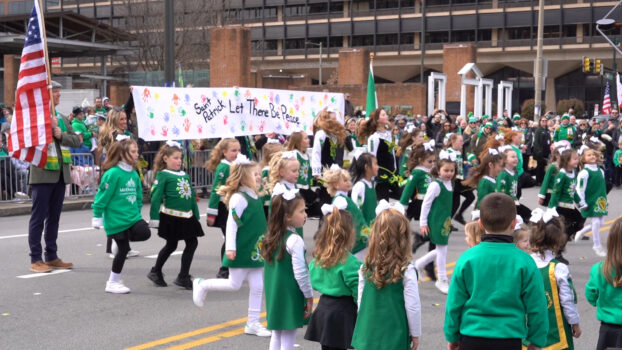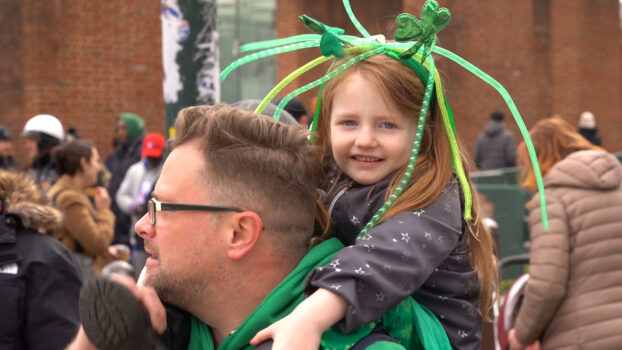 Tom Lavelle, one of the board of directors for organizing the parade, says his grandparents are from Ireland. He said St. Patrick's Day is to preserve the heritage and celebrate the religious holiday.
"I'm Catholic. It's a religious holiday. We've been doing the parade for over 200 years," Lavelle said, "It's your heritage, your culture. And it's also a religious thing. I mean, St. Patrick is the patron saint of Ireland."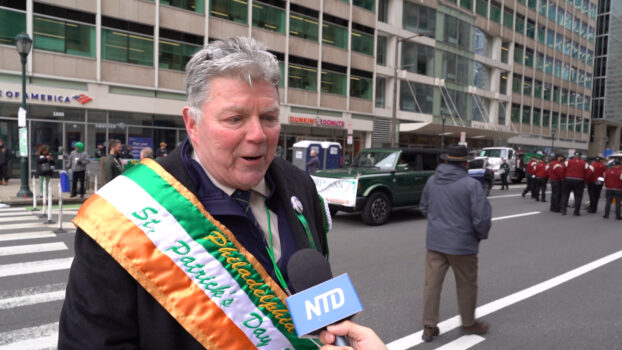 Parade Grand Marshal Dan Harrell says it's emotional to be around all these old friends, most of whom he coached at the University of Pennsylvania.
"As far as you know your own individual heritage, you should really learn from it. Learn from those folks who were ahead of us. Try to keep on improving what they did," Harrell said.
"This country was built on the immigrants, and I think it's very important to know where you came from. But the beautiful part about it is you have a lot of friends here who aren't Irish. We all like each other's old country."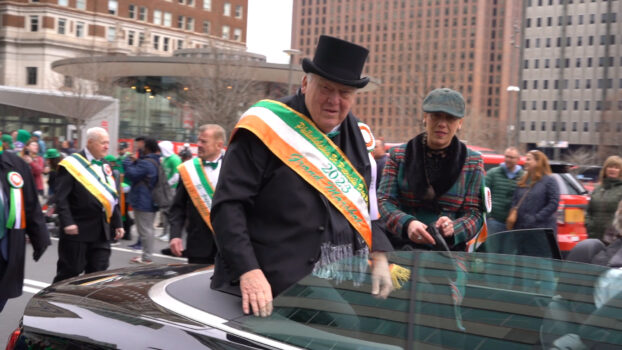 Mickey Maloney, the lead piper of The Second Street Irish Society Pipes and Drums, said he is very happy to participate.
"It just represents our Irish heritage. And it gives us a chance to be out with our brothers, that we all work hard throughout the year, and we don't see each other, and now we get together and play the pipes and have a good time, maybe have a few beers," Maloney said.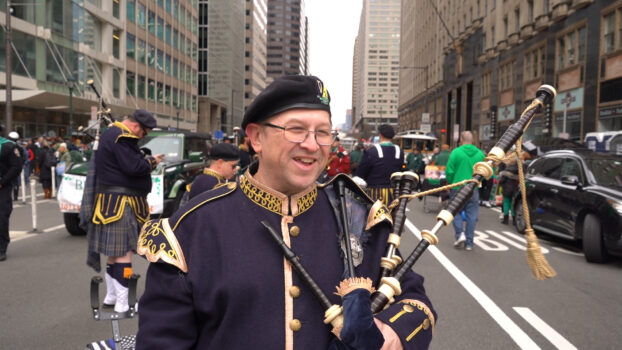 He thinks everybody should preserve their own heritage. "Because if you don't, you forget. And it's just important to do that."
Pennsylvania State Representative Joe Hohenstein joined the parade too. "I'm proud half Irish," he said. "The Irish are one of the immigrant groups that really created all of the United States."
He adds that the Irish have made America their own, but they've also done it by being consistent and staying with their heritage.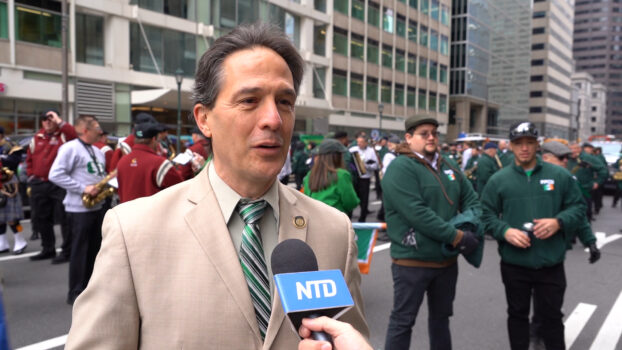 The significance of St. Patrick's Day is "about bringing the community together," Hohenstein said.
"It's about people recognizing that we are all part of the same world, part of the same country, and we can connect with people. That's what it is."
Tom Stevens, the CEO of the pro-life union in Philadelphia, joined the parade.
"We need to let people know that St. Patrick was an important figure in the history of the world and that Ireland is the eye of the world as well."
Stevens said he has half heritage from Ireland, "I have a tree that goes way back."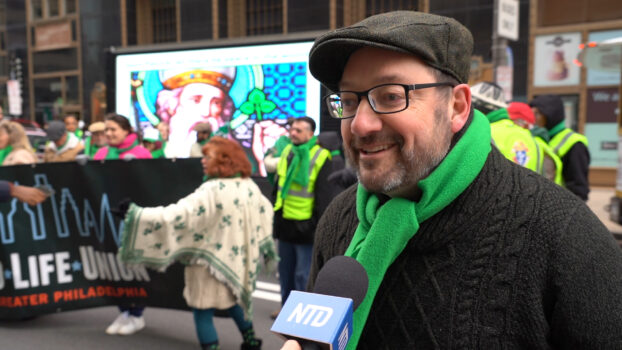 Thousands of spectators, many donned in green festive attire, lined the Parkway to enjoy the parade.
Susan Bjerring, a retired caterer for 20 years at the convention center, plans to celebrate St. Patrick's Day by making corned beef and cabbage and going to church to say a prayer.
She came to watch her son performing in the pipes and drums band.
"I feel wonderful, very happy. I'm hoping that we have peace in our city. That's the theme of the parade. Peace to all in Philadelphia," Bjerring said.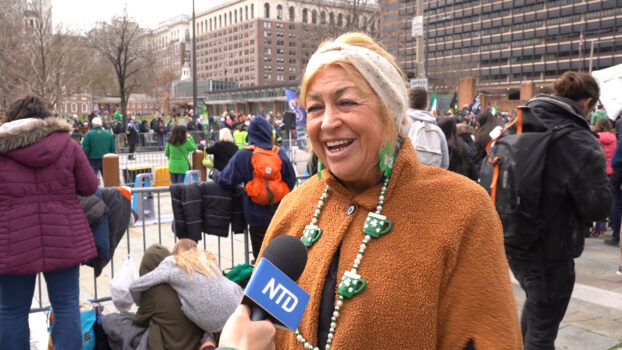 The theme for the 2023 parade was St. Patrick: Let there be peace.
"Very important to preserve that tradition to pass down to my children, my grandchildren, so they realize what was given up for them to come to this country for freedom," Bjerring said.
"My grandfather came here with a shovel, and basically, that's all he had."
Some people even came from New York City to watch Philadelphia St. Patrick's Day parade.
Retired police officer Pat Bradley from New York says Philadelphia is a great town. He enjoyed the tour of Old Town the day prior and is looking forward to the parade.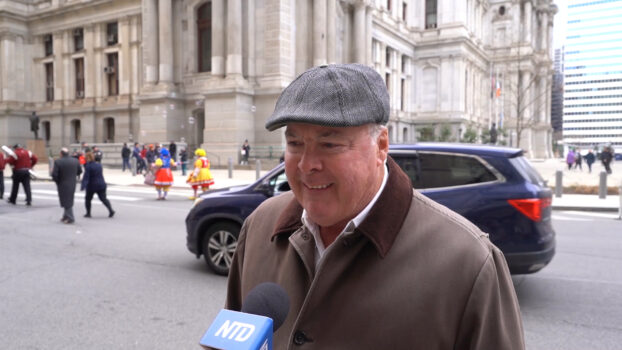 "We observed St. Patrick's Day in a few ways: religiously, we go to church, and then we come to the parade we celebrate. In my family, we also have a tradition of music," Bradley said.
"It's important to remember kind of where you came from, where your ancestry is," he said.
"Obviously, we're all Americans, but I think it's important to remember, and today is that kind of day for Irish people."
St. Patrick's Day is Friday, March 17.