Transportation Secretary Floats Taxing Drivers by the Mile to Pay for Infrastructure Bill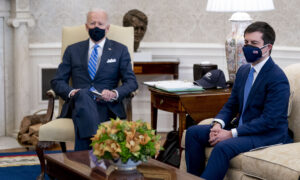 Transportation Secretary Pete Buttigieg on Friday said a proposal that would tax Americans for each mile they drive "shows a lot of promise."
Asked about various possible funding mechanisms for what's expected to be a multi-trillion dollar infrastructure bill from the White House, Buttigieg said a mileage tax looks promising.
"If we believe in that so-called user pays principle, the idea that part of how we pay for roads is you pay based on how much you drive, the gas tax used to be the obvious way to do it, it's not anymore. So a so-called vehicle miles traveled tax, or mileage tax, whatever you want to call it, could be the way to do it," he said during an appearance on CNBC's "Squawk Box."
Other funding possibilities include a new set of bonds, a carbon tax, and an increase of the gas tax.
If the latter is featured in the legislative proposal, people should keep in mind it's more of a temporary measure, Buttigieg said.
"The gas tax has traditionally been part of how we fund the Highway Trust fund, but we know that it can't be the answer forever, because we're going to be using less and less gas. We're trying to electrify the vehicle fleet. So if there's a way to do it that doesn't increase the burden on the middle class, we can look at it, but if we do, we've got to recognize that's still not going to be a long-term answer," he said.
The administration is working with Congress on identifying "sustainable funding streams" for the package while keeping open using some deficit financing. President Joe Biden is generally supportive of using tax increases to fund the proposal, White House press secretary Jen Psaki has said.
Buttigieg told members of Congress during a recent hearing that America faces "a trillion-dollar backlog of needed repairs and improvements, with hundreds of billions of dollars in good projects already in the pipeline."
"We see other countries pulling ahead of us, with consequences for strategic and economic competition. By some measures, China spends more on infrastructure every year than the U.S. and Europe combined," he said.
The Biden administration has been discussing infrastructure with both Republicans and Democrats in recent weeks, following the partisan approval of the president's $1.9 trillion package that included COVID-19 relief and funding for state and local governments.
Republicans have largely signaled opposition to the infrastructure proposal, which has yet to be formally rolled out because of its size, and because they say there are indications they'll be frozen out of negotiations yet again.
"I'm very disappointed with what I'm reading because I'm envisioning that the same thing is going to happen that happened with our COVID attempts to become a part of that," Sen. Shelly Moore Capito (R-W.Va.) told reporters on Capitol Hill this week.
Some Democrats have said they want to use budget reconciliation for a second time. The party used the budget process for the COVID-19 bill, lowering the number of votes needed in the upper chamber from 60-50, effectively cutting out any requirement for Republican support.
"I'm going to support certainly, the next infrastructure bill, to be voted on through reconciliation," Sen. Kirsten Gillibrand (D-N.Y.) said in Washington on March 23.