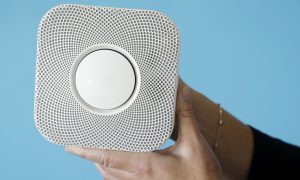 As the year's busiest travel season approaches, the Consumer Product Safety Commission (CPSC) on Wednesday encouraged travelers to take carbon monoxide (CO) detectors with them during travels and on vacations.
"Carbon monoxide is a deadly gas you can't see or smell," the CPSC tweeted. "If you're traveling this spring or summer, make sure you pack a carbon monoxide alarm."
The agency noted that hotels and vacation rentals might not have working carbon monoxide alarms.
Furthermore, only a handful of countries require carbon monoxide detectors in hotels.
"It's wise to assume that your hotel room does not have a CO detector in place, according to advocates who urge people to pack their own battery-powered or plug-in devices when traveling, noting that regulations vary," according to a CBS News report.
Last fall, three American tourists died while staying at a vacation rental in Mexico City due to carbon monoxide poisoning, the AP reported. And another group of American tourists in May died of the exact cause at a Sandals Resort in the Bahamas.
"Without having a detector, there's no way to know that there's carbon monoxide in the space around us," Captain Dillon Dextradeur with Rescue 1 told 3WTKR.
Carbon Monoxide Leaks
Carbon monoxide is called the "Invisible Killer" because it is an odorless, colorless, tasteless, and poisonous gas. It is a byproduct of burning fuel that can cause carbon monoxide poisoning and death if it builds up indoors and you breathe it in.
Early symptoms include headache, dizziness, and nausea. As carbon monoxide builds up in your blood, symptoms worsen and may include confusion and drowsiness, fast breathing, fast heartbeat,  chest pain, vision problems, and seizures.
"People who are sleeping or who have been drinking alcohol can die from CO poisoning before ever having symptoms," said the CDC.
According to the CDC, carbon monoxide is found in fumes produced by furnaces, kerosene heaters, vehicles "warmed up" in garages, stoves, lanterns, gas ranges, portable generators, or by burning charcoal and wood.
Having proper ventilation and CO detectors for both home and travel is essential.
If you have symptoms you believe could be caused by carbon monoxide poisoning, leave the area immediately and call an ambulance or visit the nearest hospital.
The CDC estimates that at least 420 people die annually from unintentional CO exposure in the United States.