Turnout for Early Voting in Georgia Reassures Elections Officials
Primary voters in Georgia, a critical battleground state in the midterm elections, are showing up to early voting locations and returning mail-in ballots in record-high numbers, elections officials say.
Recent polls have indicated that voters question whether elections in the state would be fair. That has worried state elections officials. And they've blame "conspiracy theories" from both Democrats and Republicans for fueling uncertainty that they say undermines the election process.
But now, the higher-than-usual turnout for early voting suggests Georgians believe the election process in their state works far more than they've disclosed in recent polls.
Early voting for the May 24 primary began in Georgia on May 2. By May 10, more than 250,000 people had voted early.
That's up 239 percent from the same early-voting period in the 2018 primary election. It's 160 percent more than the same period in early voting in the 2020 primaries.
State elections officials say turnout numbers signal increasing confidence in the process, and shrinking doubts about its fairness.
But they expressed frustration this week over continued allegations by Democrats that a "stolen election" kept voting rights activist Stacey Abrams from winning her 2018 bid to be the state's governor.'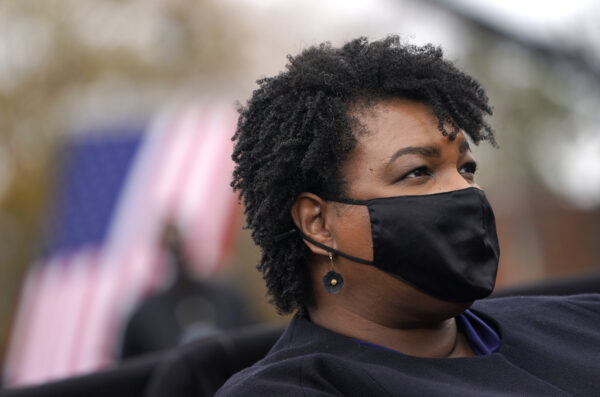 The winner of that race was Brian Kemp, a Republican who's now seeking reelection. But first, Kemp has to get past the primary, which seems likely.
A RealClearPolitics average of polls conducted between April 10 and May 1 suggest Kemp is more than 22 points ahead of his closest competitor, David Perdue. Perdue represented Georgia in the U.S. Senate for six years, until he lost his reelection bid to Democrat Jon Ossoff in a January 2021 runoff.
Perdue has been enthusiastically endorsed for governor by former President Donald Trump, who made it a goal to unseat Kemp. That's because the Republican incumbent didn't fight to have the 2020 Georgia election results overturned. There are three other Republicans in the primary race.
The winner of the Republican contest will face Abrams, a Democrat, in the Nov. 8 general election. Abrams isn't in a primary race because she doesn't have a Democrat opponent.
The fact that Abrams never conceded the 2018 gubernatorial race and continues to say it was stolen irks Georgia elections officials.
"Baseless stolen election claims undermine the integrity of our elections, regardless of who pushes them," Secretary of State Brad Raffensperger stated in a May 9 news release.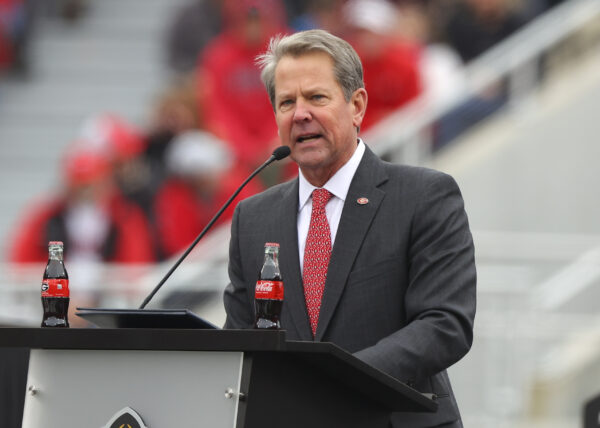 "In fact, Brian Kemp beat Stacey Abrams by 55,000 votes," the news release from the Georgia Secretary of State's office continued. "To date, Abrams has presented no evidence that any specific voters were not able to cast ballots in the November 2018 elections because of 'voter suppression.' Additionally, Abrams has presented no evidence that there was 'massive cheating' in the 2018 election."
Abrams didn't respond to a request for comment sent to her campaign.
Raffensperger's office also has been irritated by Trump's continued claims the 2020 election was rigged against him, putting Joe Biden into the White House.
At the same time, Trump and his supporters have expressed outrage with Raffensperger for not helping prove Trump's shortfall of votes in Georgia was the result of voter fraud.
Raffensperger has defended the integrity of voting in his states. Since November 2020, he's been criticized for that position by Trump and those loyal to the former president.
Now, Raffensperger's running for reelection, and Trump endorsed his top Republican challenger, Congressman Jody Hice. Hice joined Trump in loudly questioning the 2020 election results in Georgia.
Results of the 2020 election results in Georgia were checked in three recounts, including a hand-count of ballots. But the topic still causes tempers to flare in the state.
Not surprisingly, polls suggest the race between Raffensperger and Hice is tight.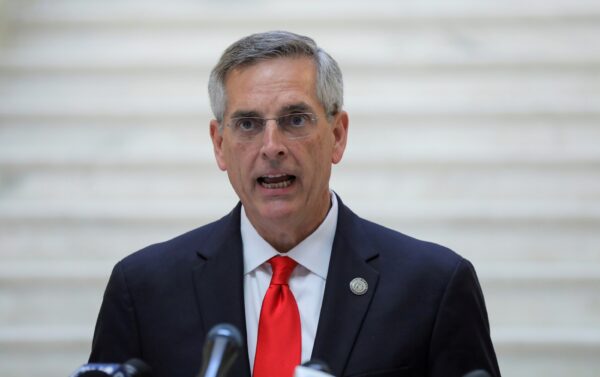 Also in the race for Secretary of State are T.J. Hudson, a judge of 16 years, and David Belle Isle, former mayor of Alpharetta. The latter lost a primary runoff to Raffensperger in 2018.
Five Democrats are vying to advance past their primary election to take on the winning Republican. The leading candidate in both party primaries must receive more than 50 percent of the vote to avoid a runoff on June 21.
The top Democrat and Republican will advance to the general election Nov. 8.
Before turnout showed early that it would be vigorous this election cycle, Raffensperger's office had been concerned about evidence Georgia voters question whether their votes will count. Questions of fraud continue to swirl.
A new documentary by Dinesh D'Souza, called "2000 Mules," claims to document how paid ballot collectors stuffed drop boxes with fraudulent votes in 2020, affecting the election's outcome.
Some call the movie, released May 2, a bombshell that proves widespread election fraud in a handful of states, including Georgia. Others say the movie's premises are flawed and promote false claims of fraud.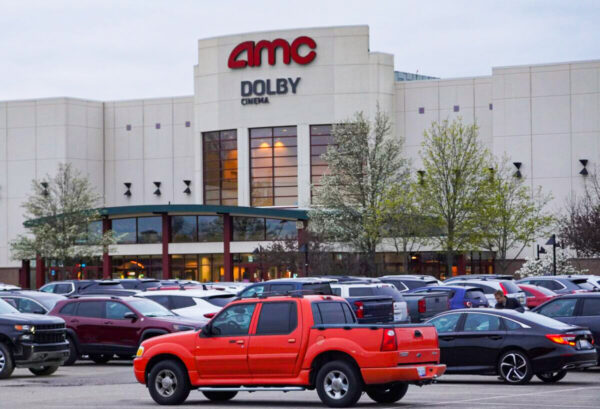 Meanwhile, Democrats still allege corruption in Georgia's 2018 gubernatorial race, and many Republicans still insist Trump's victory was stolen there in 2020. So it's no wonder Georgia voters have expressed frustration.
The Georgia Secretary of State feels the claims cause a problem serious enough to warrant gunning for those responsible, including new White House pick for press secretary, Karine Jean-Pierre.
On May 5, Jean-Pierre was tapped to replace outgoing White House Press Secretary Jen Psaki, who serves her last day as top messenger for Biden on Friday. Psaki lauded Jean-Pierre for being the first black woman and first openly gay person to serve in the role.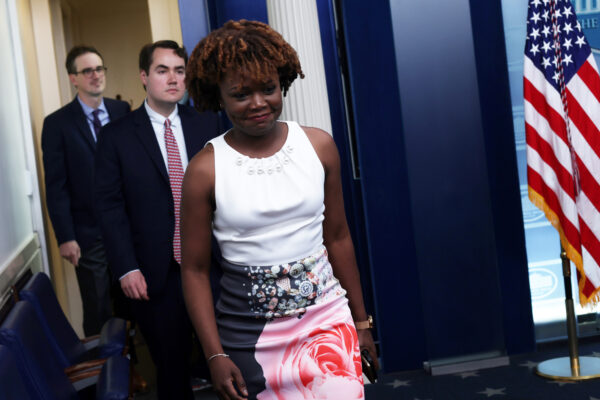 In a news release May 9 about Jean-Pierre's appointment, Raffensperger said he "condemned" it "in light of revelations that she pushed stolen election conspiracy theories following the 2018 Georgia gubernatorial election." He "called on President Biden to refuse election deniers prominent positions in the White House."
"President Biden has repeatedly cast doubt on Georgia's elections: first in his claim that the 2022 elections would not be legitimate unless his federal elections takeover passed, then by nominating a 2018 stolen elections conspiracy theorist to the Federal Election Commission, and now by appointing a stolen elections conspiracy theorist as Press Secretary. By giving a megaphone to individuals who undermine election results they don't like, President Biden is doing great damage to American democracy."
Raffensperger took issue with a March 12, 2019, reply by Jean-Pierre on Twitter about another user's post that said "there was massive voter suppression and cheating" in the 2018 gubernatorial election in Georgia. In response, Jean-Pierre wrote, "Yes – the race was stolen."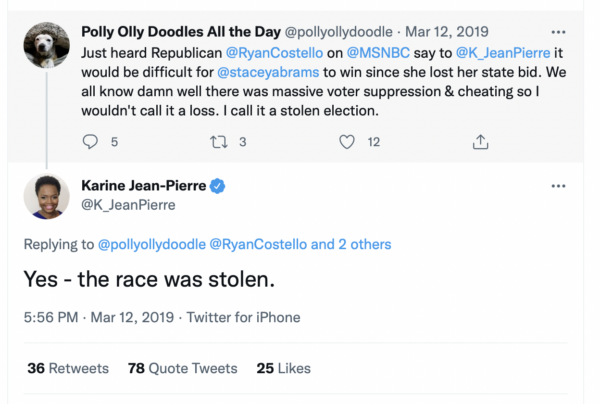 Jean-Pierre was out of line again, Raffensperger said, when she shared an article about Kemp on Twitter on April 2, 2020, and commented, "Reminder: Brian Kemp stole the gubernatorial election from Georgians and Stacey Abrams."
The White House did not respond to a request for comment.