Tyler Texas Establishes 'Precedent Setting' Program in Approach to the Homeless
Homeless issues in Tyler, Texas, are not expected to be eradicated, said the city's mayor and a police sergeant on Feb. 24, to The Epoch Times.
But there is the expectation that Tyler's homeless problem can be "mitigated, managed, and controlled," given the right focus and proper distribution of available resources.
Civic leaders and police dealing with a transient population have instituted new measures to address the issue in this community of 105,000, about 100 miles east of Dallas, since September and October 2021.
In its annual "Point in Time" survey of the homeless, the number of those affected has remained fairly consistent for the past three years, Tyler Mayor Don Warren said.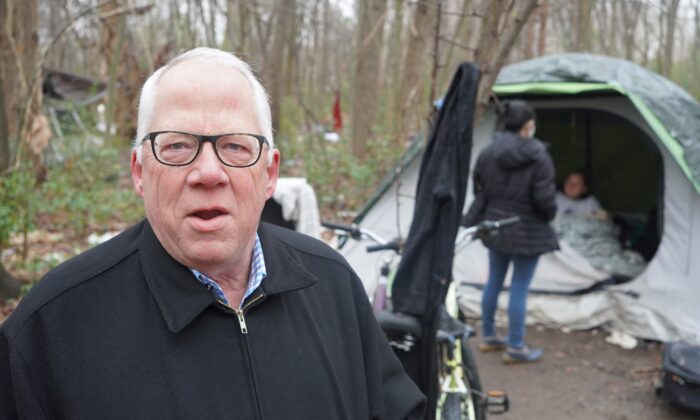 "In 2020, we saw a small dip in the homeless numbers due to Covid, but other than that, we've remained at about 330 to 335 people the year before that and afterward," he said.
In September, Tyler's city council enacted a camping ban to remove all homeless and transients from public places.
In October, the city council also approved and established a new section within the Tyler Police Department, the Homeless Community Response Unit.
A Community Issue
The unit's overseer, Sgt. Kevin Mobley said the primary purpose of the unit is to build relationships and trust with the city's homeless.
"Homelessness is not a law enforcement issue. It's a community issue," Mobley said.
"It will take people in the community who have the capacity to pass along the genuine concern of the homeless population, to those who are looking for a way out, those who haven't been able to find a way out, and those facing the challenges of mental illness or drug addiction."
Mayor Don Warren said despite the public camping ban, which has been effective in dispersing homeless encampments under public bridges and wooded lots, sleeping in tents or sleeping bags on private property is not illegal.
"And that's where the homeless in our city is gathering now," he said. "If they are on private property and the landowner is okay with that, all we can do at this point is talk to them and try to get them into a program."
Officer Johnny Green, a 35-year veteran of the Tyler police force, spearheaded the idea of a homeless response unit. Green said the unit's primary purpose is not to make arrests.
"While some officers working in other units may make arrests on a daily basis, I probably will make one or two occasionally," he said. Green said he keeps his eyes on the behavior of the homeless and potential crimes they may commit while building relationships with them.
Overall property crimes in Tyler for December of 2021 saw a decrease of 11 percent compared to December of 2020. In the same period, there was a 40 percent decrease in burglary and an 11 percent decrease in theft offenses according to crime statistics posted at the Tyler Police Department website.
"We haven't seen a spike in crime due to homelessness," said Warren, "and maybe that's because of all the good citizens in our city reaching out to the homeless with various resources."
Tent Encampments of Tyler
Warren spoke to The Epoch Times in the frosty early morning hours at one of several homeless encampments in Tyler.
He stood in a trashy, muddy, and wooded lot, located in a remote part of the city, looking on as volunteers conducted the survey.
Community response officers, stood by, talking amiably with the homeless tent-dwellers after the survey was completed, probing for problems people were facing.
"It's dangerous out here," officer Bianca Smedley said. "Some people in these camps are suffering from mental illness or drug addiction. Some are abandoned by, or feel abandoned by, their family and think they can't go anywhere else but here.
"We try to get them to move forward and tell them, 'even if you fall back you can still move forward.' Tyler is a great city to be in if you want to get some help."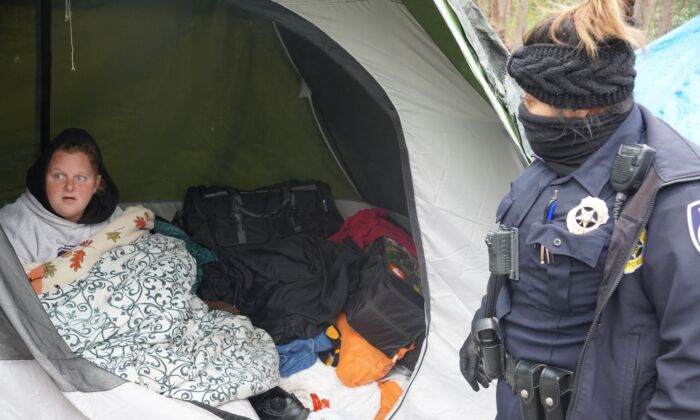 Tents in the encampment were scattered in an estimated two-acre area surrounded by trash, old clothes, plastic bottles, broken food coolers, and the occasional bicycle.
There were no sanitary facilities or running water of any kind.
Living conditions were worsened by below-freezing temperature the previous night, turning the ground into a sea of mud as it thawed.
Numbers gathered in the survey will be processed and submitted to the Texas Homeless Network for distribution to grant and funding agencies throughout the state said Andrea Wilson, executive director of People Attempting to Help, or PATH, the organizing agency of the survey in Tyler.
While the city does not fund efforts to reach the homeless, Warren said, it provides spaces for nonprofit agencies to work from, as long as they serve the homeless.
The Tyler survey was conducted by 35 volunteers working from 8 a.m. to 10 p.m. both indoors at shelters and at homeless eating locations, and outdoors at homeless encampments.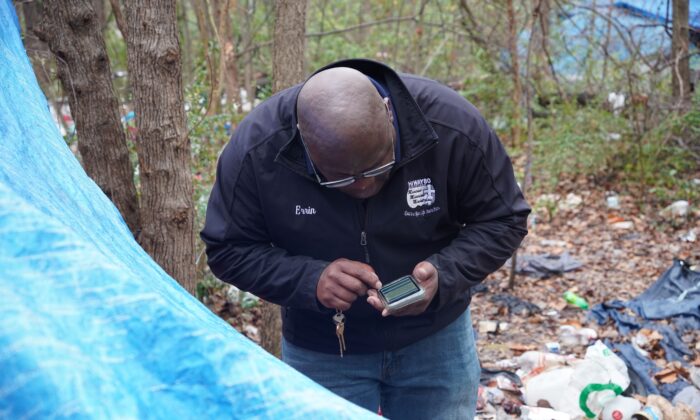 Survey questions included aspects of race and gender, length of homelessness, the cause of their homelessness, physical and mental health conditions, and if they were veterans of the U.S. armed forces, said Wilson.
Mobley agrees with Warren that crime in Tyler has not increased specifically because of homeless issues, and doesn't expect homelessness in Tyler to be eradicated, but mitigated by their efforts.
"I think Tyler is beginning to set the precedent—and I'm sure it's happening all over the nation—with the realization that it's going to take more than paid professionals and law enforcement to mitigate homelessness, and to help people with the mental and physical challenges they face."
Green agreed. "I love what I'm doing, but if I had to do it without the resources of community volunteers and agencies, there is no way I could do this job."
Cold Will Kill
One of those facing daunting challenges is Donald Myrick, 59, a Texas native from nearby Longview. Myrick's feet and lower legs were amputated because of frostbite while sleeping outside, homeless, in sub-zero temperatures in Michigan.
He spoke to The Epoch Times in the early morning while drinking hot coffee at the Gateway to Hope Rescue Mission, the staging area for some of the survey volunteers.
"Gateway" is housed in a building supplied free by the city, where meals are served daily.
"I don't care about anything anymore, except to stay warm," Myrick said, wrapping his hands around a steaming Styrofoam cup.  He explained he was "layered up" against the rainy, 25 degree-wind-chill cold in Tyler.
He sleeps outside in a sleeping bag and has no tent.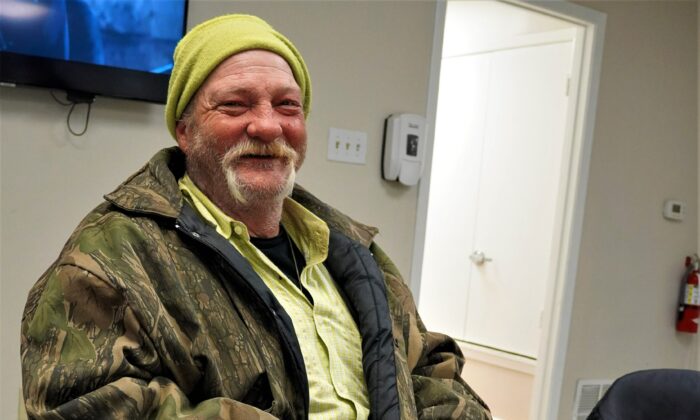 "Yes, it was nasty last night. When I woke up, my wheelchair had icicles on it. The cold will kill you, much faster than hot weather will.
"You gotta stay layered up, or your gonna die. When I lost my feet it was because I was asleep and didn't know my shoes were sticking out uncovered.
"When I woke up, it felt like ants were crawling all over my feet. That's what frostbite feels like," he said, twisting his face, "ants crawling up your legs."
At the encampment, Warren said, "Our ultimate goal is to see people like those here living in homes with heat, running water, a bathroom, food, and so on.
"We are trying to inform the churches and concerned citizens that giving tents, sleeping bags, and things that make it possible to live outdoors, is not the direction we want you to go.
"We want them [the homeless] to be loved, secure, and have a family. But you can't make them do it. They have to want to do it."
Survey volunteer Callynth Finney, 47, is a mother of two children and regularly checks in on "unsheltered neighbors" as she calls them.
While she agreed with the mayor's comments, she added that there is "no one-size-fits-all, blanket solution" to the problems the homeless face.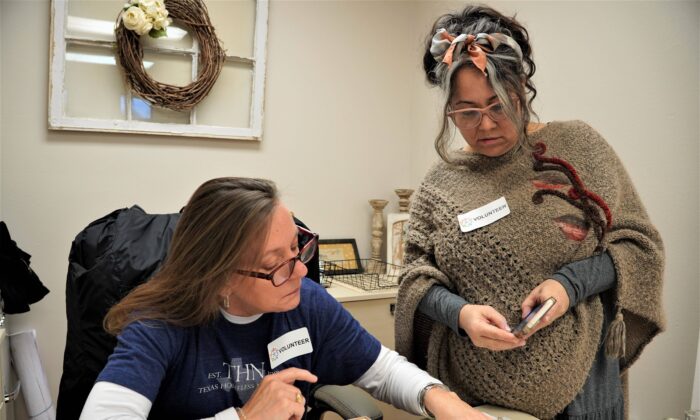 "The mayor has a valid point about the distribution of resources and the ultimate goal," she said, "but there's always someone who has been so beaten up by life, so abused or defeated, they lose hope.
"They don't have the will to go on. They don't neatly fit into the get-a-job, get-a-house scenario, and their mental condition works against them.
"Then when it's cold outside like it has been, or was two years ago during the severe snowstorm here, what are you going to do with our unsheltered neighbors? If we do nothing, people will die."