US Appeals Court Rules States May Restrict People From Openly Carrying Guns in Public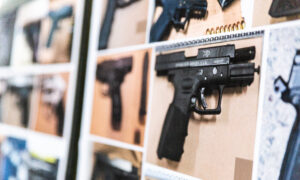 An appeals court on Wednesday ruled that states may restrict people from openly carrying firearms in public—upholding a Hawaii gun regulation that bans residents from openly carrying guns without a license.
The U.S. 9th Circuit Court of Appeals ruled 7-4 that restrictions on carrying guns in public except for hunting do not violate the Second Amendment's right to bear arms.
"The government may regulate, and even prohibit, in public places—including government buildings, churches, schools, and markets—the open carrying of small arms capable of being concealed, whether they are carried concealed or openly," Judge Jay Bybee, appointed by former President George W. Bush, wrote in his opinion (pdf) for the court's majority.
"Our review of more than 700 years of English and American legal history reveals a strong theme: government has the power to regulate arms in the public square," the judge added, saying, "There is no right to carry arms openly in public; nor is any such right within the scope of the Second Amendment."
Bybee added, "It remains as true today as it was centuries ago, that the mere presence of such weapons presents a terror to the public and that widespread carrying of handguns would strongly suggest that state and local governments have lost control of our public areas."
Judge Diarmuid F. O'Scannlain, who dissented, called the decision "unprecedented as it is extreme."
"At its core, the Second Amendment protects the ordinary, law-abiding citizen's right to carry a handgun openly for purposes of self-defense outside the home. Despite an exhaustive historical account, the majority has unearthed nothing to disturb this conclusion," wrote O'Scannlain.
Another judge who dissented, Ryan D. Nelson, criticized Hawaii County's law, writing that it "restricts gun ownership only to security guards [and] violates the Second Amendment."
In 2016, the 9th Circuit decided that Americans don't have the constitutional right to carry concealed guns in public.
The National Rifle Association (NRA) wrote that the ruling impacts "right to carry" laws in Alaska, Hawaii, Arizona, Washington, Oregon, Montana, and California.
"This was not an NRA case but we are exploring all options to rectify this," the group wrote on Twitter.
The case was brought against the state of Hawaii by a man who sought a permit for open carry for self-protection but was later denied. According to the Los Angeles Times, evidence in court showed that the county's permits were only given to security guards.
The county law has limited permits for carrying guns other than hunting for persons with an urgent need for firearms and who are involved "in the protection of life and property."
The case is Young v. the State of Hawaii.