US News: Disturbing recording surfaces of Seattle police officer laughing following woman's tragic death in fatal crash
A Seattle police officer is under investigation after being recorded laughing about a woman hit and killed by a police car.
Jaahnavi Kandula, 23, died after being struck by a vehicle, driven by officer Kevin Dave, as she was crossing a road in January.
After responding to the incident, officer Daniel Auderer was recorded on bodycam footage describing details of the incident, laughing that the student's life had "limited value".
"He was going 50mph, that's not reckless for a trained driver," Mr Auderer, a Seattle Police Department union leader said, appearing to address the speed of the police car that hit Ms Kandula.
According to The Seattle Times, the officer driving the car was going 74mph while on the way to respond to an overdose call. The impact meant Ms Kandula was thrown more than 30m (100ft).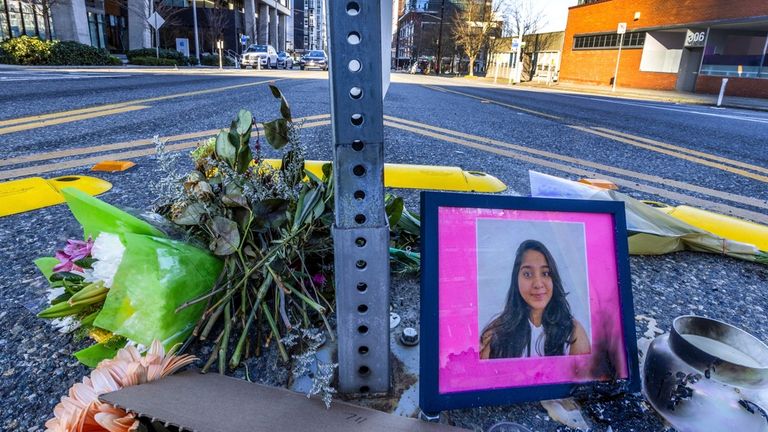 "But she is dead," Mr Auderer told Mike Solan, president of the Seattle Police Officers Guild, before he lets out a prolonged laugh.
"It's a regular person," the officer joked.
"Just write a cheque. She was 26 anyway. She had limited value."
Police said they have handed the matter over to the Office of Police Accountability, which is looking into "the context in which" the statements were made and whether any policies had been violated.
Mr Auderer also reported himself after realising his comments had been recorded.
The audio recording was called "heartbreaking and shockingly insensitive" by the Community Police Commission.
Read more:
Police arrest petrol-drinking burglar
Woman punched her way out of garage cell after being kidnapped
In a written statement, reportedly obtained by KTTH-AM radio host, Jason Rantz, Mr Auderer said that his comments were not made with "malice or a hard heart" but were intended to mimic how lawyers might try to minimise liability for the incident.
"I laughed at the ridiculousness of how these incidents are litigated, and the ridiculousness of how I watched these incidents play out as two parties bargain over a tragedy," he wrote, according to KTTH-AM.
He acknowledged that anyone listening to his side of the conversation alone "would rightfully believe I was being insensitive to the loss of human life".
Ms Kandula's family told The Seattle Times "a life is a life" and wondered if "these men's daughters and granddaughters have value".