US Officials Provided Taliban with Names of Americans, Afghan Allies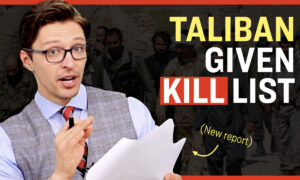 Facts Matter (Aug 27): Report: US Officials Provided Taliban with Names of Americans, Afghan Allies
In Afghanistan on Thursday, there were two separate suicide bombings that led to the deaths of 13 American service members as well as 95 Afghan civilians.
In New York, on his last day as governor, Andrew Cuomo issued six pardons. One of them was for a convicted murderer, who was also the former leader of a Marxist organization called the Weather Underground.
Lastly, the Supreme Court just ruled that the CDC's moratorium on evictions was unconstitutional—meaning landlords can begin evicting tenants who are not paying rent. According to new data, that includes tens of millions of people.
Resources:
Sekur (promo code: Roman): https://ept.ms/3yW0Wul
???? Taliban Names Report:
???? Cuomo Pardons:
???? Weather Underground:
???? CDC Moratorium:
???? Kabul Bombing:
---
Stay tuned for our newsletter so you won't miss out on our exclusive videos and private events.
Facts Matter is an Epoch Times show available on YouTube.
Follow Roman on Instagram: @epoch.times.roman
Follow EpochTV on social media:
Facebook: https://www.facebook.com/EpochTVus
Twitter: https://twitter.com/EpochTVus