Venice Neighborhood Councilors File Hate Crime Complaint Against Larry Elder's Attackers
Venice Neighborhood Councilmembers Soledad Ursua and Chie Lunn, who toured gubernatorial candidate Larry Elder around the city's infamous homeless encampments, filed a hate crime complaint with the Los Angeles Police Department against the Sept. 8 attackers.
During a walk-through of Elder's campaign stop at Venice Beach, over 10 hecklers harassed him, throwing projectiles, and allegedly assaulted his bodyguard.
"It was just all of these vile things. They are yelling sexist slurs at us," Ursua told The Epoch Times. "There's other people who then were yelling the N-word."
A lady in a pink gorilla mask, riding a bike, appeared on video throwing an egg that appeared to narrowly miss Elder's head.
In videos surfacing on Twitter, the woman slapped the security staff in the face. Another protester hit the same security staff member seconds later.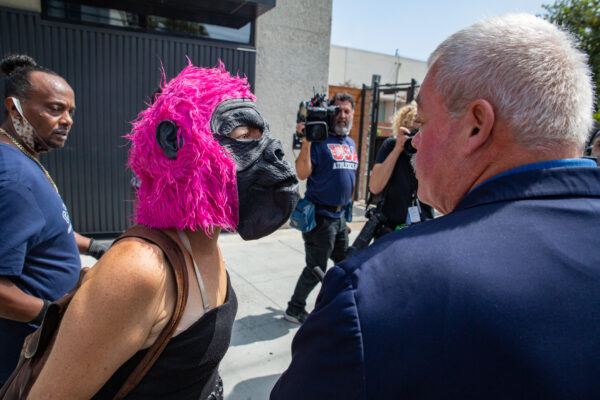 Although Lunn has been a life-long Democrat and Ursua a Libertarian, they were disgusted by how the protestors treated Elder and those accompanying him during the walk-through.
According to Ursua, there were seven people accompanying Elder on Sept. 8 touring the homeless encampments, including the president of the Venice Beach Chamber of Commerce.
Ursua was thrilled to tour Elder around homeless encampments so the media could bring more attention to the homelessness issue in Venice Beach.
"We invite people to come to Venice to study homelessness with us because when you look at Venice Beach, there are 2000 unsheltered homeless people living on our street. This is the number-two largest number of unsheltered homeless people outside of Skid Row," Ursua said.
Ursua claims that they were attacked just a few minutes after they began the tour. The attackers and protesters were hurling eggs and racial slurs at them while they walked through the neighborhood.
Ursua and her colleagues at the neighborhood council have been working closely to improve the public safety and the living conditions of the homeless people in Venice. Ursua said it was an awful experience to see her friend Lunn and Elder be insulted with racist slurs.
"We really encourage everyone to come to here, so that they can see it with their own eyes because it's a real wake-up call. You can read about these things, but it doesn't really hit people until they see it, and they can see the awful conditions that homeless people are living in," Ursua said.
Ursua believes the attackers were politically motivated, sexist, and racist, and she worried that Lunn's children would have been negatively impacted by the attack as they could see their mother being yelled at with vulgar language.
Ursua and Lunn filed the report as a hate crime, believing these protesters were paid and sent there to embarrass Elder—emphasizing homeless people don't have gorilla masks and eggs in their tent.
"They are out there denouncing other elected officials; we feel that this is very coordinated and we want their identity shown," Ursua said.
Ursua said this is a racist attack and that no one deserves to be treated like this, also accusing "no politician has condemned it," except Los Angeles County Sheriff Alex Villanueva.
"My biggest regret was that I wish I would have ripped it [mask] off so that everybody could see her face and exposed her. We want justice. We want to know the identity of that person … We want this woman caught and we want her exposed because she does not represent Venice," said Ursua.