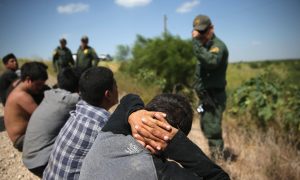 Vice President Kamala Harris's decision to visit the U.S. southern border in El Paso, some 800 miles from the epicenter of the surge in illegal immigration in the Rio Grande Valley, has been described by a Texas Democrat as "politically safer."
Both Republicans and Democrats from border states have been urging Harris for months to visit the U.S.-Mexico border. However, her move to visit El Paso is being viewed on both sides as missing the mark.
"Her planners told her that if you are going to go down to the border, go to something that's safer to go to, that is politically safer," Rep. Henry Cuellar (D-Texas) said during a Thursday interview with Fox News. "If you go down to the lower Rio Grande with high activity and you're there with kids and families, prosecutorial discretion where people are being released, high numbers of people crossing the border. You know, politically, that's it's harder to do that."
"I know that, I mean that's part of my district, but you gotta do what you gotta do," he added. "You just can't, you know, just go to one place, but she does … check the box and go down to the border by going to El Paso," he added.
The White House did not immediately return a request for comment about the decision to visit El Paso.
U.S. Customs and Border Patrol (CBP) apprehends the highest number of illegal migrants in the Rio Grande Valley sector of south Texas, which includes McAllen, Texas.
In fiscal year 2021 so far, CBP apprehended 271,927 people in the Rio Grande Valley (RGV), while El Paso had almost 114,000 apprehensions as of the end of May. None of the other border patrol sectors on the Southern border near that number to RGV.
Overall, As of June 12, 1,040 kids were in CBP care and over 14,400 were in HHS care. Border patrol agents have also seen a surge in adults and families. Illegal border crossings hit 180,034 in May, with 51,000 others avoiding capture.
"Yes, the epicenter is down there in the lower Rio Grande, the lower part of my district down there," Cuellar added. "If you look at the numbers that are down there compared to El Paso, you're not going to get a true picture of what's happening [in El Paso]. You go to the Donna facility, you go to Roma Texas, you go to Rio Grande City, you go to the McAllen area so you can get an idea—that's how you can get an idea of what's happening."
On the same day, Sen. Ted Cruz (R-Texas) slammed Harris's decision to go to El Paso.
"So, she's going where the height of the problem isn't. Let me tell you what Kamala needs to do. Kamala, you need to go to the Rio Grande Valley. Kamala, you need to go to McAllen. Kamala, you need to go to the Donna tent facility, which is the tent city your administration has built, that is massive over capacity, that has kids in cages, you need to look at the children in cages that you and Joe Biden put there in a way that is endangering their safety, is subjecting them to abuse and sexual assault," Cruz during an interview with Fox News.
"And there's a reason, John, she's not going to McAllen, not going to the Rio Grande Valley—because she doesn't want the cameras to see the Joe Biden cages with kids in cages," Cruz added.
Meanwhile, Rep. Veronica Escobar (D-Texas), representing the El Paso region, said she is looking forward to welcoming the vice president.
"As I told VP last March, El Paso has chosen to employ compassion toward those seeking refuge, and her visit will provide key context for her diplomatic efforts to address root causes of migration," said Escobar on Twitter.