Water Restrictions Lifted for 7 Million Southern California Residents After Storms
[ad_1]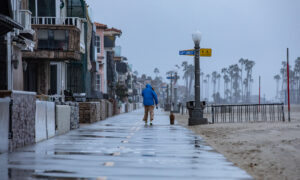 Millions of people in Southern California have had mandatory water restrictions lifted following winter storms that bought drought-busting rainfall, boosting reservoirs and easing severe shortages.
The Metropolitan Water District of Southern California, which supplies water for 19 million people in six counties, announced on March 15 that it will no longer mandate emergency restrictions on water use for nearly 7 million people following the storms.
However, it cautioned Southern Californians to continue using water efficiently to prepare for the uncertainty of Colorado River water supplies, noting that doing so will ensure more storage for a future dry year.
"While the board's action reflects improvements in the availability of State Water Project supplies, storage reserves have been drawn down and significant challenges remain to the region's other source of imported water – the Colorado River," the statement said.
"Metropolitan continues to call on residents and businesses across the region to use water as efficiently as possible to refill storage and prepare for potential steep cuts to supplies from the Colorado River."
Water Restrictions Rolled Out
Officials noted that despite the recent winter storms, Southern California remains in a water supply deficit and dry conditions could return as early as next year.
Prior to Wednesday's announcement, water restrictions on Southern Californians had been in place since June 2022 after the state announced it would only be able to deliver a minimal amount of water in 2022 through the State Water Project following California's driest three-year period in history.
Under those restrictions, multiple parts of the state including Los Angeles, Ventura, and San Bernardino, had been limited to outdoor watering one day a week or to restricting the volume of water they were using, in an effort to slash water usage by 35 percent.
The board noted that while it is lifting its restrictions, local water providers may still have their own mandatory restrictions in place.
The lifting of the restrictions follows a number of atmospheric river systems—a long narrow region of moisture stretching out into the Pacific that can transport huge amounts of rain and snow—that have bought with them heavy rain, thunderstorms, and strong winds as well as severe flooding.
Near-record snowfall has also hit the Sierra Nevada, which supplies about a third of California's water, where snow levels have risen to over 180 percent of the average level for April 1. Experts have warned that snow melting below 4,000 feet (1,219 meters) could trigger more flooding.
Colorado River Supplies Remain Uncertain
Yet despite the increased rainfall and subsequent flooding, the Colorado River's supplies remain uncertain and as a result, the federal government has directed the seven Basin states of Arizona, California, Colorado, Nevada, New Mexico, Utah, and Wyoming to develop plans to slash their use of water from the river, starting in 2024.
Previously in December, officials had warned that further water rationing may lie ahead if weather conditions failed to improve.
That warning came after the Department of Water Resources announced it would get just 5 percent of the supplies requested from the California Department of Water Resources to start 2023.
However, the latest bout of wet weather has turned things around, bringing relief to residents who are no longer forced to ration water, although it likely isn't welcomed by everyone.
As of Wednesday, an additional 61,000 people remained under evacuation warnings amid torrential rain and flooding, and emergency shelters housed more than 650 people, according to The Associated Press.
Gov. Gavin Newsom and weather forecasters have warned that the state could potentially see a 12th atmospheric river next week.
[ad_2]

Source link