West Virginia Legislature Passes Gender Reassignment Surgery Ban for Minors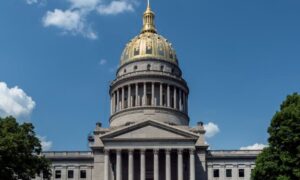 West Virginia's Republican-majority Legislature passed a bill on March 10 that would ban health care providers from performing "irreversible gender reassignment surgery" or providing gender-altering medication to minors.
House Bill 2007 was introduced by Del. Geoff Foster and passed the Senate in a 30–2 vote.
Under the bill, health care providers in the state will be prohibited from providing "irreversible gender reassignment surgery" or gender-altering medication to a person who is under 18, such as puberty-blockers, although it does contain certain exceptions in some cases.
Specifically, the bill bans any of the following surgeries from being performed on biological male patients: penectomy, orchiectomy, vaginoplasty, clitoroplasty, or vulvoplasty.
For biological female patients under 18, the bill bans hysterectomy or ovariectomy surgeries from being performed.
It also bans "metoidioplasty, phalloplasty, vaginectomy, scrotoplasty implantation of erection or testicular prostheses for biologically female patients" and "augmentation mammoplasty for biological male patients and subcutaneous mastectomy for female patients" for those under 18.
However, the bill would allow such procedures to be performed on individuals if they are born with a medically verifiable disorder of sex development, including "being born with forty-six xx chromosomes with virilization or forty-six xy chromosomes with undervirilization or having both ovarian and testicular tissue" or on patients without "normal sex chromosome structure, sex steroid hormone production or sex steroid hormone action."
Bill Exemptions
Such procedures would also be allowed to be conducted in cases where treatment is required for infections, injuries, diseases, or disorders "caused by or exacerbated by the performance of gender transition procedures whether or not the gender transition procedure was performed in accordance with state and federal law."
"Any procedure undertaken because the individual suffers from a physical disorder, injury, or physical illness that would place the person in imminent danger, death or impairment of a major bodily function unless surgery is performed," would also be allowed.
Further exemptions were added for people under the age of 18 at risk for suicide.
Those exemptions were added by West Virginia Senate Majority Leader Tom Takubo, a physician, and would allow some transgender youth to continue receiving medical interventions under certain circumstances, such as if they have been diagnosed with severe gender dysphoria by at least two medical or mental health providers, including a mental health provider or adolescent medicine specialist.
The dosage must be the lowest possible necessary to "treat the psychiatric condition and not for purposes of gender alteration," and providers must also be specifically trained to diagnose and treat severe gender dysphoria in adolescents. They must also provide written testimony saying medical interventions are necessary in order to prevent or limit potential or actual self-harm.
Additionally, written consent for the treatment would be required by the minor's parents or guardians. However, hormonal therapy would not be granted to minors before the age of puberty.
Takubo's amendment was adopted in a 20–12 vote, according to local reports.
During a speech on the Senate floor late Friday night, Takubo cited multiple peer-reviewed studies showing a decrease in depression and suicides among youth suffering from gender dysphoria when they have access to medication therapy.
Bill Needed to Protect Kids, Republicans Say
"The take-home message is none of these medical studies were looking at how did the kid feel about their external appearance," Takubo said. "These studies were looking at the mental health and how severe these kids were affected. I know the treatment is difficult. It's difficult for me to understand, and I'm a physician … but I know that kids that are affected in any kind of mental health disease, the sooner you start them on treatment … the quicker you see a result."
According to research complied by West Virginia University Medicine physicians using West Virginia Youth Risk Behavior Survey data, the rate of suicide ideation, or having suicidal thoughts or ideas, for transgender youth in West Virginia is three times higher than the rate for all youth in the state.
The original bill, which included no mental health exemptions, passed the House of Delegates last month in an 84–10 vote.
The House on Saturday unanimously then approved the Senate's changes to the bill and the amended version then passed in an 88–10 vote, with all "no" votes coming from Democrats.
Republican Gov. Jim Justice has not yet indicated if he will sign the bill into law. A spokesperson for his office said he was unavailable for comment Saturday.
Speaking to the radio network Metro News in January, Foster said he believes the bill is needed to protect children from being able to access permanent or irreversible procedures that have "little to no proven outcome or benefit for the child on a psychological or emotional level."
However, a string of major medical organizations, including the American Medical Association, the American Academy of Pediatrics, and the American Psychiatric Association, have all voiced support for gender transition care among minors, joining opponents in arguing that it is safe and effective.
The Associated Press contributed to this report.