White House Responds to Reports Saying Pelosi Will Visit Taiwan
The White House on Monday said House Speaker Nancy Pelosi (D-Calif.) has the "right to visit Taiwan" amid reports she may touch down in the country this week and as the Chinese Communist Party (CCP) issued several warnings.
"There is no reason for Beijing to turn a potential visit, consistent with longstanding U.S. policy, into some sort of crisis or conflict," Pentagon spokesman and White House National Security Council communications director John Kirby told reporters Monday, adding "has the right to visit Taiwan" and that "nothing has changed" about U.S. policy in the region.
Pelosi has not confirmed or denied potentially visiting Taiwan, which has been self-governed since 1949 and sees itself as a sovereign country. The CCP has long claimed that the island nation belongs to it despite Taiwan having never been ruled by the Chinese regime.
Both CNN and the Wall Street Journal, citing anonymous sources, reported that Pelosi will head to Taiwan, although the timing remains unclear. Pelosi's office declined to comment to several media outlets on those reports, coming a day after she announced a trip to several Asian nations without mentioning Taiwan.
"The speaker has not confirmed any travel plans and it is for the Speaker to do so, and her staff," Kirby added. "We won't be commenting or speculating about the stops on her trip … Congress is an independent branch of government."
CCP officials on Monday warned that the Chinese military would not "sit idly by" if Pelosi visited the island. In a readout of a call last week, Chinese President Xi Jinping told President Joe Biden that the United States would be "playing with fire" if it happened.
"China appears to be positioning itself to take further steps in the coming days and perhaps over longer time horizons," Kirby said Monday. "Nothing about this potential visit … would change the status quo," he added, noting that the visit "has precedent." Former Republican House Speaker Newt Gingrich visited Taiwan in 1997—the last time a House speaker has done so.
More Details
Further muddying the issue, Biden said previously that "the military thinks it's not a good idea right now" for Pelosi to visit Taiwan. But after the Xi–Biden call, White House press secretary Karine Jean-Pierre told reporters last week that Biden won't tell Pelosi if she should go there or not.
Congressional leaders have publicly supported Pelosi's travel plans, including top Republican lawmakers. They argued that her backing down would hand a win to the Chinese regime.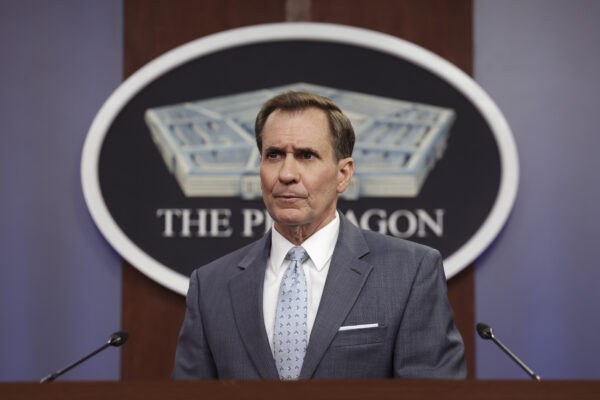 "If [Pelosi] doesn't go now, she's handed China sort of a victory of sorts," Senate Minority Leader Mitch McConnell (R-Ky.) told reporters on July 26. And House Minority Leader Kevin McCarthy (R-Calif.) echoed that statement, saying he would go to Taiwan if he becomes House speaker after the 2022 midterms.
Meanwhile, Rep. Michael McCaul's (R-Texas) office confirmed that he was invited several weeks ago by Pelosi to go on a trip to Taiwan but could not due to another commitment.
"He also believes the Speaker—or any other American official—should be able to visit Taiwan if they would like to," his office said in a statement.
The Chinese military has often sent jets into Taiwan's airspace defense zone in recent years. On Saturday, China held live-fire military exercises in the Taiwan Strait, the small body of water separating Taiwan and China.