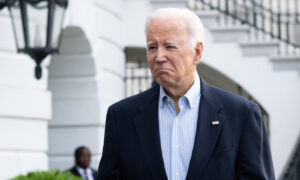 The White House was not tipped off about the indictment against former President Donald Trump, press secretary Karine Jean-Pierre said on March 31.
"All of us, including the president, found out about the news yesterday just like every other American through the news reports," Jean-Pierre told reporters.
White House chief of staff Jeffrey Zients alerted President Joe Biden to the situation after perusing reports, Jean-Pierre said.
Biden, a Democrat, "was not given a heads-up," she said.
She was speaking en route to Jackson, Mississippi. Biden was scheduled to tour areas struck by tornadoes in the state last week.
Trump, a Republican, has been indicted for reasons under seal, according to his legal representatives and the Manhattan District Attorney's Office.
Jean-Pierre declined to comment on the indictment.
"We're not going to comment on an ongoing case," she said.
Asked if he had a reaction to the indictment before he departed Washington, Biden said, "No."
He also declined to say whether he was concerned the indictment will further divide the country or whether he was worried about possible protests.
"I'm not going to talk about Trump's indictment," he said, adding later, "I have no comment at all on Trump."
Trump is slated to be arraigned early next week, one of Trump's lawyers told The Epoch Times. "We're working that out—maybe Tuesday," attorney Joseph Tacopina said.
A spokesperson for the office of Manhattan District Attorney Alvin Bragg, a Democrat, said it is now coordinating with Trump's attorneys his "surrender to the Manhattan D.A.'s Office for arraignment on a Supreme Court indictment."
NYPD Directive
After the indictment was announced, the New York Police Department (NYPD) directed all uniformed members to show up in uniform on Friday morning, the agency told news outlets in a statement.
The directive was issued "as a precautionary measure," the department said.
The NYPD did not respond to a request for more information.
Manhattan is a borough in New York City.
A spokesperson for Eric Adams, the Democrat mayor of the city, said Adams has been in "constant contact" with Police Commissioner Keechant Sewell "about all public safety issues affecting the city."
"The NYPD continues to monitor all activity and there are no credible threats to the city at this time," the spokesperson said. "The NYPD always remains prepared to respond to events happening on the ground and keep New Yorkers safe."
Manhattan Borough President Mark Levine, another Democrat, wrote on Twitter that the NYPD and other law enforcement agencies "have been planning and coordinating intensively for this moment."
Gary Bai contributed to this report.