Why are the Republicans pursuing the Joe Biden impeachment process? What evidence supports their stance, and what happens next? – US News
US politicians are beginning a process that could potentially lead to the impeachment of President Joe Biden over alleged irregularities in his family business dealings.
Republicans, who narrowly control the House, have accused Mr Biden of profiting while he served as vice president from 2009 to 2017 from his son Hunter Biden's foreign business ventures.
Nothing raised so far has proven the president, either now or when he was vice president, abused his role.
The formal process gets under way on Thursday. Here is what it involves:
What is an impeachment inquiry?
Essentially, it is an investigation of possible wrongdoing by a federal official.
Part of the US constitution, it is considered the most powerful check congress has on the executive branch of government, which includes the president, vice president, and the cabinet.
While the House of Representatives has the power to impeach a federal official, only the Senate has the ability to convict and remove an individual from office.
To date, no president has ever been forced from the White House through impeachment.
However, former Republican President Richard Nixon resigned in 1974 as the House was preparing to take a vote on impeachment articles against him.
Why are Republicans pursuing impeachment against President Biden?
Since achieving a majority in the House in January, Republicans in the lower chamber have been investigating Joe and Hunter Biden.
They have claimed, without giving evidence, that father and son were engaged in an influence-peddling scheme.
Attention has been focused on an alleged bribery scheme involving Joe Biden when he was vice president.
It is alleged that the president pressured Ukraine to fire its top prosecutor in order to stop an investigation into Burisma, an oil-and-gas company Hunter Biden was on the board of.
However, Democrats have pointed out that the Justice Department investigated the Burisma claims when Donald Trump was president and stopped after eight months after finding insufficient evidence.
Nevertheless, three House committees have been looking at ways in which Hunter Biden may have used the "Biden brand" to advance his business with foreign clients.
Republicans have failed to produce evidence that the president directly participated in his son's work.
What evidence do Republicans have?
House Republicans, led by James Comer, who chairs the House Oversight Committee, have gathered thousands of pages of financial records from various members of the Biden family and their associates through subpoenas to the Treasury Department and various financial institutions.
Comer has repeatedly claimed – without substantial evidence – there is enough in those documents to draw a clear line between Hunter Biden trading on his father's name and policy decisions Joe Biden made while vice president.
However, no such connection has been proven.
Read more:
'Extreme politics at its worst'
Hunter Biden – a troubled soul and troubling son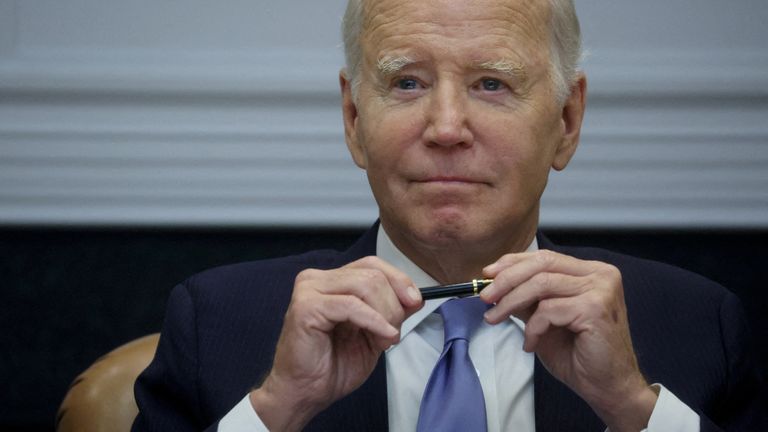 Who will be involved?
House Speaker Kevin McCarthy has said he has asked Mr Comer to take the lead, working alongside House Judiciary chairman Jim Jordan, and House Ways and Means chairman Jason Smith.
Will Joe Biden be impeached?
Not necessarily. To impeach Mr Biden, the House would have to approve at least one impeachment charge against him, which requires a majority vote.
An impeachment inquiry can also be closed without charges being brought.
What happens if Republicans do decide to impeach?
If Republicans decide there is enough evidence of wrongdoing, the Judiciary Committee is likely to mark up the articles of impeachment.
If those articles are voted out of committee by a simple majority, it would head to the floor of the House where a majority vote would be required to impeach Joe Biden.
How long will it take?
There are no rules on how long an impeachment inquiry can or must last.
Only three other presidents have been impeached: Andrew Johnson, Bill Clinton and Donald Trump – twice.